Mario Balotelli has been accused of showing "disrespect" following last night's penalty row with Jordan Henderson - but the madcap striker was doing nothing more than showing uncharacteristic common sense.
With Steven Gerrard injured, the designated penalty taker for the match was club vice-captain Jordan Henderson. But when an 85th minute spot-kick was awarded, a row ensued.
Balotelli grabbed hold of the ball, Henderson looked bemused and Daniel Sturridge appeared confused by the whole thing. Eventually Balotelli won the argument and then sent the keeper the wrong way.
Yet despite scoring the goal that gives Liverpool a 1-0 advantage after the first-leg of their Europa League tie with Besiktas, usual penalty taker Gerrard was unhappy with the Italian.
"Basically Henderson should have took that penalty," Gerrard told ITV.
"I think Mario has been a bit mischievous by stepping in front of him and going against what the manager's planned before the game.
"It's not nice to see when players are taking it off each other and stuff, for me, rules are rules and codes are codes inside a dressing room and when a manager selects a penalty taker that player should take it.
"Jordan is the captain and Mario showed Jordan a bit of disrespect there."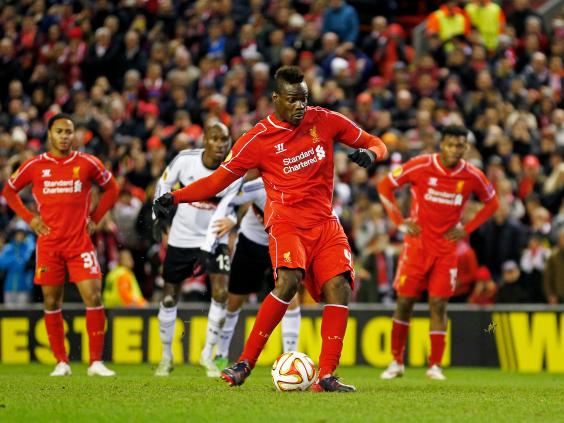 Strong stuff from the Liverpool captain - but despite talk of a lack of respect and breaking rules and codes - Balotelli did the right thing.
The Italy international is among the most clinical penalty takers in the game. Over the course of his career he's scored 28 times from 30 penalties. When the pressure is high, as it was last night, Balotelli isn't fazed. England fans will remember him scoring the first spot-kick in the shoot-out between England and Italy in the Euro 2012 quarter-finals.
So how does that record stand-up to last night's 'designated' taker?
Well, Jordan Henderson has never actually scored a penalty - not for Liverpool, not for former club Sunderland, not for England or the Under-21s. It's possible that Henderson would be a fine penalty taker - but testing that out with five minutes remaining on the clock with the scores level in a European tie at Anfield is probably not the best place to try.
Balotelli is taking some flack, but as his composed finish proved, he was right to take the penalty.
Follow the latest football news from The Independent on Twitter @IndyFootball
Reuse content