Swansea manager Michael Laudrup is hopeful his side will reach the group stages of the Europa League but has insisted that he will not set his side any targets as they return to European competition.
With their last European campaign coming to an end after a landslide 10-1 aggregate defeat to Monaco in the 1991 Cup Winners' Cup, the Welsh side got off to a good start when they beat Swedish side Malmo 4-0 over two legs to reach the play-off stages.
Ludrup's side have been handed a tie with Romania's Petrolul Ploiesti, with a place in the group stages up for grabs for the winner, but the Dane is keen to keep the pressure off his players ahead of their Premier League opener against champions Manchester United next week.
"You take it step by step, we have two domestic cup competitions plus the Europa League and the Premier League," he said.
"We could set a target and say it would be nice to do this or that, but you cannot do that.
"Now we are at the play-offs and hopefully we can get to the group stage and have six group games.
"But you can only play one game at a time. When I was in this competition with Getafe (who reached the quarter-finals in 2008) we had a terrible start to the league season but we suddenly picked up results in Europe against teams like Tottenham and Anderlecht.
"We then went on and played teams like Benfica and Bayern Munich, but that was unexpected. You don't know what can happen so you go step by step.
"It would just be fantastic for the players and the club to have more European games to help them in the present and the future."
Laudrup was glad to see his new signings gel into the squad over the two-legged affair, with Wilfried Bony, Jonjo Shelvey and Jordi Amat having impressive debuts for the Swans, while former Real Betis pair Jose Canas and Alejandro Pozuelo showing their potential in the away leg.
Having unexpectedly won the Capital One Cup last season, Laudrup knows it will be difficult to surpass the campaign in terms of silverware, but he believes he is dealing with a stronger group of players that will continue to improve with time.
"I could see straight away after 10 days of our pre-season trip to Holland that we were in better shape than last year.
"The players came back after more than six weeks off and looked good after just a week of training, they slotted straight back in.
"With these two games we have been able to give our new signings 90 minutes, we know it will take a few games to settle in properly but they have already showed they are adapting. We can always improve but it will come with time.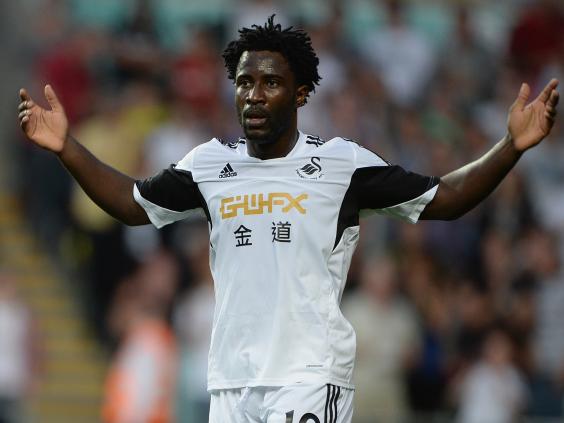 "We knew if they all played together at the same time it would not be so easy, but if it is one or two it is easier.
"In Malmo, for example, we had Canas, Pozuelo and Bony, so that is just three of them.
"It's going well, they are adapting well to the system. They play football the way we like to."