The Estadion de Anoeta looms out of the San Sebastian twilight like a rusting blue-and-white battleship. Around it, a throng of football supporters in the thickly barred home kit of Real Sociedad mills and weaves through frustrated car drivers.
It's nearly three hours to kick-off against Barcelona, and already there's a keen atmosphere of pre-match purpose. The excellent local bars are filling up quickly. Beer, wine and pintxos – pronounced "pinch-oss", not tapas in this fiercely Basque city – are the first order of a Sunday evening. Food, drink and football are all there is this night. And the expressions on the faces of the supporters are clear enough: who could want more?
The Anoeta gates, city badges of seafarer and forester emblazoned on a mildewed concrete frontispiece, dominate the scene. But is the home of Real Sociedad destined for refurbishment and a new lease of life in La Liga? Or is La Real, once of the Champions League, but struggling this season, destined for the breakers' yard?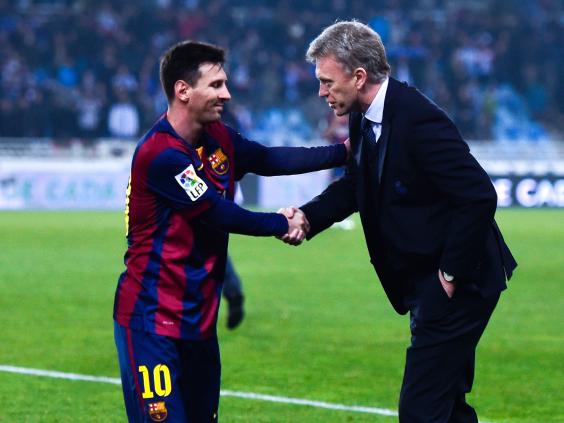 The man best equipped to answer that question is David Moyes, hired as entrenatzailea some two months before. Moyes' period as manager of Manchester United, a spectacular disaster on several levels, but especially for his personal reputation, ended in brutal fashion last April.
The facts are already well rehearsed: the death by a thousand social-media cuts; the leaking of his dismissal to the media; the fateful Sunday when Sir Alex Ferguson's phone stopped working; Moyes' 4am run in the pitch black at United's Carrington training ground to avoid the press and the paparazzi; the farewell address to the players, many of whom had undermined him.
After that, Moyes retired to his sumptuous rural mansion, with its 87 acres and endless aprons of bluebells. Would he take a job in Germany, as in the nearly 18 years I've known him he'd often indicated he might? Would the perennially vacant Newcastle United job appeal? The football world speculated, and Moyes kept away from the public eye in chilly Lancashire or his sunny holiday home in Florida. His one excursion back into "normal" life ended disastrously. Moyes went to a Clitheroe wine bar with two old friends and a minder. The public abuse he took eventually provoked a reaction of sorts. The police were called, more negative headlines followed.
Throughout this time, my own contact with David and Pamela Moyes was limited. My phone jumped into a puddle at Sir Tom Finney's funeral, nearly a year ago (don't ask…). Assiduous writer, journalist, and twerp that I am, the phone wasn't backed up. Still, the Moyes biography, originally drafted in 2009 around the time of Everton's FA Cup final defeat against Chelsea and promised to Random House was (and is) a long-term project. Our wives exchanged Christmas cards. I would wait for the moment to get back into contact – and now the moment had come.
First, though, there were wine, pintxos and supporters' opinions to be had. I had a couple of glasses and some sensational bar food (the Barcelona fans, who eat pretty well, say that San Sebastian has great food – and they aren't talking about its three-star restaurants). Then I got the staff of one cafe to talk about football. It wasn't difficult.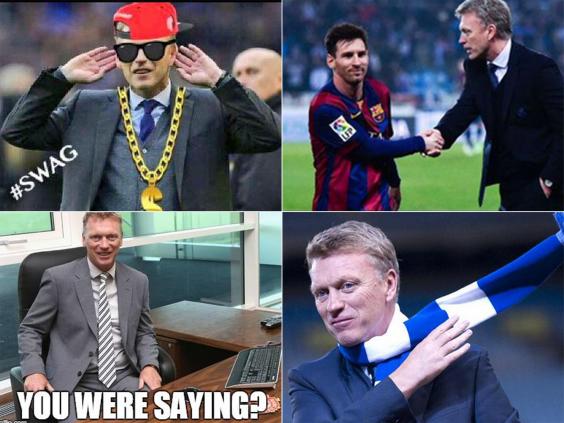 David Moyes – two wins, four draws, and one bad loss (4-0 to Villarreal) – I scrawl on a napkin and hand it to the bar tender – 5/10? He smiles, writes and hands it back – 7.6/10. A connoisseur's judgement.
A few moments later, a Real Sociedad press officer gives me a tour of the stadium. It's big, functional, old – blue and white inside as well as out. The running track around the perimeter of the pitch will eventually be replaced with seating, apparently. But refurbishment or not, the tour feels like meeting an old auntie who keeps herself impeccably clean, but hasn't bought a new coat in 20 years. It's strongly reminiscent of Everton's Goodison Park, and Bellefield, the 1950s training ground that preceded the much smarter Finch Farm facility.
The similarities between early Everton and Moyes' days at Preston North End are more than physical, though. There's a sense of Moyes as a man claiming leadership of a troubled tribe. He excels as the custodian of a failing team that means a huge amount to its supporters. And he achieves success by taking the materials he's given, then making the very best of them. At Preston, he transformed a struggling side into runaway winners of the English third tier in three seasons. At Everton, he took over from Walter Smith and saved a team plummeting towards relegation with three straight wins on the bounce. Thereafter, his achievements are well documented – by those who choose to acknowledge them, at least.
The game begins. Barcelona's coach, Luis Enrique, leaves Neymar and Lionel Messi on the bench. Some see this as arrogant, though Moyes defends Enrique's decision in the post-match press conference. He says he would probably have done the same. If so, he would have conceded an early goal, as Barcelona did.
After the goal, the game takes a very familiar turn, at least for long-term Moyes watchers. La Real defend and break, defend and break. Bodies, blocks, defensive heroism. Barcelona have 68 per cent of the possession. Neymar and Messi come on in the second half to join a curiously quiet Luis Suarez. It feels like vintage Moyes. When the players are playing as he wants them to, they never give up. His Preston North End and early Everton teams played like steroid-fed misers – nothing was going to prise an advantage from their grasp.
At the conference Moyes confirms that "the performance reminded me of my early days as a coach. The best thing is to win 1-0. If we are competing and conceding no goals, we'll always have a great chance of winning." In his first full season at Everton, his team recorded six consecutive 1-0 wins.
The challenge ahead at Real Sociedad is to beat the intermediate teams, to win when the team is challenged to play creatively: "We hope to play as good as Barcelona one day. But we have to build, step by step."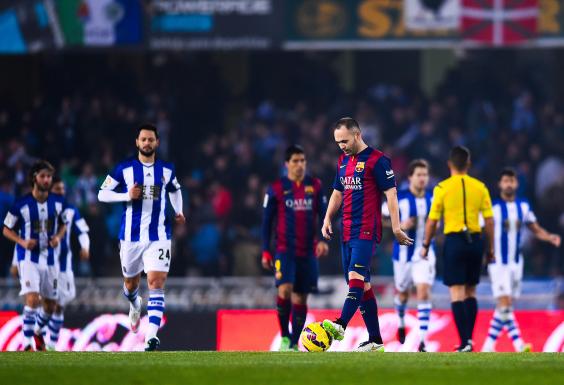 Talking done, Moyes comes to meet me in "the neutral zone" – the place for an off-the-record chat. He's understandably bouncing with pleasure at the result and the performance, and invites me back to the luxury hotel where he's staying with Pamela. The connection, while never in doubt, is well and truly re-established. If La Real had lost, though, I wonder what would have happened. Moyes takes defeat as a deeply wounding personal insult, and has been known to cancel Match of the Day appearances as a pundit in the wake of a loss.
Victory, however, is intoxicating, magical. Moyes seems 10 years younger than the martyr of the Stretford End. The Moyes party is jubilant: Pamela, fleetingly, daughter Lauren, Moyes Snr (now back working as a football scout for a Premier League club), brother Kenny and family, assistant manager Billy McKinlay and wife, agents, lawyers, and Rabbit's friends and relations (which is the box I tick) all gather in the luxurious bar area.
"This place has become like a second home to me and Pamela," says Moyes. He and Kenny, an agent who helped broker the move to Real Sociedad, are on first-name terms with the bar manager and Alejandro, one of the waiters.
Moyes is learning Spanish, but is prepared to take his time about it. He looks at Paul Clement at Real Madrid and Mauricio Pochettino at Southampton. Both have taken their time to get comfortable with the language, and football comes first. Food, certainly, is a way into the local culture. Moyes often gives visitors a pinxtos tour – a genteel form of bar-hopping, whereby the tourist gets to taste just one favoured delicacy before moving to another place whose paprika ham and spicy sausage roll is the best in town.
Talk typically reverts to the game. I venture that the sublimely talented Carlos Vela may be one of the few not working as incredibly hard as the rest of the team. McKinlay gives me a look. Vela can play, really play. Of course, I'm just a bloke in a bar…
It's not the time or place to dwell on the horror of the United job, and the atomisation of Moyes' reputation as a coach, a reputation accrued with exquisite care. The fact is that Jokin Aperribay of La Real made a decision to court Moyes, and got him. In Spain, and certainly in the Basque country, the fact of having managed Manchester United is seen as a plus by many. The events matter less than the status that went with the job.
Now, Moyes ventures, he might be on the way back to what he was. My own take on that is that Moyes was a coach who could conjure wins out of almost nothing. On that basis, even though it's early, he is well and truly back. I say as much.
But then, it's very late – and I am a bloke, and I am in a bar. It's time to go. On the way back to my hotel, I stop the cab outside the cafe I ate at before the game. It's still lively in the area, but my guy has gone home. Nevertheless, he's a thoughtful chap. Stuck to the window is a napkin: Para el escritor Ingles [for the English writer] – David Moyes 9.2 / 10!
That will be a little lower now, as La Real lost to Villarreal (just by one goal, not four) in the Copa del Rey in midweek. Still, it looks like David Moyes is on the way back. Two blokes in a bar can't be wrong – can we?
Martin Baker's latest novel, 'Version Thirteen', is published by Unbound
--
MOYES IN NUMBERS
3 - Three victories in his nine matches in charge of Real Sociedad to date
2 - Both of his Real Sociedad defeats have come away to Villarreal
13 - Going into last night, Sociedad sat 13th in La Liga, two places higher than when Moyes took over
Reuse content