It is hard to escape the image of Arsene Wenger at the Stade Louis II in Monaco and a picture of the Frenchman in his 40s on the walls of the tunnel will be one of the last things his players see tomorrow before they walk out on the pitch to try to achieve something unprecedented in Champions League history.
The task facing Arsenal does not add up to the ideal homecoming that Wenger will have envisaged when the draw was made, a notion that was put to him by one of the French reporters today. "For me, it is very special moment," Wenger replied. "I was a young coach here at Monaco, and stayed here for seven years. I have a lot of respect for Monaco and want to thank the whole club … I am able to separate the emotion of coming back and the importance of the game. I am here for work and my job is for my club to win."
A win will not be enough, as Wenger knows. His team have to score three goals without answer to get through and it has never been done before in the history of the modern Champions League - in fact you have to go back to 1969 for a comparable turnaround. Then Ajax lost 3-1 to Benfica in Amsterdam, won by the same result in Lisbon in the quarter-final second leg and then won the subsequent play-off, in Paris, the following month.
Arsenal 1 Monaco 3 player ratings
Arsenal 1 Monaco 3 player ratings
1/20 David Ospina - 6/10

Diffiicult to overly criticise him for Monaco's opener. Kondogbia's shot took a wicked deflection that left him with no chance. Pulled off a good save to prevent Berbatov scoring a third.

GETTY IMAGES

2/20 Hector Bellerin - 5

Not his best game in an Arsenal shirt. When he did go forward he lost possession and Martial, who he was meant to be marking, too often beat the right-back to the byline. Good run and cross

GETTY IMAGES

3/20 Laurent Koscielny - 6

Didn't have to do much to register a better performance than Mertesacker. He was effectively Arsenal's rock when the German defender wandered into positions he wasn't quick enough to return from.

GETTY IMAGES

4/20 Kieran Gibbs - 6

Arsenal's most dangerous player in the opening minutes of the match. Toure, at right-back for Monaco, found it very difficult to keep up with the rapid left-back.

GETTY IMAGES

5/20 Francis Coquelin - 6

Alongside Cazorla in the two deep midfield roles again. He was a little exposed when the Spaniard decided to charge forward but the French midfielder never looked troubled. Substituted for Oxlade-Chamberlain in second as Arsenal chased the game.

GETTY IMAGES

6/20 Santi Cazorla - 6

Took advantage of space in the middle to surge forward from his role of deep-lying playmaker. Stifled in the second half as the opposition read what he was going to do effectively.

GETTY IMAGES

7/20 Mesut Ozil - 5

Too slow to progress play. The German midfielder was booed by the Arsenal on a night where he really should have done much more to unlock the Monaco defence.

GETTY IMAGES

8/20 Danny Welbeck - 6

Very sharp in the first half but failed to carry out his defensive duties well enough. Indeed it was Welbeck who gave the ball away that led to Monaco's opener. Caught out a few times in the second half.

GETTY IMAGES

9/20 Olivier Giroud - 4

Missed a very, very easy chance from close range in the second half. Posed relatively little threat to the Monaco defence. He was subbed for Walcott on 59 minutes.

GETTY IMAGES

10/20 Best off the bencj: Alex Oxlade Chamberlain - 7

Immediate impact when he came on for Coquelin with 20 minutes to go. It was his late strike that gave his given his side a glimmer of hope going into the second leg.

Getty Images

11/20 Danijel Subasic - 7

Outstanding performance from the goalkeeper. His quick thinking helped his side stay in the lead on a number of occasions. Very quick to close down Walcott in second half. Distribution very good too.

12/20 Almamy Toure - 6

In the first half he found himself overrun by Gibbs but was given some respite in the second half as Arsenal attacked Monaco's left side.

13/20 Wallace - 6

A very assured performance. He frustrated Giroud while also organising his defence with precision.

14/20 Aymen Abdennour - 6

Allowed the Arsenal attack to bypass him too often. He seemed to panic when the French striker got anywhere near the Monaco penalty area.

15/20 Elderson - 6

Playing at left-back, the Brazilian found himself out of position on so many occasions. For most of the night he was either dallying with the ball too far into the Arsenal half or chasing the heels of Welbeck.

16/20 Nabil Dirar - 6

Not as effective as Martial on the left but seemed confident when in control of the ball and always looked forward for the out ball.

17/20 Joao Moutinho - 7

One of Monaco's brighter players. He regularly dropped deep in midfield to start attacking moves. Assisted Kondogbia for Monaco's opener.

18/20 Anthony Martial - 7

Utilised his pace effectively on the left side of the Monaco attack. He took advantage of Mertesacker's bad positioning to assist Berbatov for his side's second goal.

19/20 Dimitar Berbatov - 7

Booed by the Arsenal fans because of his former connection with Spurs, but he was to have the last laugh when he smashed past Ospina in the Arsenal goal to send Monaco 2-0 up

20/20 Yannick Ferreira-Carrasco - 7

What an impact he made when he replaced Berbatov with 15 minutes remaining. His pace, coupled with quick thinking, gave Gibbs hell at left-back. Ferreira-Carrasco added Monaco's third in stoppage time.
"That doesn't matter," Wenger said when confronted with the reality of his team's task. "The statistics are against us. The result in the first leg is against us. We are conscious of that. No matter how big the percentage is [against us] we have to give absolutely everything to make the stats lie. That's our desire and belief that we can do it."
Which is what you would expect Wenger to say. Yet once again there is that whiff of the absurd about Arsenal's season as they embark on their customary Premier League surge to re-qualify for this competition around the same time they are potentially about to exit it at the last 16 stage for the sixth consecutive season.
It is Wenger's job to ensure that hopes spring eternal but was it also not the case that too few of his players believe they can survive? "I'm not worried about that because the desire is there, the belief is there," Wenger said. "Football is not predictable but I can predict that the desire and belief will be there to do well. We have played in the Champions League last-16, we have experience, we know that anything can happen but on a positive front as long as we believe we can do it and I am confident we will."
The one consolation is that the task is fairly simple for Wenger's team. Against the best defence in France's Ligue 1 they will have to score goals and it will be a question of how many attack-minded players he dares to squeeze into the team. Olivier Giroud, profligate in the first leg, will lead the attack with Mesut Ozil, Alexis Sanchez and Santi Cazorla all likely to start and more firepower in Danny Welbeck and Theo Walcott available from the bench.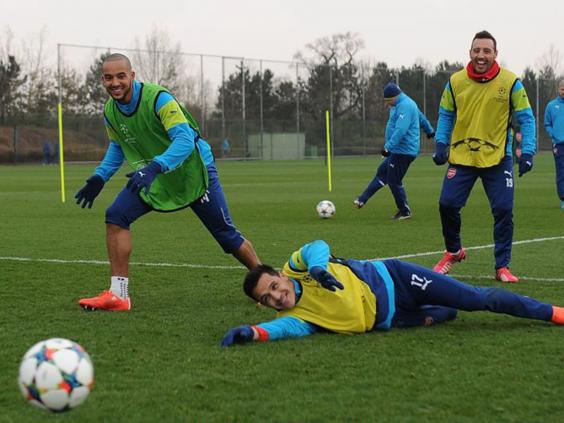 "I think we will see the real face of Arsenal this time," said Monaco's Venezuelan-born Portuguese manager Leonardo Jardim. "They will try to win the game". In order for them to do that, the defence will have to do a much better job than it managed in the first leg and Per Mertesacker's admission that the team struggled mentally at the Emirates was troubling for Arsenal fans.
Nevertheless, Mertesacker is right that since that defeat to Monaco, their fortunes have taken an upturn. Four straight victories might have left Jose Mourinho still posing questions about their "momentum" but it seems that the Arsenal players at least have taken heart from that run.
Wenger was asked whether, during his time at Monaco, he ever ventured into the principality's famous casino and, if so, how he fared at the tables. He chose to duck that one saying that his time was spent on the training ground with his usual protestation that he knows no life beyond football. But the point was well-made: winning this tie might have more to do with a throw of the dice rather than the more prosaic approach Wenger has adopted through his career.
Reuse content