Mauricio Pochettino said after Tottenham Hotspur limped out of the Champions League by losing in Monaco that the squad need greater quality - a clear hint that chairman Daniel Levy needs to spend more to take the side to the next level.
With Hugo Lloris' contract situation another test of whether Levy is ready to spend more - £100,000-a week in the Frenchman's case - to take Spurs on, the manager indicated that he feels a lack of strength in depth caused the bitterly disappointing end to the continental campaign. It lasted only five matches
"Maybe we need to add more quality in the squad," he said. "We have quality, yes. To compete in Premier League, yes but you could say we struggled a little bit. When you have problem, injuries, it is difficult to be competitive."
Pochettino took risks himself – admitting after the game that the two defenders he removed to the bench, Kyle Walker and Jan Vertonghen, were not injured. Replacements Kieran Trippier and Kevin Wimmer were both at fault for the Monaco goals. The Argentine did not offer any detailed explanation for why he went into a match against a side who have scored 39 goals in 13 domestic games so defensively weakened.
He also adopted a very attacking tactical approach but defended the strategy. "We feel upset and disappointed," he said. "We are fighting to try to win. We have to take risks and go forward, the players feel frustrated and concede more opportunities."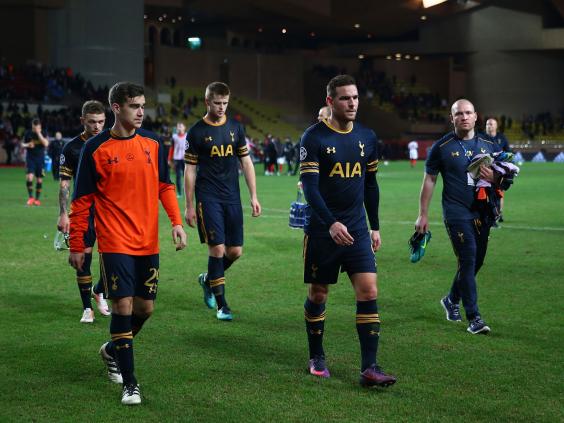 There was also a psychological deficit: Spurs conceded a second goal a mere minute after equalising – when they should have put security first in that moment. "It is difficult to explain in the way we conceded second goal it put us in difficult position," Pochettino said. "If you want to go to the last 16 you cannot conceded a goal like this.
"We struggled to be ready to compete in every game. We need to improve our mentality. That's our challenge to be ready, everyone to be better. It's a great experience for us. If we go into the next round and then fail it would be the same feeling. But it's good to learn and to take that experience and then to take better decisions in the future. That is very important."
He also said that French fixture scheduling – the French allowed Monaco to play their Ligue game on Friday night – hadn't helped. "They played Friday and we played Saturday night, a final against West Ham. To be ready again was difficult. [It's] not an excuse. We did not show quality enough. It doesn't mean we don't have quality."
Pochettino, whose side face league leaders and in-form Chelsea on Saturday, didn't seem ecstatic about playing in the Europa League next Spring, as the team now will. "It is good for the club to be in the Europa League and go further in the competition. But remember, last season we played Dortmund and we struggled a bit; that level was like the Champions League. We are in a process, we need to improve. We feel bad, disappointed, tomorrow is another day we need to look forward."
Reuse content