It is three games in the space of 12 days that have the potential to make it a very happy Christmas indeed for Arsene Wenger, and it starts amid the noise and the hostility of Naples tomorrow night with much at stake in the brave new world of Arsenal in 2013.
Follow the latest news from tonight's Champions League games by CLICKING HERE
They play Rafa Benitez's Napoli to secure a place in the Champions League knockout stages, then Manchester City away on Saturday and Chelsea at home a week on Monday. Ideally, with those two pivotal Premier League fixtures awaiting, Wenger would like to rest players at the San Paulo stadium tomorrow but even that is not an option with it is still possible Arsenal could fail to make it into the knockout round despite a haul of 12 points.
They need only avoid a defeat by a margin of three goals to be sure of qualifying ahead of Napoli, and a draw or better will win them Group F. For a side that has conceded two goals in its last eight games, the prospect of shipping three tomorrow would be unusual indeed.
Even so, it is very harsh on a side that have accumulated a total of points that would, ordinarily have seen them through by now. In Naples this evening Wenger was typically cautious when it comes to the so-called moments of destiny but even he had to acknowledge that the pre-Christmas run will set the tone around Arsenal.
Should Arsenal safely negotiate a place in the Champions League last 16 it will be for the 14th consecutive season. "It [against Napoli] is to be in Champions League or not. The other two games, not definitely, we are five points ahead," he said. "The championship is a marathon. We will be in race no matter what happens. [The next two league games] will show our strengths hopefully. [Napoli] is a decider, that is for sure."
The early part of the season was kind to Arsenal in terms of their league fixtures but recently the tests have become harder. The wins over Liverpool and then Borussia Dortmund away were the high points so far, the defeat to Manchester United the low, and by the time they are gathering for training on Christmas Day they will have faced all the major title contenders.
The Dortmund game showed that this is a team well capable of getting a result in one of the most hostile stadiums in Europe and they will need all that courage against Napoli. The San Paulo is a stadium in which Chelsea and Manchester City lost in the 2011-2012 season. Benitez is under pressure to get a result with his team third in Serie A, eight points behind leaders Juventus, and there is no doubting the locals' appetite for this game.
Wenger conceded that he will be tempted to make some changes, albeit it in areas of the pitch that do not affect the team's "stability". He has the same squad as Sunday – Bacary Sagna and Lukas Podolski have not travelled – and may yet be tempted to take Aaron Ramsey out the firing line after a tired performance on Sunday.
The season's stand-out performer for Arsenal has played more than anyone else this season, although judging from the way Wenger was talking he may not be able to risk leaving Ramsey out. "We can't afford to do anything [in terms of dropping players], we just rotate a little bit sometimes, never more than two or three players because stability is important.
"When you play so many games, sometimes you have one game when the feeling is that legs are tired. The game after that they sometimes surprise you again and everyone has recovered. At the moment we have a stable squad. In some positions I rotate a bit more than in positions where stability is more important."
He added: "Our priorities are simple, first qualify, if possible top [of the group]. For me, the first priority is to qualify. If we finish top it is even better. It [the atmosphere] is part of the big games, we know how to deal with that. You have that everywhere. We played everywhere in Europe, we are used to this kind of atmosphere, when you go from Fenerbahce to Dortmund, you are used to this kind of atmosphere."
Gonzalo Higuain, an Arsenal target this summer, did not play in the 2-0 defeat for the Italian side at the Emirates in October but he will be in the side tonight. Asked whether he might have signed Higuain as well as Mesut Ozil, Wenger said he found that one a difficult one to answer. "Am I happy with the player I got in Ozil? Very much," he said.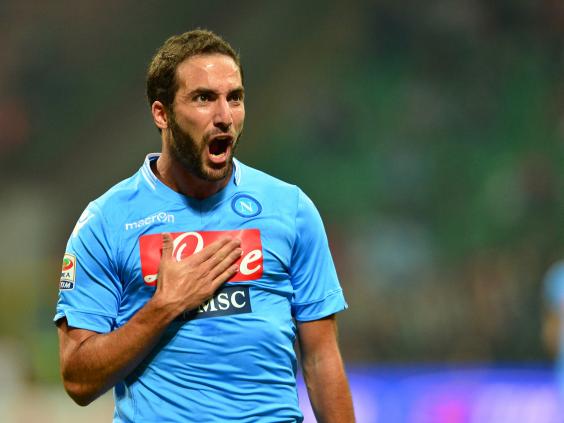 "There was a lot of statements that were not true about Higuain. He has joined Benitez. He is in good hands and shows he is a great striker. We have Olivier Giroud who shows as well that he is a great striker."
In different circumstances this might have been another tale of the player who got away coming back to haunt Arsenal, but these are very different times at the club and, come Christmas, the mood could be better again.
Reuse content