The dreaded selfie. Everything about them are infuriating, especially if you're a professional footballer, as Neymar and Lionel Messi found out this week.
The pair looked like they were under attack by the feared 'Selfie Stick Crew' when they arrived at Munich airport ahead of their Champions League semi-final second leg against Bayern Munich.
But one fan was so excited to see Neymar and try to get his autograph that he forgot to look where he was going – and walked straight into a concrete pillar.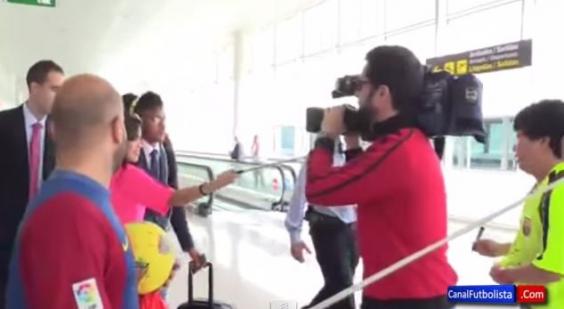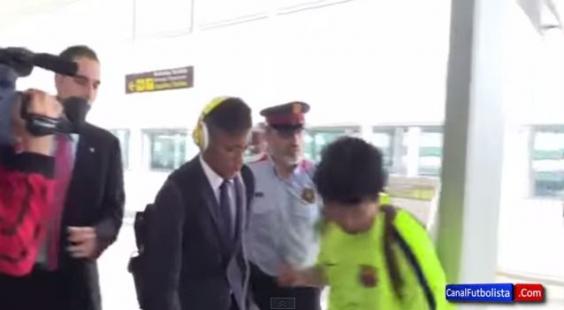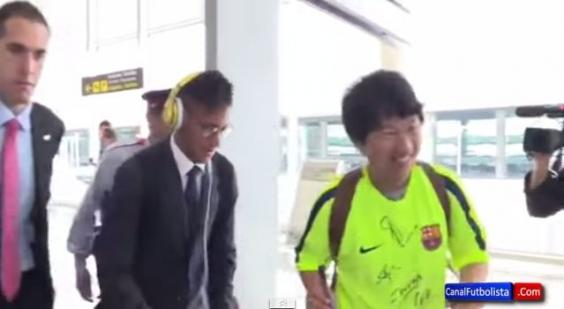 Watch the comical moment below…
Holding back a smile, Neymar clearly felt some sympathy for the Barcelona supporter and decided to stop and sign his shirt for him, with Messi deciding to do the same moments after.
Barcelona 3 Bayern Munich 0 player ratings
Barcelona 3 Bayern Munich 0 player ratings
1/24 Marc-Andre ter Stegen

Pressured by Bayern front line in attempt to hurry passing game. Escaped when Lewandowski missed cross but had fairly little to do. 6/10

2/24 Dani Alves

Played a key part in quarter-final win over PSG and went close to scoring but denied by Neuer. Booked for pulling back Lewandowski. 7

3/24 Gerard Pique

Censured for taking out Lewandowski shortly before hosts went ahead. Kept position but not troubled as much as may have feared beforehand. 6

4/24 Javier Mascherano

Stationed in makeshift back role he has become accustomed to. Rushed and harried by German visitors but calm in control and in his decision-making. 6

5/24 Jordi Alba

Played his part both at back and going forward, never stopping running all night. Beaten by Müller early on. Forced Boateng to rush a clearance. 7

6/24 Ivan Rakitic

Scored winner against Man City and was again the Croatian cog who kept the Catalans ticking over. Constantly probing and picking out team-mates. 8

7/24 Sergio Busquets

Laid the groundwork to allow his more celebrated colleagues to shine further upfield. Strong in the tackle and careful in possession all night. 6

8/24 Andres Iniesta

Delightful ball over Bayern back line was not converted by Alves. Danced through German midfield on occasion. Brought down by Benatia. 7

9/24 Lionel Messi

What else can be said? Smacked shot straight at Neuer but drove past German for first before impudent, glorious second. Set up the third for good measure. 9

10/24 Luis Suarez

Has been in superb form and started with menacing intent. Went down easily early on in optimistic penalty shout before being denied by Neuer. 7

11/24 Neymar

Denied within sight of the goal-line by desperate block from countryman Rafinha. Halted by onrushing Neuer before curling over. Wasteful with shots. 7

12/24 Best off the bench: Xavi

Integral to Barça's three Champions League triumphs of the last decade but reduced to bit part in what may be his final days at the Nou Camp. 6

GETTY IMAGES

13/24 Manuel Neuer

World's number one No 1 did not look like being beaten before final 15 minutes, denying Suarez, Alves, Messi and Neymar. And then it all fell apart. 7/10

14/24 Rafinha

Formed part of experimental back line and struggled to keep check of home side's runs. Made vital block as Neymar slid in but unable to prevent late goals. 6

15/24 Medhi Benatia

Caught playing offside as Suarez was allowed to race through alone and Guardiola's risky formation was hastily altered. Booked for foul on Iniesta. 5

16/24 Jerome Boateng

Touched Suarez over in area but with nowhere near enough intent to cede spot-kick. Made to look foolish – one of many – by Messi for hosts' second. 6

17/24 Philipp Lahm

Had hands full with defensive duties as the Spanish club made the early running. Brought down Messi to halt one attack before the interval. 7

18/24 Xabi Alonso

Former Liverpool man was first to enter the referee's book. Linked up well with Lahm as he was booed by home crowd for his Real Madrid links. 6

19/24 Thiago Alcantara

Instrumental in last month's thrashing of Porto and saw shot momentarily trouble Ter Stegen. Has work to do to match heights of Barça last night. 6

20/24 Bastian Schweinsteiger

Struggled to influence proceedings as he enters twilight of career. Fortunate to stay on pitch after coming-together with Suarez. 5

21/24 Juan Bernat

Diminutive Spaniard carelessly gave away possession to Messi to allow Argentine to open the scoring. Did not impress on return to his homeland. 5

22/24 Robert Lewandowski

Lacked vital touch as ball was fired in to him underneath the Barça crossbar by Müller. Kept close to Alves after break to limit damage from left flank. 6

23/24 Thomas Muller

Worked forward line well and also dropped out to the wings to retrieve lost causes. Beat Alba to feed Lewandowski but lost at sea as Barça prevailed. 6

24/24 Best off the bench: Mario Gotze

Entered fray after Barcelona went ahead in an attempt to provide more firepower but unable to achieve parity before Barcelona sealed victory.

GETTY IMAGES
The players do have security and police on hand to keep them safe from the fans determined to get their snap with the global superstars, but it must be said, they're doing a pretty awful job.
Reuse content