They make up two thirds of arguably the most feared strike force in Europe, but it turns out when Neymar and Luis Suarez aren't ripping apart defences they're attacking each other.
Video footage taken from a Barcelona training session shows the duo competing for the ball and when Suarez drops to his knees, Neymar (perhaps channelling his inner Father Ted) couldn't resist the opportunity to wallop the Uruguayan on the backside.
Rather than any malice in the foot to buttock incident, it simply appears the kick to the former Liverpool player's derriere was in good humour - and taken the right way by Suarez.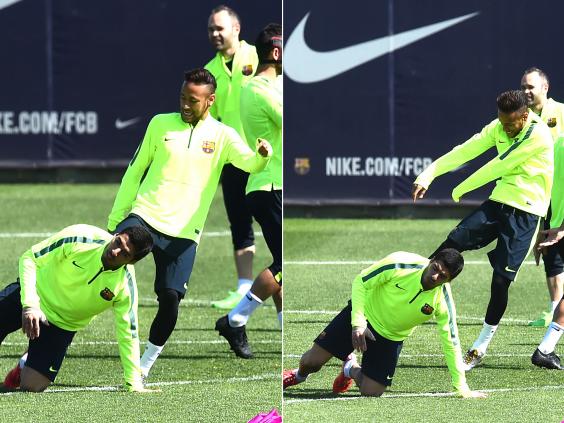 The relaxed mood of the camp in the run-up to tonight's Champions League tie Manchester City may signal the Spanish team's confidence of progression.
They lead the Premier League champions 2-1 after the first leg, but rather than letting up, Andres Iniesta said in his pre-match press conference that he and his team-mate plan to make Manchester City suffer at the Nou Camp.
Reuse content