Paul Collingwood has joined the England cricket coaching staff for seven weeks before he begins his final season at the helm of the county champions Durham. He set off for the West Indies full of enthusiasm and inadvertently with a parting shot at David Moyes.
The greatest gift a coach can bestow upon his team is confidence and belief, he said. This allows a new man to come in and transform the fortunes of a bunch down at heel, a bunch like Manchester United, you might argue. He points to Darren Lehmann and how he changed the outlook of the Australian cricket team, drawing essentially on the same raw material.
This was another telling result in a season full of them. You wonder how long the patience of the Old Trafford hierarchy will last. The Moyes narrative has relied on the idea that things are not quite what they used to be, but he cannot be allowed to hide behind the idea of a fading squad.
His team is spearheaded by the highest-paid player in English football. It is the job of the coach to set the tempo, to establish a method and the kind of atmosphere that allows players  such as Wayne Rooney and Robin van Persie to flourish.
Manchester United player ratings v Olympiakos
Manchester United player ratings v Olympiakos
1/12 David de Gea 5/10

Spaniard had little to do before being wrong-footed by Dominguez's improvised flick. Slow to get across for Campbell's second.

2/12 Chris Smalling 5/10

Again deployed at right-back and again looked ill at ease throughout. Troubled by Greek side's pace and movement – and also the pitch.

Getty Images

3/12 Nemanja Vidic 5/10

A towering presence at the back in the opening exchanges but unable to do much with either goal. Must feel his exit cannot come soon enough.

AP

4/12 Rio Ferdinand 5/10

Advancing years were shown up as he allowed Dominguez through for first and could only watch Campbell's shot swerve round him for the second

Getty Images

5/12 Patrice Evra 5/10

Harshly booked in the opening minutes. His header out led to the opening goal. Spent most of the evening engaged in defensive matters.

AP

6/12 Antonio Valencia 5/10

Has endured an inconsistent campaign – and United career – and unable to provide attacking spark. Subbed for Danny Welbeck with half an hour left.

Getty Images

7/12 Michael Carrick 6/10

Careful as ever with his passing but even that deserted him as United faded. Woefully weak in the challenge as Campbell went past him for the second

Getty Images

8/12 Tom Cleverley 5/10

Restored to starting line-up after missing weekend win at Palace but unable to make any impact. Careless in possession and taken off on hour mark.

EPA

9/12 Ashley Young 6/10

Impact increased after slow start but unable to use his footwork to great effect. Kept on till the end, though – more than can be said for some of his colleagues.

Getty Images

10/12 Wayne Rooney 6/10

Left frustrated at lack of movement and service to front line. Dropped back into midfield in attempt to have more influence. Nothing changed.

Getty Images

11/12 Robin van Persie 5/10

Received precious little service and was clattered by Roberto. Reduced to feeding off long balls. Blazed over inside the area with goal at his mercy.

Getty Images

12/12 Best of the bench: Danny Welbeck 6/10

Came on for Valencia after an hour as United desperately searched for an away goal. Toiled away on left-hand side to little overall reward.

Getty Images
A new job in football is a little like rearing a child. You count the early days of a life in hours, then weeks, months before routines are established and you just get on with it, the landmark moments stretching further apart.
Moyes is eight months in. Each game edges Sir Alex Ferguson deeper into history. The time for looking over his shoulder is gone. This was a real opportunity to mark out "me" territory for Moyes, to show us what his United are all about in a match with a guillotine attached.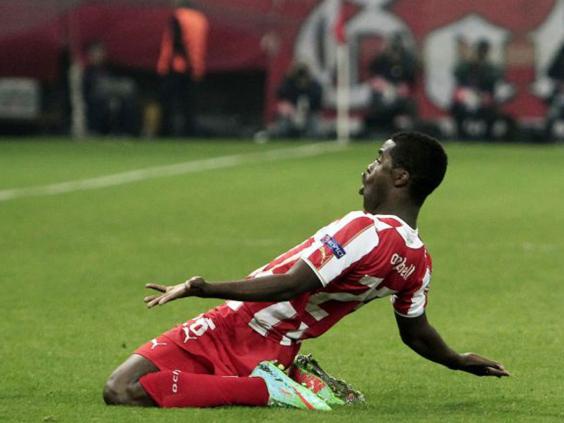 He did, but not in the way he would have wanted. Compact was the Moyes watchword beforehand. Caution would be another, the very theme that clings to him from his Everton days and from which he needs to escape if he is to endure beyond the goodwill of the American owners.
His preference in this sort of fixture for the harrying qualities of Tom Cleverley, Antonio Valencia and Ashley Young  contributes to his difficulties. All are selected first for their defensive attributes, a willingness to chase and scrap away from home. There is plenty of that but not enough of the positive stuff required of midfield players.
Cleverley is the anti-Xavi, in that he occupies the same space without any of the touches, at least in a forward direction. What point there might be to Cleverley is lost when the bounce of the ball goes against you, as it did last night with another outrageous deflection, undoing the defensive strategy employed.
In his unnecessary negativity, Moyes utterly overstated the threat of this opposition. Olympiakos might reign in Greece but they are modest at best in this company and the plum tie for any aspirant in the last 16.
Moyes has few excuses. He was helped in his preparation on Tuesday night by the empty weekend ahead, providence looking kindly on him with the postponement of the Manchester derby to accommodate City's appearance in the Capital One Cup final against Sunderland. He was thus able to indulge football's ultimate cliché and pick a team that reflected the focus of one game at a time.
Against Crystal Palace last Saturday, with his first choice strikers in tandem and his chosen creative hub in harness, there was a suggestion that a pattern might be developing, the old swagger returning. If so, it did not make the journey to Greece.
Reuse content