Paul Clement will never forget the way his first season at Real Madrid ended in May – with him standing in line behind Zinedine Zidane high in the main stand at the Estadio da Luz waiting to collect a Champions League winner's medal from Michel Platini.
Carlo Ancelotti and his coaching staff had delivered in one season what the club had been waiting 12 years for – La Decima, a 10th European Cup. As well as his medal, Clement has a match ball from the final at home on the sideboard; the shirt he wore on the night; and the highlights reel for whenever he wants to relive Sergio Ramos's injury-time equaliser and those three extra-time goals.
"Because we scored so late there was that sense of huge relief and they [Atletico Madrid] were left thinking they so nearly had their hands on the trophy, but if you look at the balance of play, especially in the second half, we deserved to win," Clement says when we meet at Real's training ground.
Ancelotti matched Bob Paisley's record of three European Cups that night in Lisbon and Clement was the first man he embraced on the final whistle. The Englishman in Madrid had completed an impressive first season, winning admirers back home who wonder how much longer he will remain as Carlo's trusted lieutenant.
Champions League Final: Real Madrid 4 Atletico Madrid 1 (aet) - player ratings
Champions League Final: Real Madrid 4 Atletico Madrid 1 (aet) - player ratings
1/24 Iker Casillas 5

Real's captain guilty of huge misjudgement to give Atletico the lead, tried to claw it back but helpless to do so, poor mistake from a very experienced 'keeper. Had relatively little to do apart from that.

GETTY IMAGES

2/24 Daniel Carvajal 6

Mistake ten minutes into second half nearly let Villa in but got away with it. Did fine in defence throughout apart from that mistake but lacked quality and thrust going forward.

GETTY IMAGES

3/24 Raphael Varane 6

The 21-year-old French centre-back thrust onto the biggest stage in place of Pepe. Was capable enough at the back and had relatively little to do in the second half.

GETTY IMAGES

4/24 Sergio Ramos 7

The two goal hero of the semi-final let the occasion get the better of him in the first half with frequent arguments and fouls. Needless yellow card in bust up with Raul Garcia. Played almost as an attacker in latter stages as Real pinned their opponents back and got the vital equaliser with just seconds left with his bullet header.

GETTY IMAGES

5/24 Fabio Coentrao 6

Left-back did OK in what could be his last game for the club. Tireless up and down the wing and fine in the tackle. Replaced by Marcelo after fading slightly.

GETTY IMAGES

6/24 Sami Khedira 4

Only played two games in the best part of seven months after back from serious knee injury and showed in lack of sharpness. The German came in for the suspended Xabi Alonso and Real really missed the Spaniard. Yellow carded for nasty foul on Villa and sacrificed after an hour for Isco as Real went for it.

GETTY IMAGES

7/24 Luka Modric 6

Outplayed by Atletico's midfield for much of the contest and often bullied off the ball but provided the perfect corner kick to set up Ramos' equaliser.

GETTY IMAGES

8/24 Angel Di Maria 8

Brought down by cynical and painful Garcia tackle when seemingly away and running into space and suffered similar again later by Miranda. Looked Real's main threat for large parts of the game and found space regularly. Good game from the Argentine who can be the most pleased with himself out of Real's attacking options. Topped off a great night by helping to set up the winning goal for Bale.

GETTY IMAGES

9/24 Gareth Bale 6

Missed Real's best chance of the first half after stabbing his effort wide and really should have scored. Had another good chance in the second 45 but blasted wide. Then missed a third chance after running clear and again toe-poking wide. Turned around a difficult night completely by scoring the winner with a simple header at the back post.

GETTY IMAGES

10/24 Cristiano Ronaldo 6

Very quiet in first half apart from free-kick which stung Courtois' palms. Second dead ball effort deflected onto bar with real pace but found the game difficult to get into. Glanced header was a good chance wasted. But on a difficult night for the superstar, he did have the last word with a cool penalty kick to round off things perfectly for Real.

GETTY IMAGES

11/24 Karim Benzema 5

The centre-forward found it hard to get into the game at times but did his best to hold up the ball when he could. No real chances at all to speak of and removed from the game for Morata to try up front.

GETTY IMAGES

12/24 Marcelo 6 (Substitute)

In place of Coentrao and added some pace down the wing. Threw himself at a header but cleared well. Added the third to seal victory with a powerful strike as Atletico looked defeated. Yellow card.

GETTY IMAGES

13/24 Thibaut Courtois 6

Simple enough saves in the first half and held on to Ronaldo's free-kick well. Was relatively untested in the second half but had no chance at all with Ramos' header. Good save from Di Maria's effort which lead to Bale's winner and unlucky to see it fall perfectly to the Welshman. Helpless for the third and fourth goals.

GETTY IMAGES

14/24 Juanfran 7

Full-back looked happy with Real's front three for first hour but had more problems as the opponents started to put on more pressure. Superb clearance as Marcelo threw himself at a header. Yellow card.

GETTY IMAGES

15/24 Joao Miranda 7

A wall at the heart of Altetico's defence and looked like a true leader. Plenty of great tackles, headers and break up play through out the game. Yellow card for pulling back Di Maria but superb at the back.

GETTY IMAGES

16/24 Diego Godin 8

Hero after equaliser against Barcelona which won league and carried on his unlikely goal scoring form. Broke the deadlock when his helped on header completely caught out Casillas. At the back, the Uruguayan was fantastic, putting his body on the line and winning almost every ball. Stood up to everything Real could muster and deserved to win the game inside 90 minutes and will be heartbroken to end up losing, like all of his teammates. Let his frustrations take over to concede a penalty late on.

GETTY IMAGES

17/24 Filipe Luis 7

Beaten by Bale's speed on more than one occasion but that is forgivable. Did fine on the most part and taken for Alderweireld when he tired in last ten minutes.

GETTY IMAGES

18/24 Tiago 6

His double mistake went unpunished when Bale shot wide in the first half but played well marshaling in front of the back four. Good passing and tackling and a solid night's work all round.

GETTY IMAGES

19/24 Gabi 8

Broke up countless midfield battles and made countless tackles. A real highlight in midfield and played out Simeone's plan very well indeed. Really didn't deserve to be on the losing side like many of his teammates.

GETTY IMAGES

20/24 Raul Garcia 6

Yellow card for nasty tackle on Di Maria but performed well in Atletico's midfield. Plenty of interceptions and tackles and worked hard when their backs were against it. Taken off just after the hour mark and replaced by Sosa.

GETTY IMAGES

21/24 Koke 7

Big part of the Champions' midfield and player well to break up Real's threats for the most part. Yellow card.

GETTY IMAGES

22/24 David Villa 6

The ageing forward has lost a yard of pace but did well in a rare start. Beat Carvajal well on the touchline but failed to find a teammate with the pull back. Yellow card.

GETTY IMAGES

23/24 Diego Costa 5

Gamble to start him didn't pay off as the Spaniard was clearly not fit enough to play. Subbed off after just nine minutes and replaced by Adrian Lopez

GETTY IMAGES

24/24 Adrian Lopez 6 (Substitute)

Sent on for the injured Costa after less than 10 minutes and played his part in stopping Real for most of the game.

GETTY IMAGES
"As long as I can. I'm enjoying it tremendously and it's the chance to win big trophies," he says. "That doesn't mean I haven't got my eye on what I want to do next, which is to try to be a head coach somewhere."
A former Chelsea youth-team coach, he has seen other members of the Cobham fraternity graduate to management – most notably Brendan Rodgers.
"When we played at Anfield we went into the boot room after the game, so when they played here and then trained here the following morning we all sat down together in my office: Carlo [Ancelotti], Brendan and former sporting director Frank Arnesen," he recalls. "It was good to talk. When I joined Carlo, Brendan had just left to go out on his own, but we all have that Chelsea connection."
Home and away wins over Liverpool have been among the highlights of Real's current winning run – 19 wins going into last night's meeting with Almeria, the longest ever of any Spanish team – although it sounds as though victory over Barcelona at home in Luis Suarez's first game satisfied Clement even more.
"They hadn't conceded a goal when they came here to play us," he says. "We were a little bit surprised to see Suarez from the start. I thought it was quite a bold selection, with [Lionel] Messi and Neymar, and a midfield of [Andres] Iniesta, Xavi and [Sergio] Busquets. When you see the line-up you can't help but be impressed and think 'what a talented team', but we were able to get the ball past that first line of pressure and then really make those three midfielders defend. Xavi and Iniesta are fantastic players but they are not getting any younger."
That last comment hints at a failure to rejuvenate at Barcelona, a mistake not made by Real Madrid. With Toni Kroos and James Rodriguez settling into midfield in place of Angel Di Maria and Xabi Alonso, the European champions have at times looked even better this season than last.
"Xabi's departure was a surprise," says Clement. "I never saw that coming until the day he told us all, 'I've got this new challenge and I want to accept it'. We were sad to see him and Angel [Di Maria] go because they were good guys and really good players. You are left thinking, 'That's a big loss for us'. But then we get fantastic new players coming in."
Rodriguez has already scored nine goals, one more than Di Maria in all of last season, and Kroos has filled the gap left by Alonso. Their addition and the growing prominence of Isco have enhanced Madrid's ability to pass their way through teams who defend deep against them, while they retain the counter-attacking potency of Cristiano Ronaldo and Gareth Bale. Opponents are damned if they attack them, and damned if they don't.
The downside of such a wealth of resources could be a perceived diminishing significance of the coaches: the old argument levelled at Pep Guardiola during his time at Barcelona – "any fool could coach this group of players". It's a misconception that forgets the meticulous attention to detail that makes a season a success: the scouting, the session planning, the player monitoring; and the occasions when individual brilliance doesn't win a game and a set play forged on the training ground does.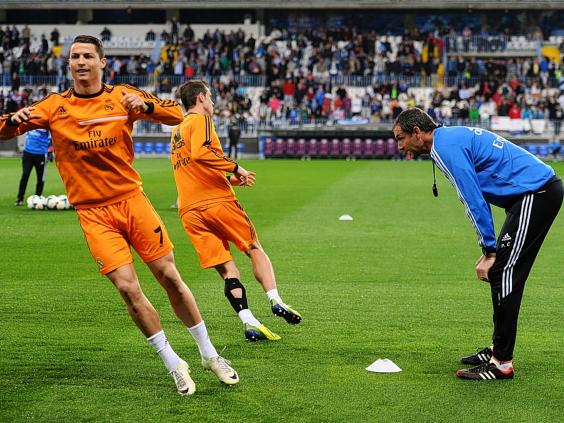 "We have scored 10 goals already from attacking corners," says Clement. "Ten!" It is already more than they scored last season and nine more than Barcelona, who took over 100 corners before their first goal from one came last week against Espanyol.
"Taking care of the details" would come close to a job description for Clement.
He manages a team of six analysts who scout opponents months in advance, compiling reports and preparing video and graphics which are then presented to the players. And he oversees the management of data that helps anticipate injury.
"In every session the players all wear GPS units on their vests fitted with small accelerometers to measure running speed, intensity, distance, and false discrepancy off left or right foot so we can start seeing how they might be over-compensating on one side of the body. If there is an issue and doctors diagnose, let's say, some hamstring tightness then we can put a red tick next to the player and pull him out of some sessions. It's all about taking preventive measures, rather than 'bam!' hamstring gone, out for three weeks!
"The trouble is there is so much data now, and you need people to make sense out of it, so we don't take away the importance of the human eye. A good coach can spot someone who is not comfortable. Speaking to the player is still extremely important."
Clement says he wants honesty from players during those discussions, although he can't hide his admiration for the old-school desire to play on regardless.
"Frank Lampard would play with his ankle the size of a balloon. Alvaro Arbeloa is similar here. There are other players who are more, 'Ah, no, I don't feel quite right'. But we respect that because above all we want them to be able to perform."
Despite all best efforts, a player can still go away on international duty and pick up an injury that rules him out for three months, as happened two weeks ago with Luka Modric. So far his absence, and that of James Rodriguez until the new year, have not stopped the winning run. Squad players have stepped up.
"Carlo is very good at making sure that whether you are going to play for one minute or 90 minutes you are fully focused," says Clement, going on to illustrate the point by citing Alvaro Morata's cameo in the Champions League final. "He had hardly played during the season but was then involved in five of the most important minutes of the year."
Clement believes that ultimately it is this group of players' professionalism, as much as their talent, that sets them apart. "The level here is so high, both physically and technically, and it just continues to improve with James and Kroos coming in. But they are also tremendously competitive. We can be doing a shooting drill and they'll say, 'Let's make this into a competition'. It's the same with the keep-ball exercises and the passing drills.
"When the final whistle goes in one of those small-sided games there is always a massive cheer going up from the team that has won the match. And the ones that haven't won, their heads will go down and they'll get straight in to change, really disappointed: 'Lost the game today, got to win it tomorrow'."
Clement knows this level of excellence will be hard to find elsewhere. But that will not curb his determination to cultivate the same habits as much as possible wherever he goes.
He is drinking all this in, contributing enormously but also looking, learning and taking from every source of inspiration. He has just finished reading Win Forever by Pete Carroll, the head coach of the American football team Seattle Seahawks. The title is apt in view of Real's winning run. The author could also serve as a role model – a modest player who worked hard to climb the NFL's coaching ladder and won the Super Bowl last February aged 62.
"The principles of leadership don't really change across sports," Clement says. "And there are so many great stories about how coaches who have gone on to become head coaches have been shaped by difficulties they experienced earlier on."
His own role has changed drastically. "I was still pumping the balls up right up to when I was the assistant coach of Republic of Ireland. There is a vast difference between working with a big team and previous jobs when I was the coaching staff."
That massive jump from coaching kids to superstars has been safely negotiated to the point where everything now feels "normal".
"There was a certain amount of anxiety when I first started working with the first team at Chelsea, having stepped up from the youth academy. I was working with some big characters and some big players and that was a really uncomfortable time.
"But it took me out of my comfort zone and when I went to the next place it became that little bit easier. I was still a bit anxious but players' reputations usually have nothing to do with the reality.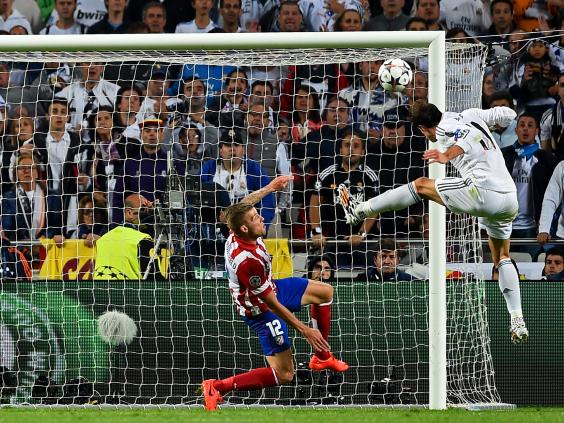 "Working with Zlatan Ibrahimovic was totally different to what I had expected. He is a fantastic professional and a leader, somebody you would happily go into the trenches with. Ronaldo here is exactly the same."
Experience in Spain and France means that when the big chance comes it will not necessarily be back in England. When David Moyes called him for advice about the Real Sociedad job recently he was full of praise for La Liga.
"He will enjoy the way teams really try to play football here. The Premier League can be a bit crash, bang, wallop at times. Not necessarily at the top end, but from mid-table down."
England might also be the hardest place for Clement to be given his chance. "The Premier League is a global game in terms of recruiting players and it has become global in terms of recruiting managers too," he says.
He was desperate for Liverpool to progress in Europe, both for the club and their manager. "It is nice to see Brendan getting an opportunity at a big European club, and long may that continue. I want him to be successful because that will help people like me get that next opportunity."
The level of rumoured suitors continues to rise steadily for Clement. Where once he was linked with Brighton and Queen's Park Rangers, the talk now has him on Arsenal's radar.
What he will not allow himself to do is let thoughts about the next job distract from the next game. Tomorrow Real fly to Morocco for the World Club Championships. On Monday they will learn who they will face in the Champions League.
I remind him that last season he tipped Arsenal and Manchester City to be stronger than a transitional Chelsea. "Well, I got that wrong, didn't I? They reached the semi-finals! Now they definitely look the strongest of the four."
If Real Madrid win the tournament they will become the first side to defend the Champions League title successfully. "No one has spoken about that," says Clement. "The players know if you keep looking after the small details you are going to end up in a good place. Take care of the journey and usually the destination will take care of itself."
For a coach in ever-increasing demand, that sounds like good career advice too.
Reuse content