Real Madrid's English coach Paul Clement had the list of penalty takers ready in the technical area of the Estadio da Luz on Saturday night when Gareth Bale headed past Thibaut Courtois and made sure the spot-kick running order was never needed.
On Sunday the two men celebrated on the streets of the Spanish capital with it still sinking in that they had managed to help deliver in just 10 months a 10th European Cup for Real Madrid, one which the club had been searching for over the past 12 years.
"We were both very happy and the only thing I needed to say to him [Bale] was 'well done' because he knows what a terrific first season it has been for us. It's unbelievable – the stuff of dreams," said Clement.
"In normal time over the 90 minutes, he probably had the best chances but then he arrives at the back post like that in extra-time; it's a credit to his fitness and that physical strength that he has. It's just been a great first year for him."
The Welshman becomes only the third player in Real Madrid's history to score in the final of both the European Cup and the Spanish Cup in the same season. Ferenc Puskas and Raul have both managed it before, so it was no wonder Marca's match  ratings gushed: "He scored the winner in the Spanish Cup final; he scored the winner in the Champions League final. He is already a Real Madrid legend."
Diaro AS added: "Marcelo and Ronaldo both scored afterwards but Bale's was the winner because it was game over after that."
Champions League Final: Real Madrid 4 Atletico Madrid 1 (aet) - player ratings
Champions League Final: Real Madrid 4 Atletico Madrid 1 (aet) - player ratings
1/24 Iker Casillas 5

Real's captain guilty of huge misjudgement to give Atletico the lead, tried to claw it back but helpless to do so, poor mistake from a very experienced 'keeper. Had relatively little to do apart from that.

GETTY IMAGES

2/24 Daniel Carvajal 6

Mistake ten minutes into second half nearly let Villa in but got away with it. Did fine in defence throughout apart from that mistake but lacked quality and thrust going forward.

GETTY IMAGES

3/24 Raphael Varane 6

The 21-year-old French centre-back thrust onto the biggest stage in place of Pepe. Was capable enough at the back and had relatively little to do in the second half.

GETTY IMAGES

4/24 Sergio Ramos 7

The two goal hero of the semi-final let the occasion get the better of him in the first half with frequent arguments and fouls. Needless yellow card in bust up with Raul Garcia. Played almost as an attacker in latter stages as Real pinned their opponents back and got the vital equaliser with just seconds left with his bullet header.

GETTY IMAGES

5/24 Fabio Coentrao 6

Left-back did OK in what could be his last game for the club. Tireless up and down the wing and fine in the tackle. Replaced by Marcelo after fading slightly.

GETTY IMAGES

6/24 Sami Khedira 4

Only played two games in the best part of seven months after back from serious knee injury and showed in lack of sharpness. The German came in for the suspended Xabi Alonso and Real really missed the Spaniard. Yellow carded for nasty foul on Villa and sacrificed after an hour for Isco as Real went for it.

GETTY IMAGES

7/24 Luka Modric 6

Outplayed by Atletico's midfield for much of the contest and often bullied off the ball but provided the perfect corner kick to set up Ramos' equaliser.

GETTY IMAGES

8/24 Angel Di Maria 8

Brought down by cynical and painful Garcia tackle when seemingly away and running into space and suffered similar again later by Miranda. Looked Real's main threat for large parts of the game and found space regularly. Good game from the Argentine who can be the most pleased with himself out of Real's attacking options. Topped off a great night by helping to set up the winning goal for Bale.

GETTY IMAGES

9/24 Gareth Bale 6

Missed Real's best chance of the first half after stabbing his effort wide and really should have scored. Had another good chance in the second 45 but blasted wide. Then missed a third chance after running clear and again toe-poking wide. Turned around a difficult night completely by scoring the winner with a simple header at the back post.

GETTY IMAGES

10/24 Cristiano Ronaldo 6

Very quiet in first half apart from free-kick which stung Courtois' palms. Second dead ball effort deflected onto bar with real pace but found the game difficult to get into. Glanced header was a good chance wasted. But on a difficult night for the superstar, he did have the last word with a cool penalty kick to round off things perfectly for Real.

GETTY IMAGES

11/24 Karim Benzema 5

The centre-forward found it hard to get into the game at times but did his best to hold up the ball when he could. No real chances at all to speak of and removed from the game for Morata to try up front.

GETTY IMAGES

12/24 Marcelo 6 (Substitute)

In place of Coentrao and added some pace down the wing. Threw himself at a header but cleared well. Added the third to seal victory with a powerful strike as Atletico looked defeated. Yellow card.

GETTY IMAGES

13/24 Thibaut Courtois 6

Simple enough saves in the first half and held on to Ronaldo's free-kick well. Was relatively untested in the second half but had no chance at all with Ramos' header. Good save from Di Maria's effort which lead to Bale's winner and unlucky to see it fall perfectly to the Welshman. Helpless for the third and fourth goals.

GETTY IMAGES

14/24 Juanfran 7

Full-back looked happy with Real's front three for first hour but had more problems as the opponents started to put on more pressure. Superb clearance as Marcelo threw himself at a header. Yellow card.

GETTY IMAGES

15/24 Joao Miranda 7

A wall at the heart of Altetico's defence and looked like a true leader. Plenty of great tackles, headers and break up play through out the game. Yellow card for pulling back Di Maria but superb at the back.

GETTY IMAGES

16/24 Diego Godin 8

Hero after equaliser against Barcelona which won league and carried on his unlikely goal scoring form. Broke the deadlock when his helped on header completely caught out Casillas. At the back, the Uruguayan was fantastic, putting his body on the line and winning almost every ball. Stood up to everything Real could muster and deserved to win the game inside 90 minutes and will be heartbroken to end up losing, like all of his teammates. Let his frustrations take over to concede a penalty late on.

GETTY IMAGES

17/24 Filipe Luis 7

Beaten by Bale's speed on more than one occasion but that is forgivable. Did fine on the most part and taken for Alderweireld when he tired in last ten minutes.

GETTY IMAGES

18/24 Tiago 6

His double mistake went unpunished when Bale shot wide in the first half but played well marshaling in front of the back four. Good passing and tackling and a solid night's work all round.

GETTY IMAGES

19/24 Gabi 8

Broke up countless midfield battles and made countless tackles. A real highlight in midfield and played out Simeone's plan very well indeed. Really didn't deserve to be on the losing side like many of his teammates.

GETTY IMAGES

20/24 Raul Garcia 6

Yellow card for nasty tackle on Di Maria but performed well in Atletico's midfield. Plenty of interceptions and tackles and worked hard when their backs were against it. Taken off just after the hour mark and replaced by Sosa.

GETTY IMAGES

21/24 Koke 7

Big part of the Champions' midfield and player well to break up Real's threats for the most part. Yellow card.

GETTY IMAGES

22/24 David Villa 6

The ageing forward has lost a yard of pace but did well in a rare start. Beat Carvajal well on the touchline but failed to find a teammate with the pull back. Yellow card.

GETTY IMAGES

23/24 Diego Costa 5

Gamble to start him didn't pay off as the Spaniard was clearly not fit enough to play. Subbed off after just nine minutes and replaced by Adrian Lopez

GETTY IMAGES

24/24 Adrian Lopez 6 (Substitute)

Sent on for the injured Costa after less than 10 minutes and played his part in stopping Real for most of the game.

GETTY IMAGES
Sergio Ramos equalised in injury-time for Real after Atletico's Diego Godin had looped a header past an indecisive Iker Casillas.
Clement said: "I thought the five minutes added time was fair. We got the goal and as soon as the final whistle went I said 'we've got to start playing again now'. We'd been really pushing and we had been a bit vulnerable at the back.
"Psychologically we had the advantage but there was still 30 minutes to play and  possibly penalties as well.
"I'd written the list out of the penalty takers. We were prepared for them. But now I can keep those five names to myself."
Bale had said before the game he would be prepared to step forward in a shoot-out, but his header made it unnecessary. "It's hard to describe what I felt like when the ball went in. Seeing all the fans and all the players run towards me to celebrate was an amazing feeling," Bale said. "We had shown the character of the dressing room to come back.
"You have to dig really deep in those sort of circumstances and the way we did that  typified what we are all about. We believe in the football we play, we kept going and we came out on top."
It was around 4.30am when the team touched down in Madrid on Sunday morning and the night was only just beginning. Ninety minutes later, after an open-top bus ride through streets filled with jubilant supporters, they took the trophy to the  Cibeles Fountain, finally, after a 12-year wait.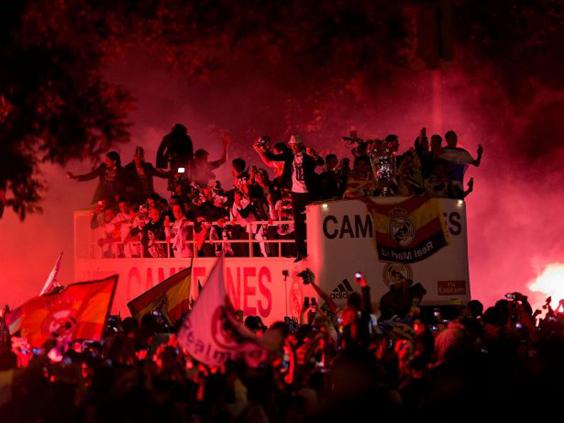 Casillas said the triumph was "even bigger than winning the World Cup". He, along with Marcelo, had been in tears at the incredible turnaround and achievement.
For Clement the day had been made even more special (if that were really possible) by Queen's Park Rangers – the team his father Dave played over 470 games for – winning promotion back to the  Premier League. "The perfect day" he said, having helped  mastermind Real's third win this season over Diego  Simeone's Atletico side.
"Every time I looked up at the clock in the second half the time seemed to have shot forward 10 minutes but that little moment of quality, a good cross and a fantastic  finish from Ramos, and we were saved. He was outstanding again; what a player."
Asked if his incredible five years as Carlo Ancelotti's No 2 meant it would soon be time to be a No 1, there was an admission that management would be the next step when the right opportunity arrives.
"I think it's soon," he said. "A few opportunities have come my way. But this is a difficult place to leave. It's a great club, a great city, a great tradition and it gives you the opportunity to win things."
Asked if he would take a couple of Galaticos with him he joked: "That's what  managers do, isn't it?"
Bale might just be out of bounds. Madrid supporters have been so delighted by his form that some have suggested the €100m man may even have been a bargain.
"The reason I joined Real Madrid was to play in  competitions like this and be able to win them," Bale said.
Asked if Cristiano Ronaldo minded him taking centre-stage in the two finals, the former Tottenham man smiled: "We work well together. We enjoy playing our football and the whole team will tell you whoever scores we are all happy as long as we are winning."
In just 10 months Bale has shown he can share the Fifa World Player of the Year's  limelight. He has been the perfect supporting actor, taking the leading man role whenever necessary.
He has also been the catalyst for their most important European Cup win of all.
Reuse content