As far as the failings of Premier League teams in this season's Champions League go, there was no better example of their collective shortcomings than Manchester City's defeat to Barcelona at the Nou Camp on Wednesday night. Outplayed, outfought and out-thought, City were miles off the pace.
This was a defeat that was not just about Lionel Messi, although he was sensational. It was not just about Barcelona's return to form, although they look very good again. It was about another English team going into a game against brilliant European opposition with no plan to stop their opponents playing and an extreme naivety when it came to their tactical approach.
Just as Arsenal's complacency and arrogance in the first leg against Monaco cost them dearly come the second leg on Tuesday night, so City failed to understand what it took to beat Barcelona. Just as Chelsea failed to create more than one chance against Paris Saint-Germain in Paris and then got caught between attacking and defending their lead in the second leg, so City let Barcelona take control.
It is a shocking statistic over the last three seasons that England have had just two representatives in the quarter-finals of the Champions League and only one, Chelsea last season, in the semi-finals.
Once upon a time we might have been able to blame that kind of failure rate on a lack of imported coaching talent, but we have got the supposed tactical masters from across Europe and South America at our top clubs now. Once we might not have been able to compete with the biggest European clubs for transfer fees, but our league has the biggest television deals in history.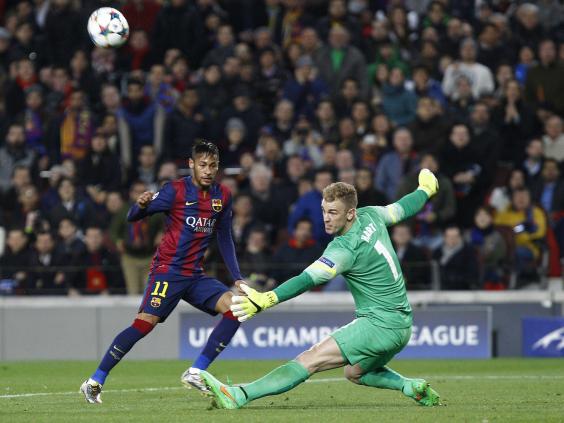 Over the last two weeks our coaches and players in the Champions League have looked second rate. If you put one of Barcelona, Real Madrid or Bayern Munich in the Premier League, they would win it by 10 to 15 points. Even PSG and Juventus look better sides than any of those currently at the top of the Premier League.
I understand that our league is harder in terms of the depths of its competition, and that you are more likely to get a tougher game against sides in the bottom half of the division than would be the case in Spain, Germany or Italy. But it is not as if teams have been unable to combine domestic success with Champions League success in the past: in 1999 and 2008, United won the league and the European Cup.
We played 63 games in the treble-winning season of 1999 and I cannot remember feeling tired once. We won the league title with the last game of the season and along the way we knew that in any game we could miss out on this chance of a lifetime to win all three. We had 22 players who were ready to be called on at any moment.
The bottom line to this season's failings? I think the big two in Spain, and Bayern, simply have better players than the English teams in the Champions League.
Even so, there are ways of playing against Barcelona and, on Wednesday night, City gave a demonstration of how not to do it. When you play Barcelona, as I have said before in these pages, you know that for most of the game you will be defending. You know that your concentration has to be at the very highest level and that if you switch off for a moment they will punish you. It is as much a mental challenge as it is a physical one.
When United beat Barcelona over two legs in the semi-final of 2008, we were exhausted by the effort but won the tie. In the finals of 2009 and 2011 we did not reach those levels and paid the price. City once again turned up at the Nou Camp on Wednesday as if they were unaware how Barcelona play the game.
The first thing to do is to deny Messi, Luis Suarez and Neymar space. City gave them space in abundance. Another rule is not to dive in, especially with Messi, but instead to try to get two or three players around him and control him. City dived in on Barça's No 10 time and again, and by the end of the game he was humiliating them.
Let me tell you what it is like playing against Messi. You are up against a footballer who can take the ball either side of you, and you have no idea which side that might be from any hint about his body-shape. Unfortunately, there is also a third way that he might go past you – the worst of the lot – and that is through you, as Fernandinho and James Milner discovered to their cost.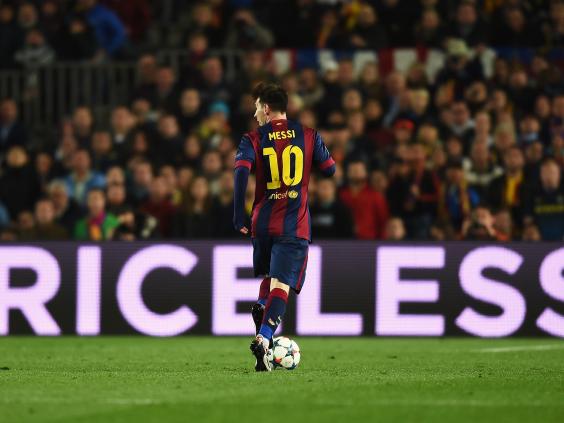 Those two nutmegs are a professional footballer's worst nightmare. I thought Gary Neville got it right when he said he was commentating with his legs closed. In a training session you might try to nutmeg a team-mate for a bit of a mickey-take. It is regarded as the ultimate training field embarrassment to fall for it. But embarrassment was not in Messi's mind when he did it twice on Wednesday, he just saw it as the most effective bit of skill for that moment in time.
My view is that you show Messi one side or the other and if he goes past you, he goes past you. But if he slips it through your legs then you have to obstruct him and take the foul. Just don't ever let yourself be nutmegged.
Those moments of skill were what everyone will remember from the night. The more fundamental problems for City were Yaya Touré walking about in midfield and David Silva not helping out much either. Once again, Fernandinho was left to close down Barcelona on his own. City needed to frustrate them for 70 minutes then try to take a chance, but they never came close to frustrating them. They let Barça play the way they wanted to play.
Well done to Joe Hart for a record number of saves in a Champions League game this season, and without him it would undoubtedly have been much worse for City. But what I could not get my head around was his evident delight at it all. Towards the end of the game he was smiling after every save and fist-bumping his defenders. City were losing 1-0. They were going out of the Champions League. What were they celebrating? Not losing 5-0?
It takes us back to that gulf between the best teams in Europe and the best teams in the Premier League. By the end, City looked relieved the scoreline had not been more humiliating, but it was still a humiliation nonetheless. English clubs should not be pleased to go to places like Barcelona and get away without a thrashing. They should be able to compete. They have the resources.
Arsenal only really seem to play when the pressure is off
In Monaco, Arsenal showed what they can do when the shackles were off and they had to attack. It was a brilliant performance against a very average team, even if they did not get the third goal they needed. Typical Arsenal, that when the pressure is off, they played their best football.
Once again I was impressed with the midfield partnership of Santi Cazorla and Francis Coquelin, although I would have picked a different team to the one that Arsène Wenger selected. I would have played Cazorla further up the pitch, started with Aaron Ramsey alongside Coquelin and dropped Mesut Özil.
Monaco 0 Arsenal 2 player ratings
Monaco 0 Arsenal 2 player ratings
1/24 MONACO Danijel Subasic

Looked suspect as Arsenal started to pepper his goal. Giroud made sure he got in the keeper's face a number of times to distract him. Did enough in the end. 7/10

2/24 Fabinho

A quite poor display from the Brazilian. He struggled to contain Welbeck in the first half and Walcott in the second. 6

3/24 Wallace

He was left to deal with Ozil and he did that job with relative ease. 6

4/24 Aymen Abdennour

An assured performance up against Giroud. Strong and positioned himself well 7

5/24 Layvin Kurzawa

Similar to the first leg, he never stopped charging forward. He was quick enough to track back and defend too. Didn't close down Ramsey for Arsenal's second goal. 6

6/24 Nabil Dirar

On the counter-attack he was very dangerous for Monaco but should have taken advantages of his chances better than he did. 6

7/24 Jeremy Toulalan

Back from injury and Monaco's captain organised his midfield well. He won the majority of his battles with Cazorla. 7

8/24 Geoffrey Kondogbia

He was strong and intelligent but after he was booked early in the second half he lacked intensity. 6

9/24 Anthony Martial

Subbed after 58 minutes and didn't play anywhere near as good as he did in the first leg. 5

10/24 Joao Moutinho

The creative midfielder showed again why Tottenham should have taken a chance when they were interested. 7

11/24 Dimitar Berbatov

Held the ball up well and tried to get a shot off whenever possible. Replaced by Silva on 68 minutes. 6

12/24 From the bench: Yannick Ferreira Carrasco

Showed a lot of energy when he came on. 7

Getty Images

13/24 ARSENAL: David Ospina

Colombian had precious little to do as the vast majority of the match took place in Monaco's half. His poor display in first leg ultimately proved costly. 6/10

14/24 Hector Bellerin

Spaniard has impressed in recent weeks and put in a steady performance. Accomplished in defence and got forward to provide crosses from flank. 8

15/24 Per Mertesacker

Has not enjoyed his best season but marshalled backline well - not that that kept him overly busy. Slow to push up as Driar was harshly given offside. 6

16/24 Laurent Koscielny

Volleyed against bar when called offside and offered imposing threat at set-pieces. Made vital last ditch challenge on Ferreira-Carrasco. 7

17/24 Nacho Monreal

Offers more defensively than Gibbs and did not lack for effort as Monaco reorganised. His cross ultimately led to Ramsey's goal but he tired near the end. 7

18/24 Francis Coquelin

Fortunate to escape booking after sliding in on Moutinho. Broke up attacks with ease to initiate Arsenal attacks. Sacrificed for Ramsey. 7

19/24 Santi Cazorla

Volleyed effort blocked by Wallace but unable to greatly influence from deeper role. Rarely ceded possession and but to no overall result. 6

20/24 Alexis Sanchez

Has shown signs of returning to form and shone in touches. Harshly booked for going to ground in area. Spent a lot of time on the ground. 6

21/24 Mesut Ozil

Did not impress with final ball and swapped shirts at half-time. Freshly attired, forced Subasic to tip free-kick over bar. Shot wide when well placed. 7

22/24 Danny Welbeck

Struggled with touch early on but fine ball for opener. Almost added an instant second and forraged to good effect. Replaced by Walcott. 7

23/24 Olivier Giroud

Strong challenge on Abdennour. Headed over bar and struggled with decision making before thrashing rebound for first. Missed late chances. 7

24/24 From the bench: Aaron Ramsey

Came on for Coquelin halfway through second half as Arsenal chased their second - something the Welshman duly provided within 15 minutes. 7

Getty Images
It was another game from Özil, and another failure to make the big difference. It was not his worst performance, and he had a role in the first goal for Olivier Giroud, but how long must Arsenal wait for him to deliver the moment that wins them a tie like that against all the odds? He found space but his touch was not great. He tried hard but he slows Arsenal down at times. He was bought to make a difference on nights like that.
As for the shirt-swapping at half-time, as I said on ITV, I don't like it. We never did it at Manchester United because there would have been an explosion from Sir Alex Ferguson when he saw you come back into the dressing room. But even if that had not been the case, I would never have done it. I was there to win a football match, not to start a memorabilia collection.
I knew the shirt-swapping business in general was getting out of hand when opponents would ask me for my shirt while we were still mid-match. Those are the wrong priorities. But that is just a detail, and not the basis of why I felt Özil had a disappointing evening for Arsenal.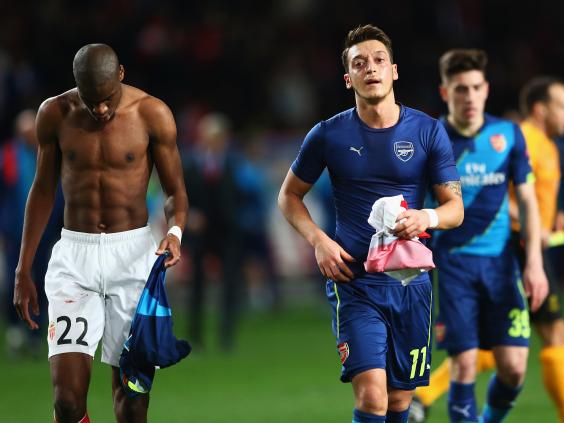 I watched Ramsey against West Ham and I thought that in both games he looked sharp. He scored against West Ham and then against Monaco when he came on and, at the moment, he carries that threat that he will either create a goal or get one himself. As for Özil, he has played in two great teams, for Germany and Real Madrid, and I think that away from that level of the highest quality he is struggling to influence games the same way.
Advocaat is a strange appointment at Sunderland
At 67, Dick Advocaat is facing a big challenge to keep Sunderland in the Premier League. Good luck to him but it feels a strange appointment to me. This is seven managers in just over six years for owner Ellis Short and this time Sunderland look like a dead team.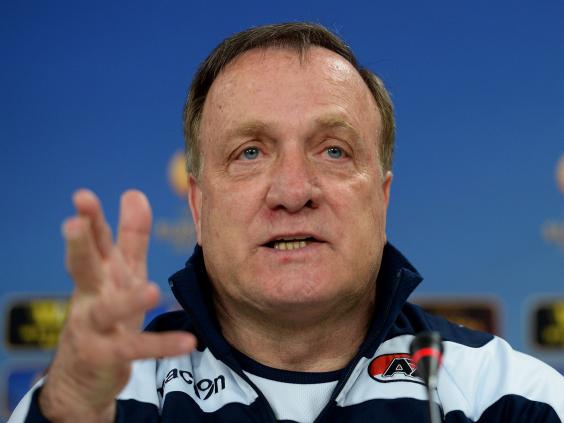 With Aston Villa, you could see that Tim Sherwood had some pace to work with in that squad. Once he got something out of Gabby Agbonlahor, Christian Benteke and Scott Sinclair that team could be a threat. I struggle to see the same in Sunderland, other than with Adam Johnson. I wonder if bringing him back from suspension into first-team training will mean that he will also be available for games.
Victory over Spurs suggests United may be up for the fight
There is no tougher stadium for a Manchester United player to perform in than Anfield. So Sunday is the big test for Louis van Gaal's team and before the Spurs game you would have feared for them, especially with Liverpool in such good form. But that victory for United on Sunday suggests they might be up for this challenge and, in terms of stadium and atmosphere, they do not come any bigger.
Reuse content