When Atletico Madrid beat Real Madrid in last season's Spanish Cup final in the Santiago Bernabeu it felt as if they had peaked.
A first win over their city rivals in 14 years and a trophy won in Real's backyard but they knew Radamel Falcao would be sold to Monaco in the summer – Madrid and Barça would go out and spend around €100m each on reinforcements. How ever would they keep pace? It was two big horses and one little horse, to use Jose Mourinho's most recent post-match parlance.
And yet on Wednesday night, back at the scene of last season's final victory, Atleti will take on Real Madrid again in the Spanish Cup semi-finals. They are top of the league and on a run of 23 games unbeaten, 18 of which have been won.
Diego Costa has replaced Falcao and they are scoring more as a team – only nine behind last season's total goals tally. But still everyone asks the same question: how long can it last?
The last time they topped La Liga they won the title back in 1996, so can they hold out to the end of the season? And can they hold on to their best players – Costa, Thibaut Courtois and Koke – beyond that?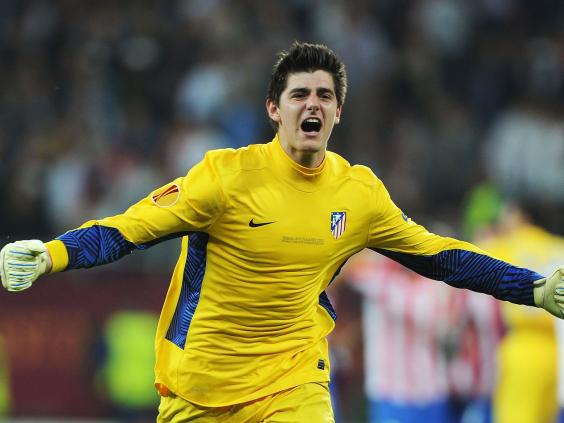 The Courtois decision, as Mourinho has reminded them on several occasions, is out of their hands. "Tell Mourinho where to go" was the advice shouted through the wound-down window of Courtois' car after one training session last week as he stopped to sign autographs. Supporters are desperate for him to stay.
Chelsea are in an enviable position. No goalkeeper in Spain has conceded fewer goals in the top flight than Courtois and no goalkeeper in the Premier League has conceded fewer than Petr Cech.
It will be a difficult decision for Mourinho who favours Courtois extending his loan period at Atletico but signing a new deal at Chelsea lengthening his current contract from to 2016 to 2018.
The Belgian wants his next signature to be with the club where he plays his football week in, week out. If he signs a new deal for Chelsea he wants to be Mourinho's No 1. If there is no room at the Bridge because of Cech then he would rather the next permanent deal he signs be at Atletico Madrid.
The world's best young goalkeeper, about whom Athletic Bilbao midfielder Ander Herrera said last week "he even saves the ones that are going wide" will surely not be allowed to leave by Mourinho. And even if Atletico were able to work out a solution that enabled them to keep him it is likely to include Costa moving in the opposite direction.
With 20 goals in 20 league games this season he has also improved his disciplinary record partly in response to the faith placed in him by national team coach Vicente del Bosque, who risked a diplomatic incident last year when he met the Brazilian-born striker for lunch and persuaded him to pledge his allegiance to Spain.
He will make his debut for La Roja in Atletico Madrid's stadium against Italy in March. A good World Cup will add to his value and between him and Courtois there isn't too much that most top clubs in Europe would not be interested in.
Midfielder Koke, left-back Felipe Luis and schemer Arda Turan have all been watched this season. The over-riding feeling however is that no one is in a rush to leave and much of that has to do with coach Diego Simeone.
He fits the club the way Kevin Keegan once fitted Newcastle and Pep Guardiola, Barcelona. A former captain who played in the double-winning side of 1996 and who with his former Argentinian team-mate goalkeeper German Burgos and fitness coach Oscar Ortega have built a team that even players that leave want to come back to. Brazilian midfielder Diego, who had a happy loan spell in Madrid two seasons ago, rejoined, this time permanently, last week.
Simeone's name is the one the supporters sing before any of the players. An internet search of Fernando Torres and the man nicknamed 'El Cholo' throws up a video of the now Chelsea striker singing his idol's name as a kid on the terraces at the Calderon.
It may be that for as long as the man – whose coaching methods include giving mini teamtalks to his player just before lights-out on the night before games because he believes that is when they are most likely to absorb – stays, then whoever else leaves the club can keep moving forward.
Wednesday night at the Bernabeu players might allow their memories to go back to last May when they won the Copa del Rey. Simone will be on hand to put them straight: "Every day I tell the players that to sit back and rest on what we have achieved would be our biggest mistake," he says.