In the 1982 European Cup final, which Aston Villa won 1-0 against Bayern Munich, the English team's goalkeeper, Jimmy Rimmer, had to come off after nine minutes with a neck injury.
Villa were about to become champions of Europe but there was no Willy Caballero, Claudio Bravo, Jan Oblak, Petr Cech or Keylor Navas for them on the bench. The 34-year-old Rimmer had not been "rotated to keep him sharp" that season.
Aston Villa manager Tony Barton turned to a 22-year-old kid from Cheltenham by the name of Nigel Spink for only his second first-team appearance. He made save after save from European footballer of the year Karl-Heinz Rummenigge, picked up a winner's medal as Villa won 1-0, and went on to make 460 appearances for the club.
The sheer simplicity of it is now too much for many. Barcelona needed to replace Victor Valdes at the start of the season and had their very own Nigel Spink, in the shape of Jordi Masip, but instead of signing one top international goalkeeper, they signed two.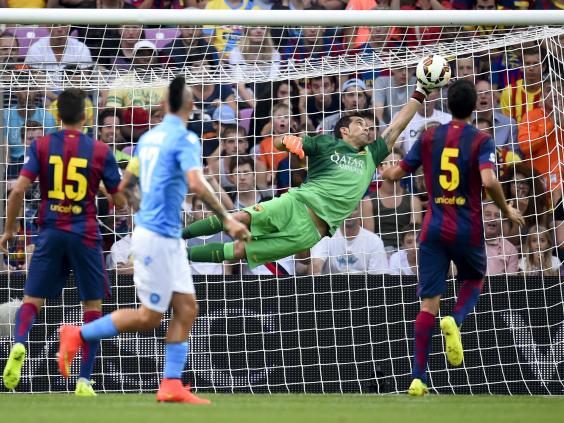 Claudio Bravo has played the last five games, but on Tuesday night against Paris St-Germain he was left out so that Marc-André ter Stegen could come in.
The break from football appeared to have done the German little good as he cost Barça the second goal in a 3-2 defeat, coming for a corner that he got nowhere near, leaving Marco Verratti to head into an empty net.
He might have played the last five games and still made the mistake, but the pressure to impress in order to stay in the team seems often to make for over-anxious goalkeeping performances.
In the previous round of group matches, Atletico Madrid dropped Miguel Moya and brought in Oblak for their first group game to equally disastrous effect.
It could be argued that Iker Casillas proves rotation works because he won the European Cup last season while Diego Lopez played in the league. But the Real Madrid keeper is an exception and even his concentration and confidence suffered with the chopping and changing.
There are now more matches than ever – Aston Villa played eight to reach the 1982 European Cup final. The finalists will have to play 12 to reach this year's showpiece. But has the life of a goalkeeper really changed so much that he could ever  actually benefit from rest and rotation?
PSG can fulfil Ibrahimovic's dream to rule in Europe
Zlatan Ibrahimovic didn't know whether to smile or scowl on Tuesday in Paris. Looking down on PSG's impressive 3-2 win over his former club, he must have sensed in the swagger of the performance that the French champions can now win the group, avoid a top-class opponent in the last 16, and power on to the latter stages. He will also have realised it was all happening without him  as Lucas Moura, Edinson Cavani and  Javier Pastore were too much for Barcelona's defence.
Laurent Blanc's side have yet to win in Ligue 1 and are some way short of being Europe's best team but that has not always been a prerequisite for winning the Champions League. A poor domestic campaign and managerial uncertainty have even galvanised teams in Europe before.
Barcelona helped PSG by giving them the ball an uncharacteristic 82 times but there was a spirit to the French side that was summed up by Marquinhos's celebration at clearing Jordi Alba's late goal-bound shot.
The imposition of financial fair play has stabilised their squad. The budget went no further than David Luiz, and he and Thaigo Silva can draw even greater motivation from the desire to wipe away the memory of the World Cup. Moura's absence from that campaign looks ever more difficult to understand. And if he and Pastore can thrive alongside Ibrahimovic, hungry for the trophy he has never won, it could be time for PSG's best ever European Cup campaign.
Reuse content