This is the time of the season when Jose Mourinho's teams are supposed to turn into the kind of cold-eyed trophy-hunters that have brought their famous coach so much success over the years. But after the wobble at Selhurst Park came the calamity in Paris that leaves Chelsea's season at the crossroads.
Their third consecutive away defeat leaves Mourinho's team fighting for their Champions League lives and facing a monumental task when the teams meet for the second leg at Stamford Bridge on Tuesday. Suddenly Paris Saint-Germain believe that they are on the brink of a definitive victory for their grand project and turning this tie around will be no simple task.
There have been more dramatic victories in Mourinho's past and plenty of times when he has rescued a tie in the second leg. There are a few in this current Chelsea team who were in the side that were 3-1 down to Napoli after a first leg in the Champions League two years ago and rescued the tie around on their way to winning the trophy. This time, however, it will be quite some escape against a PSG team capable of causing all sorts of mischief on the counter-attack.
PSG 3 Chelsea 1: First leg player ratings
PSG 3 Chelsea 1: First leg player ratings
1/24 Salvatore Sirigu 6/10

Italian safely gathered efforts by Luiz and Ramires but unable to do anything with the penalty. Could only watch Hazard's volley against the post

GETTY IMAGES

2/24 Christophe Jallet 7

One of just two French starters for the hosts. Fortunate to be let off awful challenge on Hazard but one of PSG's better performers on the night

GETTY IMAGES

3/24 Thiago Silva 7

The £35m man in the facemask conceded a penalty after needlessly diving in on Oscar to allow Chelsea to level. Resolute and authoritative thereafter

GETTY IMAGES

4/24 Alex 6

Booked for late challenge on Ramires as he came up against his former employers. Stood up well to visitors' marauding midfielders

GETTY IMAGES

5/24 Maxwell 6

Sent in a cross that Lavezzi headed over and linked up well with Matuidi further forward. A strong muscular presence before Chelsea threat faded

GETTY IMAGES

6/24 Thiago Motta 7

Less lauded than the majority of this team-mates, the Italy international does the unheralded jobs well, broke up plenty of Chelsea attacks

GETTY IMAGES

7/24 Marco Verratti 6

Pulled back by Willian in first half. Made countless interceptions and was always willing to receive possession under pressure

GETTY IMAGES

8/24 Blaise Matuidi 8

Strong in the tackle and created a number of chances from the left side with his purposeful deliveries, while also popping up on the right

GETTY IMAGES

9/24 Ezequiel Lavezzi 8

Displayed fantastic technique to find the net from Terry's clearance for the opener. Also hit the side-netting and gave Chelsea problems all night

GETTY IMAGES

10/24 Edinson Cavani 6

Prepared to drop back and help out defence. Tried to engineer penalty under pressure from Cahill but nothing doing. Shot past Cech's post late on

GETTY IMAGES

11/24 Zlatan Ibrahimovic 6

Revelled in deeper floating role early on, one fine pass playing in Lavezzi. Policed well by Chelsea overall before succumbing to hamstring injury

GETTY IMAGES

12/24 Lucas Moura 6 (Substitute)

Pacy Brazilian was given the final quarter as he played for a World Cup place in front of the watching Luis Felipe Scolari. One fine run came to nothing

GETTY IMAGES

13/24 Petr Cech 6

Not to blame for opener or Luiz own goal but disappointingly beaten at his near post by Pastore in injury time for would could prove a crucial third

GETTY IMAGES

14/24 Branislav Ivanovic 6

Serbian made some valuable clearances as the hosts pressed and always keen to offer Jose Mourinho's side an attacking outlet down the right

GETTY IMAGES

15/24 Gary Cahill 7

Stood up well against Lavezzi to narrow the Argentine's angles as he threatened a second. Couple of mix-ups with Terry but unlucky to be on losing side

GETTY IMAGES

16/24 John Terry 6

Despairing header clear in opening minute was punished in style by Lavezzi. Not quite up to heights he has reached this season but never hid

GETTY IMAGES

17/24 Cesar Azpilicueta 6

Has also excelled this season but did not enjoy best of nights here. Offered minimal resistance as Pastore danced through to add gloss to PSG's victory

GETTY IMAGES

18/24 David Luiz 6

Whistled a shot at Sirigu after fine turn and shot and enjoyed time and space afforded him in first half. Found himself in wrong place for own goal

GETTY IMAGES

19/24 Ramires 6

Carded early on for challenge on scorer Lavezzi and now misses Tuesday's return at the Bridge. Fortunate not to see second yellow with robust challenges

GETTY IMAGES

20/24 Willian 7

First match in a fortnight and was penalised for pulling back Verratti. Set up Hazard for cross-shot and broke with pace at every opportunity

GETTY IMAGES

21/24 Oscar 6

Coaxed Thiago into rash challenge to earn visitors the chance to level from the spot. Limited impact before being taken off for Lampard

GETTY IMAGES

22/24 Eden Hazard 6

Calmness personified as he slotted home from the spot on his return to French shores. Struck post with fine cross-shot but tired as hosts recovered

GETTY IMAGES

23/24 Andre Schürrle 5

Surprisingly given the advanced forward role following recent good form. Could not be faulted for effort but unable to affect proceedings to any order

GETTY IMAGES

24/24 Fernando Torres 5 (Substitute)

Cometh the hour, cometh the man as the Spaniard finally gave some Chelsea some attacking threat. Well, that was the idea, anyway

GETTY IMAGES
At 2-1 a disappointing performance could have been dismissed by Mourinho with a shrug and the well-worn excuse that his players were still learning. When substitute Javier Pastore dribbled in from the right goalline to make it 3-1 with virtually the last kick of the game, the whole picture changed again, and suddenly Chelsea are on the back foot.
They threw it away. Having fought their way back to level through an Eden Hazard penalty in the first half after Ezequiel Lavezzi's third minute opener, it felt like Chelsea were in control. But PSG, the new new-money of Europe came out fighting in the second half and, unfazed by the loss of Zlatan Ibrahimovic, scored two goals that change the complexion of the tie significantly.
The warning signs were there in the away tie against Galatasaray in the previous round when Mourinho's side failed to put away their opposition in Istanbul when the opportunity presented itself. Against that calibre of opposition, they were offered a reprieve but this time there was no let-off. An own goal from David Luiz and then Pastore's brilliant late strike means that they find themselves with backs against a cold wall.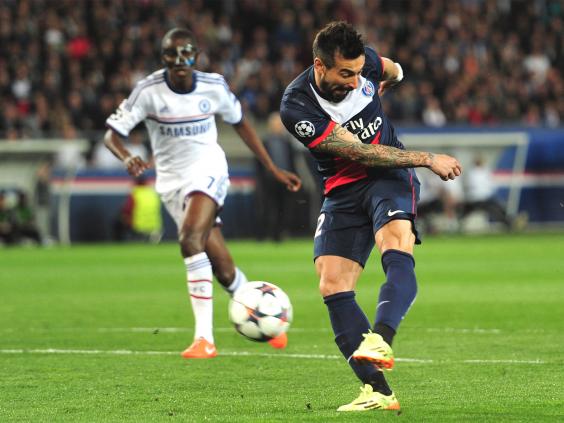 Give PSG their due, there were outstanding performances from Blaise Matuidi and Lavezzi, but you would hardly say they were at their best. Not with Ibrahimovic so indifferent and Edinson Cavani looking a long way from one of the most expensive strikers in the world.
It would be dangerous to doubt the capability of Mourinho and his players to find a way past PSG, who are yet to reach the semi-finals under their new Qatari owners. But it will be another exhausting task, mentally and physically, to drag themselves into the final four of the competition. As the games stack up in the title race, they will have to draw on all their strength in a squad that is starting to look tired.
There were reports of trouble too, among the Chelsea travelling support who were accused of attacking shops and restaurants in the Saint Denis area of the city before kick-off. It was unclear how many had been involved in the trouble that took place in the afternoon.
Mourinho picked a starting XI without Fernando Torres, Demba Ba or the injured Samuel Eto'o, the second big game of the season he had looked at the strikers available to him and decided that it was a case of none of the above.
Instead he played Andre Schurrle as the lead attacker, as he had done at Old Trafford on August in his first striker-free formation of the season. It was not much of an endorsement for Torres and Ba but then someone was always likely to pay the price for that defeat to Crystal Palace, and he has been threatening to do something like it for a while.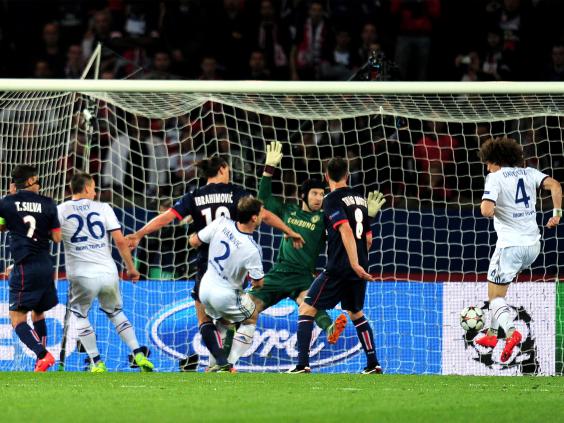 They could not have started any worse, a goal down within three minutes from an elementary piece of bad defending. PSG started brightly and stretched Chelsea all over midfield, working the ball left to Matuidi who put in a good cross into a six-yard area that was largely bereft of PSG attackers. John Terry needed a call from Cesar Azpilicueta to let him know the full-back was better placed to clear the danger but none came.
Instead, not knowing who was behind him, the Chelsea captain felt he was obliged to leap and stretch for a ball that was just out of his comfort zone. He ended up heading it straight to Lavezzi inside the area. The Argentinian took the ball down nicely and with the time and space to hit a shot lifted the ball up and past Cech before the goalkeeper had time to react.
It happened so swiftly that Chelsea had barely had a chance to get themselves into the game, and for a few moments you wondered if PSG might be able to inflict more damage on their opponents. But instead, Mourinho's team showed their maturity and by the mid-point of the half they had taken control of the game.
Ibrahimovic was a marginalised presence in the first half; he struggled to find any space between Terry and Gary Cahill and David Luiz and Ramires protecting the midfield. Willian had an excellent half and it was his ball from the right that was snapped back into the feet of Oscar that made the space for latter to draw a clumsy tackle from Thiago Silva. The Serbian referee pointed to the penalty spot.
Hazard has scored every penalty that he has taken this season in the absence of Frank Lampard, a substitute on Wednesday night. This one was no different, tucked inside Salvatore Sirigu's right-post to put Chelsea level. Hazard also hit the post on 40 minutes with a brilliantly executed left-foot volley from a cross from Willian that was by no means simple to connect with, let along keep on target.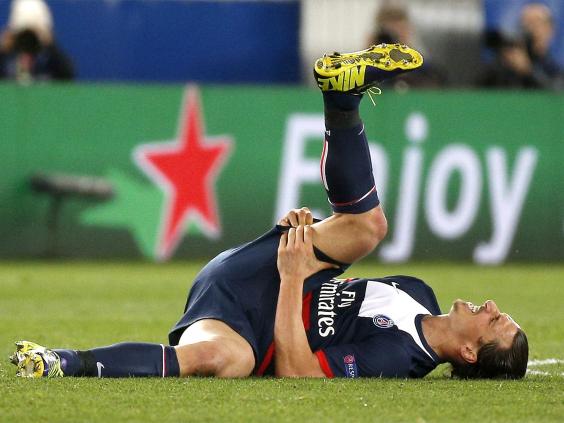 There was a complaint from PSG at the end of the first half when Cahill and Cavani both went to ground and the Uruguayan appealed, half-heartedly it should be said, that the English defender had fallen on top of him and brought him down. Of that attacking three, however, it was Lavezzi who consistently looked the most dangerous.
Ibrahimovic drifted in and out, his best effort before he was substituted a shot that was charged down after Christophe Jallet's ball had found him in space. Then, around the 65th minute, he had competed hard for a ball in the middle with David Luiz, turned to follow the play up-field and pulled up sharp with what looked like a strain in his left thigh.
By then PSG had retaken the lead, another goal that had Lavezzi at the heart of it and a bad one for Chelsea to give away. It was Luiz who fouled Matuidi out on the left wing to concede a free-kick and the Brazilian who found himself helpless to stop the ball cannoning off his legs and into his own goal after Lavezzi's free-kick from the left wing had been allowed to travel all the way across the Chelsea area.
Mourinho looked disgusted at the outcome. Earlier, just before the hour he had called upon Torres to replace Schurrle to try to reinvigorate a tiring Chelsea attack. The Spanish striker and Hazard managed to trick and bulldoze their way through PSG on 65 minutes but Hazard could not quite thread a ball through to the Chelsea No 9 for a shot at goal.
Mourinho sent on Lampard with 20 minutes remaining and it was the Englishman who, along with Azpilicueta, found himself trailing in Pastore's wake when he cut in from the right and scored with virtually the last kick of the game. It did not look good for Petr Cech, who was beaten at his near post. Either way, it will have to be much better at Stamford Bridge.
Paris Saint-Germain (4-3-3): Sirigu; Jallet, Alex, Silva, Maxwell; Verratti, Motta, Matuidi; Cavani, Ibrahimovic, Lavezzi
Subs: Moura/Ibrahimovic 68, Cabaye/Verratti 76, Pastore/Lavezzi 82
Chelsea (4-2-3-1): Cech; Ivanovic, Terry, Cahill, Azpilicueta; Ramires, Luiz; Willian, Oscar, Hazard, Schurrle.
Subs: Torres/Schurrle 59, Lampard/Oscar 72
Man of the match: Matuidi
Booked: PSG Alex, Cavani Chelsea Ramires, Willian, Luiz
Rating: 6