There was a 93rd-minute goal on Saturday and another on Sunday, and they told you everything about the French title race so far.
First, Marseille scored the winner, away at Caen, to extend their lead at the top on Saturday. Then, a day later, Paris Saint-Germain conceded the equaliser, at home to Monaco, leaving them seven points adrift.
It was an important weekend but it was not a plot twist. It was Marseille's seventh straight win, and PSG's sixth draw from nine games in Ligue 1. Marcelo Bielsa's team believed in themselves. Laurent Blanc's did not. And what happened at the Parc des Princes on Sunday was as much of a victory for Marseille as their own win in Normandy the night before. The front page of yesterday's L'Equipe showed PSG's Lucas Moura and Yohan Cabaye deflated at full-time, with the headline "Marseille enjoyed themselves".
Blanc did not look as if he had enjoyed any of it, slumped in his chair in the press room just before midnight. "It's a film we've already seen before," he said. This was the fourth time this season PSG had gone ahead only to be held to a draw. "The team was so scared of conceding that they ended up conceding. Instead of doing what we should, we panicked. This scenario is repeating itself, I hope for the last time."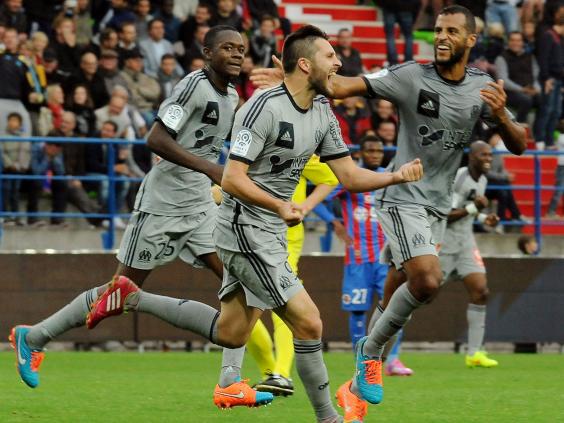 In the third minute of added time, PSG were on the brink of grinding out an undeserved but important 1-0 win over Monaco, which would have taken them within five points of the top of the table. But teenage substitute Anthony Martial hacked a bouncing ball past PSG goalkeeper Salvatore Sirigu and into the net and the atmosphere at the Parc des Princes collapsed. The crowd filed out silently and it felt like far longer than five days since PSG had overwhelmed Barcelona 3-2 in the same stadium on a night of noise, passion and glamour.
This is the issue with Blanc's PSG, though. They have the quality but they have not found the efficiency and ruthlessness to go with it. With the players they have they should be too strong to be in a title race at all, but are now reduced to fighting to get back into one. Lucas put them ahead with 19 minutes left against Monaco but they could neither double their lead nor defend it, and were punished.
It all makes for a slightly worrying picture, over three years after the Qatari takeover of PSG. The Parc des Princes has been renovated this summer, in preparation for Euro 2016, but also to provide hospitality treatment worthy of David Beckham, Jay-Z and Beyoncé, who watched last Tuesday's victory over Barça together. The team is not yet on the same level.
The fact that Monaco were able to put up more of a fight than Barcelona did says something about France's second-richest team, more low-profile in this year's league after a difficult summer. They sold James Rodriguez and loaned out Radamel Falcao, realising that Uefa's Financial Fair Play rules would make transforming the club with Dmitry Rybolovlev's money harder than first thought.
"Financial Fair Play is the main reason behind the change of strategy," Monaco vice-president Vadim Vasilyev told The Independent in a Paris hotel a few hours before kick-off on Sunday. "I always said we would not repeat the massive investments [of 2013] in 2014. But the change was steeper than we thought, because this is the first year when Uefa pronounced in a few cases, notably PSG and Manchester City.
"Basically, the sanctions appear to be much heavier than we thought. We are doing everything to be in line with Uefa regulations."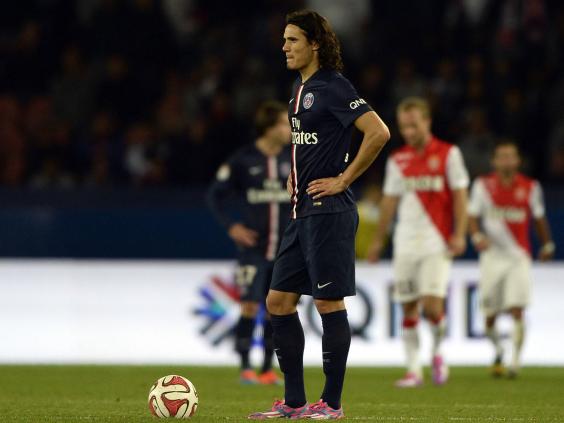 So James and Falcao were not directly replaced, and the club have changed direction, spending more money on the academy and recruiting young players. Claudio Ranieri left as coach and was replaced by Leonardo Jardim, who worked well with youngsters at Sporting Lisbon. "The only way is to focus more on our academy," Vasilyev said. "We have the same ambitions, but we had to modify our strategy. It will take a longer time now."
It sounded rather optimistic after this summer's calculated retreat but Monaco's performance on Sunday night was impressive, even if winning the title in this season's Ligue 1, exclusively live on BT Sport, will still be far beyond them. Monaco started the season dismally – four points from their first five games – but they have stabilised since then. Lucas's goal was the second they had conceded in the last five games.
Jardim had to play an especially young side on Sunday, with Dimitar Berbatov and Jérémy Toulalan out, but they did him proud. Jardim praised Tiemoué Bakayoko (20), Lucas Ocampos (20) and Martial (18), but Geoffrey Kondogbia and Yannick Carrasco (both 21) were just as good. This may never be the Monaco team Rybolovlev once envisaged – Vasilyev confirmed a once-planned move for Cristiano Ronaldo was "no longer on the cards" – but they could still compete.
For now, though, it is Bielsa's Marseille who are out in front, five points clear of Bordeaux and seven ahead of champions PSG. It is not exactly a surprise, as it was when Montpellier  won the title in 2012; Marseille, in one sense, are still the biggest club in France. But their recent spending has not been in the same league as Monaco and PSG and their success is an old-fashioned triumph of coaching.
Bielsa, the legendary, obsessive, maverick Argentinian veteran, is imposing his vision of intense pressing football on Marseille, with real success. One official from the Ligue de Football Professionel said last week that Ligue 1 needed more "football stars" – such as Zlatan Ibrahimovic and David Luiz – to build its global image, and maybe it does, but Marseille are doing fine without any.
André-Pierre Gignac is a world away from Ibrahimovic or Edinson Cavani but Bielsa has transformed him into the league's best striker. He is top scorer with nine goals and is back in Didier Deschamps' France squad. André Ayew, Dimitri Payet and Florian Thauvin have provided enthusiastic support from behind. It is Bielsa so it will not last for ever – his teams have a habit of running out of gas at the end of the season – but for now it is the greatest show in France, leaving the financial giants gazing up at them.
--
Nouveaux riches? Clubs' spending power
PSG
Edinson Cavani Cost €64.5m (£50.7m) from Napoli but is still second choice to Zlatan Ibrahimovic.
David Luiz Paid Chelsea €62m for the Brazilian defender.
Monaco
Falcao Bought in 2013 from Atletico Madrid for €60m, now on loan at Manchester United.
James Rodriguez Signed for €45m from Porto in 2013 but sold for €80m Real Madrid this summer.
Marseille
Florian Thauvin. Marseille paid Lille €15m for the talented young winger in September 2013.
Dmitri Payet Cheaper than Thauvin, but also from Lille, Payet cost €10m in summer 2013.
--
BT Sport brings fans multiple live games from France's Ligue 1 every week as part of a continental European football line-up including Uefa Europa League, Germany's Bundesliga, Italy's Serie A and the Portuguese Primera Liga, alongside top-flight British football from the Barclays Premier League, FA Cup and Scottish Professional Football League.