Carlo Ancelotti is certainly no stranger to pressure. Juventus, Milan, Chelsea and Paris St Germain have all provided the Italian with challenges to pack their respective trophy cabinets and, for the most part, he's succeeded. The anomaly is Real Madrid, a club where lifting trophies is an obligation and a club that is a step ahead of the rest when it comes to pressure-cooker scenarios. At the Bernabeu, there's no rest for the wicked.
So when the Madrid boss was asked about his future before the club's first competitive game of the season in the Uefa Super Cup, it should have been no surprise. Ancelotti faced similar seemingly cynical questioning before the Champions League final in May and after a year in the Spanish capital it's a line of questioning he should be well used to. This is no ordinary scenario and this is no ordinary club, this is Real Madrid.
It's a line of questioning that brought scepticism from many in Ancelotti's pre-match press conference at the Cardiff City Stadium on Monday but it's an approach that is valid given the desperation of the club, especially from president Florentino Perez, to win everything in their power this season. Six trophies are up for grabs for the European champions and Perez is not hopeful of winning all six - he's expectant.
A 2-0 victory over La Liga rivals Sevilla in the Welsh capital on Tuesday night ticked one off the list as Madrid claimed their first Uefa Super Cup for 12 years thanks to a brace of Cristiano Ronaldo goals and star performances from hometown boy Gareth Bale and new signing Toni Kroos. The competition may not sit high up on the 'wanted' list for Madrid relatively, but it was crucial if Perez and Ancelotti are to oversee an historic season at the club.
"Every competition and every trophy is important at Real Madrid," said Luka Modric, who took his place alongside summer additions Kroos and James Rodriguez in Madrid's three-man midfield. "It would be marvellous to be able to win all six [trophies], but it will be very, very tough. We'll face some very good teams on the way. The pressure will be the same as it always is at Real Madrid."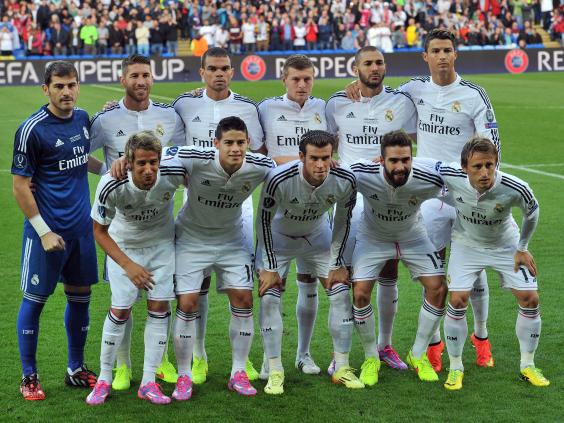 That pressure was mirrored on the front pages of Wednesday's sports papers in Spain. Madrid showed "flashes of their formidable potential to aspire to win everything" beamed Marca. "What this Madrid side cannot win through sheer inertia, they win through talent," said AS's Juanma Truba. "I am talking about league titles and Champions League (as long as they don't get bored doing so)."
Ever since Iker Casillas lifted the club's tenth European Cup in Lisbon the talk has been about winning it all, destroying everything that comes in their path and cementing their place as the biggest and best club on the planet. That honour has been held by Barcelona in recent seasons and it's the Catalans' experience of already clinching all six major trophies in one year that helps drive Perez and his colleagues at the Bernabeu.
Top 10 most expensive players ever
Top 10 most expensive players ever
1/10 Gareth Bale - £86million

Tottenham to Real Madrid (2013) - Bale became the world's most expensive player ever when he made the switch from Spurs to Spain.

GETTY IMAGES

2/10 Cristiano Ronaldo - £80m

Manchester United to Real Madrid (2009) - Ronaldo smashed the record transfer fee when he left Old Trafford.

GETTY IMAGES

3/10 Luis Suarez - £75m

Liverpool to Barcelona (2014) - The Reds cut ties with Suarez after the 2014 World Cup making a £50m profit.

Barcelona FC

4/10 Neymar - £71.5m

Santos to Barcelona (2013) - The Brazilian finally completed his long awaited move to Europe after a complex deal.

Getty Images

5/10 James Rodriguez - £63m

Monaco to Real Madrid (2014) - After a superb World Cup showing, the Colombian became Real's latest big money signing.

6/10 Zlatan Ibrahimovic - £59m

Inter Milan to Barcelona (2009) - The Swed only spent two seasons at the Nou Camp despite his mammoth price-tag.

GETTY IMAGES

7/10 Kaka - £56m

AC Milan to Real Madrid (2009) - The Brazilian joined in the same summer as Ronaldo but failed to make a real impact at the Bernabeu.

GETTY IMAGES

8/10 Edinson Cavani - £55m

Napoli to PSG (2013) - The Uruguayan's deal made him the most expensive player ever purchased by a French team.

Getty Images

9/10 Zinedine Zidane - £53m

Juventus to Real Madrid (2001) - Became the world's most expensive player when he moved to the Bernabeu and more than paid it back, particularly with his spectacular goal in the 2002 Champions League final against Bayer Leverkusen.

10/10 Radamel Falcao - £51m

Atletico Madrid to Monaco (2013) - The newly funded Monaco signalled their intent by signing the Colombian.

Getty Images
That sextuple was completed in 2009 but spanned two seasons. The chance to win all six in one campaign adds more glitz and glamour for Los Blancos but will also prove more difficult given the number of matches they will need to play in ten months. Pep Guardiola led Barca to the Spanish Super Cup, European Super Cup, Club World Cup, Copa del Rey, La Liga and the Champions League in an historic year for the Catalans and Perez is desperate to trump that.
"We didn't play badly for the short time we have been training," Perez said after seeing his side clinch their first trophy of the season. "This triumph gives us massive hope and expectations. We want to continue improving and winning trophies."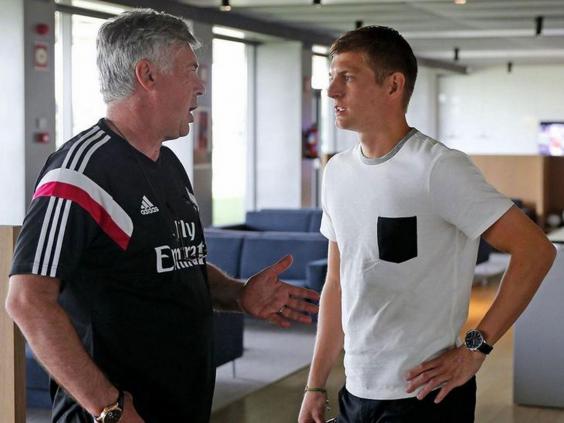 The Blancos president has certainly provided Ancelotti with the ammunition to compete on six fronts this term. World Cup stars James Rodriguez and Toni Kroos have joined a squad already packed with talent while Keylor Navas adds competition for Iker Casillas in goal and the rumours surrounding former Atletico Madrid striker Falcao adding to Madrid's firepower will not go away. Luis Suarez's move to Barcelona may have been the blockbuster transfer of the summer but Madrid's squad is the one looked on with envious eyes from the watching world.
That much-needed squad rotation could come into operation as early as next week when Madrid take on La Liga champions Atletico Madrid in the two-legged Spanish Super Cup. Diego Simeone's men visit the Bernabeu next Tuesday before hosting their more illustrious neighbours three days later. La Liga then kicks-off the following Monday when Madrid host newly-promoted Cordoba. All this with the majority of Madrid's stars only returning to full training last week following their exploits at the World Cup.
The Fifa Club World Cup takes place in Morocco in December and comes at an ideal time for Madrid given the mid-season break in the Spanish season, a break that would usually take the club far away for lucrative friendly matches anyway. Los Blancos' defence of the Copa del Rey then kicks-off before Madrid will expect to be involved in the business end of the season in La Liga and the Champions League.
No pressure, then, for Ancelotti. This is, however, a man who didn't flinch when Sergio Ramos headed in a dramatic injury-time leveller against Atletico in the Champions League final, a goal that put the club en route to winning a trophy that made their six-trophy dream a real possibility. This is also a man blessed with arguably the best squad in the world and one of the most talented squad's in the club's illustrious history.
One down, five to go.
Reuse content