Atletico Madrid give the Vicente Calderon the European farewell it deserved, if not quite the one they desired, as it still means Cardiff's Millennium Stadium will welcome Real Madrid for the 2017 Champions League final.
In what was the last continental game at the old ground before Atletico move to the Peineta stadium next season, there was a fittingly ferocious 41 minutes when they threatened a comeback for the ages… only for their neighbours to show why they will make history if they retain the trophy by beating Juventus on 3 June.
Real displayed a champion's exacting experience for Isco to claim a key goal to make it 2-1 on the night and 4-2 on aggregate, just as Atletico seemed to be building towards an improbable 3-3.
Atletico Madrid vs Real Madrid player ratings
Atletico Madrid vs Real Madrid player ratings
1/22 Jan Oblak – 6 out of 10

AFP/Getty Images

2/22 Jose Maria Gimenez – 6

Getty Images

3/22 Diego Godin – 6

AFP/Getty Images

4/22 Stefan Savic – 6

AFP/Getty Images

5/22 Filipe Luis – 6

AFP/Getty Images

6/22 Gabi – 7

AFP/Getty Images

7/22 Saul Niguez – 7

Getty Images

8/22 Koke – 6

AFP/Getty Images

9/22 Yannick Carrasco – 8

AFP/Getty Images

10/22 Fernando Torres – 6

AFP/Getty Images

11/22 Antoine Griezmann – 7

Getty Images

12/22 Keylor Navas – 7

AFP/Getty Images

13/22 Danilo – 5

AFP/Getty Images

14/22 Sergio Ramos – 6

Getty Images

15/22 Raphael Varane – 6

AFP/Getty Images

16/22 Marcelo – 7

Getty Images

17/22 Casemiro – 6

AFP/Getty Images

18/22 Toni Kroos – 7

AFP/Getty Images

19/22 Luka Modric – 7

Bongarts/Getty Images

20/22 Isco – 8

Getty Images

21/22 Karim Benzema – 7

AFP/Getty Images

22/22 Cristiano Ronaldo – 6

AFP/Getty Images
They also showed why they will always be the bigger Madrid club, always casting the shadow. Atletico got the win they so craved in the last derby at the stadium, but it was still Real who got the last word.
There was just that bit more quality in Zinedine Zidane's squad, just that bit too much to do for Diego Simeone's, as has pretty much been the story of all of their meetings in Europe.
That has pretty much been the story of this stadium and the club that have graced it, too. It saw what it has seen more than anything of, one last time: bittersweet disappointment at the feet of their greatest rivals.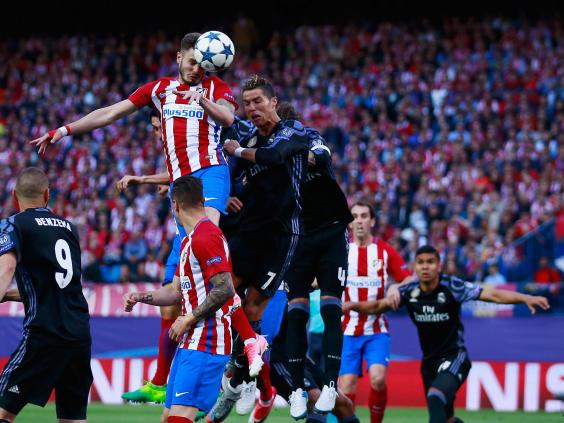 This may have been a night that became about Atletico's home, but this is ultimately the competition that Real call home.
Before the game, and in response to the Santiago Bernabeu banner that read "tell me how it feels" - referencing Real's wins over Atletico in both the 2014 and 2016 finals - as well as so much of the debate about the status of the two clubs, the Calderon crowd spelt out the words "proud not to be like you".
That pride certainly seemed stung by the surprisingly pathetic way Simeone's side surrendered 3-0 in the first leg, and they started the match as if almost looking to make up for the damage to their reputation as much as make up the deficit.
On what was fittingly a very blustery night, Atletico blew away most of Real's lead within the first 16 minutes, the remaining goal left exposed to the whirlwind. That was the only way to describe the opening 16 minutes. It was as if all the intensity Atletico lacked from the first leg was distilled into this, enhancing everything Simeone's players did.
Antoine Griezmann blew the trumpet for the charge with a powerful run and shot down the middle after just a minute, before Fernando Torres headed wide. Casemiro forced a fine save from Jan Oblak at the other end, but it was a rare moment of action near the Atletico goal at that stage, as Real eventually gave way.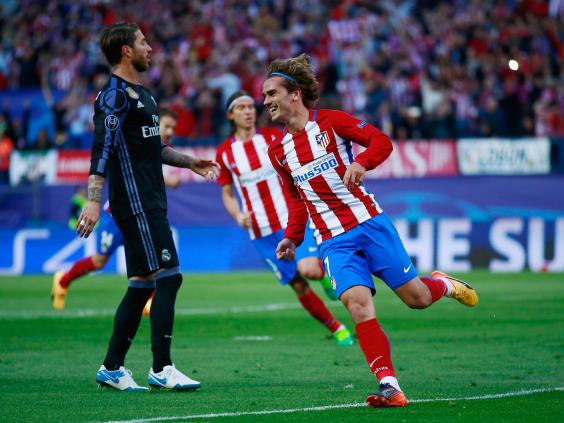 It was Cristiano Ronaldo who was the player to give way at a set-piece, allowing Saul Niguez to thunderously head in on 12 minutes. There came the first eruption from the caldera that was the Calderon.
Just four minutes later, amid more chaos around the Real box, Torres went down under contact from Raphael Varane and referee Cuneyt Cakir pointed to the spot. Griezmann didn't quite pick his spot, as Keylor Navas got a big hand to the ball, but it was enough to go in.
It was also enough to make this a proper tie again. It really was on the line. No more miracles required to take it to extra-time, just one more goal. There came the second eruption. There was belief. There was fire in the stadium to go with the wind.
It was then that we saw some expert game management from the defending European champions. Just at the point when more naive sides like Paris Saint-Germain might have buckled, Real got their foot back on the ball, and took that sting out of Atletico's attack. There were a few feet flying through the air, though, and still a lot of sting in the challenges. Diego Godin went in on Ronaldo and received a booking, amid a series of real "derby" tackles.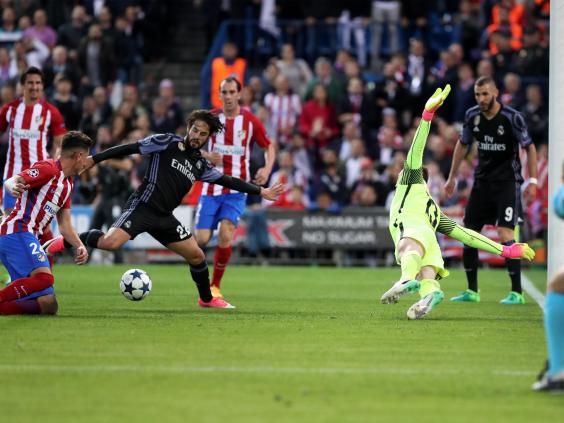 From that kind of aggression, Real then typically showed the coolness of mind to hurt Atletico - especially Karim Benzema. He devastatingly took three defenders out of the game with one deft piece of skill, before Toni Kroos took a shot that Oblak did brilliantly to get down for.
As so often is the case between these two teams in this competition, however, it was all just a bit too far beyond Atletico. Kroos did well to make the stop but it meant only Isco could make the rebound. It was 2-1, and an away goal. Atletico required three again.
Atletico, really, required a miracle again. Although they obviously never stopped trying, it did feel as if that extra fire had by then been extinguished from their game. Real themselves had all their composure back, and Isco began to get more and more of the ball to control the game. He almost got a second goal, too, but fired just wide from distance.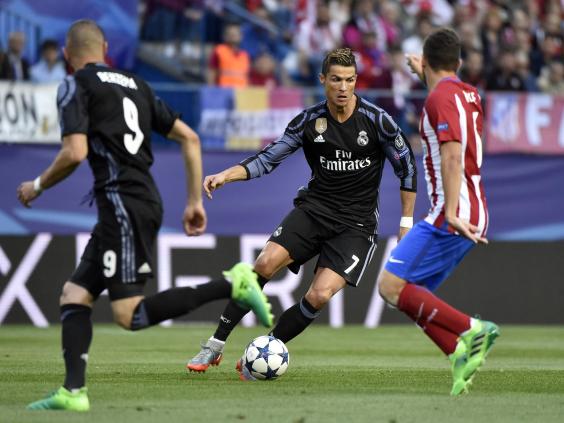 A perfect example of how the game had swung came just before the hour. Kroos went into a challenge and - though it probably would have went the other way in the second half - it this time practically came out on his foot, allowing him to nicely clip the ball onto a Real shirt.
It was the same on 67 minutes, when Yannick Carrasco seemed to get in for a third that could potentially have allowed enough time for a grand-stand finish, only for Navas to make save and his parry to then be a bit too difficult for substitute Kevin Gameiro to beat him from the rebound. Again, it was now just falling Real's way.
Real did have a goal ruled out for offside when Ronaldo was actually onside, but by then it didn't matter.
All that mattered was what is to come.
Atletico go to their new stadium, Real go to meet Juventus.
Reuse content