There was a moment in the first half of the Madrid derby on Tuesday night when Real were only winning 1-0 and Atletico Madrid had the chance to level. 
Diego Simeone's side were sticking to their plan of keeping tight and trying to get in behind the backline, even after going down to Cristiano Ronaldo's first goal, and suddenly Kevin Gameiro seemed to be released with Antoine Griezmann to his left. 
Raphael Varane very quickly stepped in to stop him, though, and subsequently break up play - as was the case for much of the night. It was a moment that summed up Atletico's evening.
Ronaldo's Champions League century
Ronaldo's Champions League century
1/21 Ronaldo's Champions League century

Against Bayern Munich, Cristiano Ronaldo became the first ever man to score 100 goals in the Uefa Champions League. Here we recount some of his most memorable.

Getty Images

2/21 Goal 1

Ronaldo opened his century of Champions League goals against Debreceni in the third round of qualifying for the competition. He netted a precise tap in off a Wayne Rooney cross off the right flank.

AFP/Getty

3/21 Goal 9

An injury time free-kick from 20-yards out against former club Sporting secured a 2-1 win for Manchester united in the 2007 Champions League group stages.

Man Utd via Getty

4/21 Goal 12

A towering 26th minute header in the 2008 final gave Manchester United a vital early lead. The Reds went on to beat Chelsea 6-5 in penalties.

Getty Images

5/21 Goal 15

Still to this day one of the finest goals in Champions League history. A 35-yard screamer from open play against Porto gave Manchester United the a 3-2 aggregate win in the quarter-finals.

Getty Images

6/21 Goal 40

Ronaldo's 90th-minute strike won an engrossing game as the nine-time champions scored twice in the last four minutes to snatch a 3-2 victory.

Getty Images

7/21 Goal 43

A cheeky chip over goalkeeper Kenneth Vemeer gave Ronaldo his first Champions league hatrick as Real Madrid thumped Ajax 3-1 in the second group stage match in 2012.

Getty Images

8/21 Goal 44

A second chip in two matches- this time Ronaldo latched on to a long ball in the box before sneakily flicking over Borussia Dortmund keeper Roman Widenfeller for the equaliser.

AFP/Getty Images

9/21 Goal 50

50 up in style! Six minutes into the 2012/13 Champions League quarter-finals first leg against Galatasaray, Ronaldo found himself in space to convert Karim Benzema's cross, putting Madrid one step closer to what was a record 24th European semi-final.

AFP/Getty Images

10/21 Goal 54

Ronaldo and Real Madrid ran riot against Galatasaray in the 2013 group stages. A jaw dropping dribble weaved through the Turkish defence and a low blast past the outstretched hands of Fernando Musrela brought up Ronaldo's second European hatrick and helped them to a 6-1 win.

Getty

11/21 Goal 62

This time Schalke were at the other end of the Ronaldo and Madrid show. He strormed down the centre field, split the defence in two, dribbled the keeper and scored his second of the night. Simple.

Bongarts/Getty Images

12/21 Goal 64

The second leg of the 2013 Champions league round of 16 against Schalke brought about another Ronaldo double. A 30-yard run down the right wing and a shot from the edge of the box gave the keeper no chance. Madrid completed a 9-2 aggregate win over the Germans.

Getty Images

13/21 Goal 68

The night Ronaldo won the Champions League for Real Madrid. He lined up for the 120th minute penalty and made no mistake. Real Madrid scored 4 goals in extra time to break Atletico hearts.

Getty Images

14/21 Goal 73

Ronaldo's 73rd European goal came at Liverpool. Despite not being as instantly brilliant as some of his others, it was voted the second-best goal in the competition that season and set Real on their way to a comfortable 3-0 win at Anfield.

AFP/Getty Images

15/21 Goal 80

A classic Ronaldo penalty brought up the personal milestone of 80 European goals and helped but was not enough to send Real through to the finals of the Champions League.

Getty Images

16/21 Goal 83

After Marcelo's shot was saved by the keeper, Ronaldo was in the perfect spot for a rebound and in the process brought up his third European hat-trick vs Shaktar in the 2015 Champions League group stages.

Getty Images

17/21 Goal 90

An 8 goal drubbing of Malmo gave Ronaldo his fourth European hat-trick. The third goal from the three came in the 59th minute from a low blast through the keepers legs.

Getty Images

18/21 Goal 91

With his fourth goal of the match against Malmo, Ronaldo broke the record for the most goals in the group stages of the Champions League (11).

Getty Images

19/21 Goal 92

A game later against Roma, Ronaldo ventured down the left leaving the defence trailing. One quick cut in and a curved right foot shot later and he had his 92nd European goal.

Getty Images

20/21

Ronaldo's fifth European hat-trick came against Wolfsburg in the 2016 quarter-finals. The Germans had won the first leg 2-0. He completed the stunning comeback with a sublime chipped free kick that sent the Madrid fans into delirium.

Bongarts/Getty Images

21/21 Goal 100

The Real Madrid superstar scored five of his team's six goals in the quarter-final tie against Bayern Munich, moving him to a century of goals as he tapped home Marcelo's cross in the second period of extra time.

Getty Images
All night long the French defender and Sergio Ramos had worked well in stopping Gameiro and Griezmann higher up the pitch than normal and, as a result, Atletico's chances were limited. They were being pressed between the lines, and repeatedly broken apart.
More than this, there was something even more fundamental hindering Atletico's game which marked a real break from what they usually do. Put simply, they were not as intense. They were weak in the challenge, losing almost every single one-on-one.
That is something genuinely unbelievable for Atletico, and it's difficult not to link it to their belief in this game, and the psychology around this tie. I have spoken before in this column about this dynamic, like how during my time at Liverpool we seemed to always beat Everton no matter the circumstances - a trend that has continued. So, a trend between Real and Atletico has continued, and Real once again beat their rivals in the Champions League.
It was more than just a lack of intensity, though, as this led to other problems for Simeone's side. It's usually so difficult to catch Atletico on the break but, in this game, Real were arriving in their box within three touches.
Of course, the other side of that is that Zinedine Zidane's team genuinely looked a side to fear. They were simply outstanding. Real are of course a squad of great individuals but what stood out on Tuesday was how they worked as a team.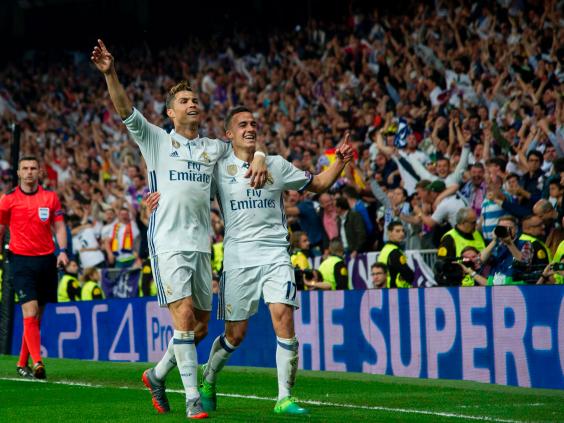 From the very beginning of the game, and especially throughout that first 15 to 20 minutes, Isco and Luka Modric completely controlled the match. They were setting the tempo, picking the moments to release players - like when Dani Carvajal got down the right for the first real attack of the game – and engineering Real's superiority in the middle of the pitch. With Isco bringing energy and dynamism from his position at the top of Real's 4-4-2 diamond, it proved to be the right approach.
Atletico couldn't find the appropriate response. You could see they were worried; the team took too long on the ball, too ponderous, with Simeone trying different things that weren't coming off. At the same time, while his substitutions didn't work, Zidane's did. Nacho, for example, brought great balance to the right flank.
Beyond that, of course, there was the contribution - and very quality - of Ronaldo.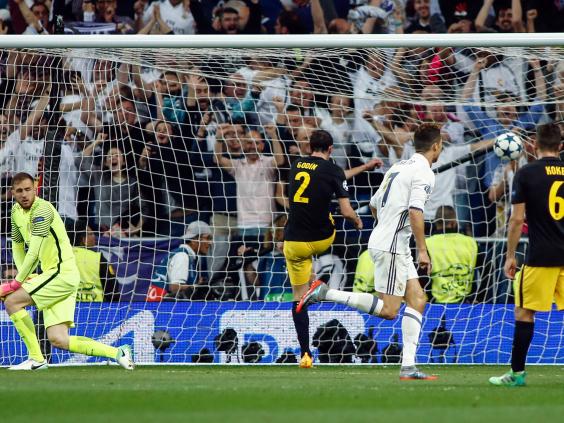 It's not easy to improve as a player once you reach your 30s - and whether the Portuguese actually has remains up for debate - but there's no denying that Ronaldo has blossomed as a team player in recent years.
Beforehand, when at his physical peak, he was able to make chances on his own, to get the ball in the middle of the park and drive forward. There were probably too many individual actions, though, and he was too selfish.

Nowadays, he's generally far away from the area where the game is being built, and it's having a positive effect on him and his team-mates.
It allows them to build, and him to just get in the box and be a clinical striker, because his effectiveness is unprecedented. Look at Tuesday night. Three big chances and three big goals.
I think he's been very intelligent about using his abilities in that way, approaching the game with his strengths even if his physical power is not as it was, but also very tactically intelligent.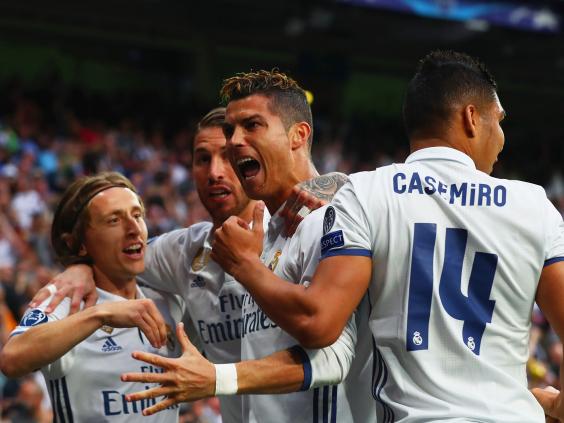 There were a lot of times in the last 15 minutes when Lucas Vazquez was getting involved and creating and Ronaldo was so visibly gesturing to him that he would cover him. I'm genuinely not sure we would have seen that in the past. He and Real are now getting the best out of each other.
The decision to rest him for some league games has also been important, and shows he's been smart for his career, but also shows the strength of the Real squad.
This is the real difference between the sides.
Simeone, of course, showed in his press conference that he's going to battle and I think one of his strengths is true character in the face of adversity. He will bring everybody together to try the impossible and overturn a 3-0 deficit next Wednesday, but it's difficult to see it happening.
Atletico will need Real to have an off-day, to be complacent, but that is unlikely to be the case. Instead, they look like a squad focused on making history this season, with a forward who continues to prove his critics wrong.
Reuse content