When Barcelona and Real Madrid have locked horns in recent seasons, El Clasico has not only been one of the most captivating contests in football, but it has also been a vehicle for one of the greatest recent individual rivalries on the planet: Lionel Messi against Cristiano Ronaldo.
The pair have dominated football's greatest individual prize, the Ballon d'Or, for the last five years with Messi taking the honour on three occasions to Ronaldo's two, and both break club and league records with frightening regularity, making the head-to-head an obvious focal point. Two of the best teams of the planet with the two best players on the planet going up against each other. Not a bad sub-plot to arguably football's greatest rivalry.
The pair will be their side's talisman again on Sunday night when Tata Martino takes his Barca side to the Bernabeu looking to close a four-point gap on Carlo Ancelotti's league leaders. So often a moment of Messi magic has helped the Catalans to victory while Ronaldo has long since proved he does not shy away in the big games with an impressive personal record against the Blaugrana.
The duel will not be the only key battle in the contest, however, with a star-studded line-up expected to produce one of the most thrilling Clasico matches for many years. Here are the five personal battles that could decide if Madrid edge closer to reclaiming La Liga or whether Barca stay in the title race:
1. Cristiano Ronaldo vs. Lionel Messi
Unsurprisingly the top-scorers for their respective clubs, Ronaldo also leads the way in La Liga this season with 25 goals in 24 appearances for Los Blancos, while Messi leads the way for the Catalans with 18 in 21 matches.
Both will be keen to extend that tally this weekend and both could not be in much better form to do just that. Messi helped himself to a hat-trick as Barca dismantled Osasuna 7-0 last weekend and in-turn became the club's all-time leading goalscorer with 371 goals, eclipsing that of Paulino Alcantara. Ronaldo scored twice in his side's 3-1 Champions League win over Schalke to level Ferenc Puskas's club record 242 goals. It also moved the Portuguese to within one goal of the Champions League record of 14 in a season - held by Messi.
It's not all about goals. Messi has produced more assists than creative midfield men Andres Iniesta and Xavi with nine to his name this season, trailing only Cesc Fabregas, who has 12. Ronaldo, sometimes perceived as a selfish player, hasn't done too badly either with seven assists this term.
The Argentine has another chance to make some history this weekend, too, with one goal seeing him tied with former Madrid man Hugo Sanchez on 244 La Liga goals. Messi is currently third in the all-time league scoring charts with 233. Telmo Zarra leads the way with 252 and Ronaldo is currently only 14th on the list, although he didn't start playing in Spain until he was 24. He'll be looking to make up for lost time.
Champions League: The last eight teams standing
Champions League: The last eight teams standing
1/8 ATLETICO MADRID

Best: Runners-up (1974)
Star man: Diego Costa
Overview: Have let their chances of winning the Primera Division slip lately, but they are still having a superb year thanks to the 22 goals of Diego Costa. A 5-1 aggregate win over AC Milan in the last 16 will have done their confidence no harm.

GETTY IMAGES

2/8 BARCELONA

Best: Winners (1992, 2006, 2009, 2011)
Star man: Lionel Messi
Overview: Also likely to lose out to Real Madrid for the La Liga title following a recent dip in form. Kept their European dream alive with relatively straightforward 4-1 win over Manchester City in the previous round.

Getty Images

3/8 BAYERN MUNICH

Best: Winners (1974, 1975, 1976, 2001, 2013)
Star man: Franck Ribery
Overview: Pep Guardiola is hoping to join an exclusive club of coaches who have won the Champions League with two different clubs. Bayern, unbeaten in the Bundesliga, wasted little effort getting past Arsenal in the second round.

Getty Images

4/8 BORUSSIA DORTMUND

Best: Winners (1997)
Star man: Robert Lewandowski
Overview: Defeated by Bayern in last year's final. Some 23 points behind their rivals in the Bundesliga and went down to a disappointing home defeat to Zenit St Petersburg in the second leg of their last-16 tie.

GETTY IMAGES

5/8 CHELSEA

Best: Winners (2012)
Star man: Eden Hazard
Overview: Chelsea surrendered the initiative to Manchester City in the Premier League title race last weekend when they lost to Aston Villa, but few would bet against Jose Mourinho winning a third Champions League trophy after their ruthless display against Galatasaray in the last round.

GETTY IMAGES

6/8 MANCHESTER UNITED

Best: Winners (1968, 1999, 2008)
Star man: Robin van Persie
Overview: David Moyes has endured a horrid debut season domestically, but his team gave United fans a night to remember on Wednesday when they overturned a two-goal deficit to progress at the expense of Olympiacos.

EPA

7/8 PARIS SAINT-GERMAIN

Best: Semi-finalists (1995)
Star man: Zlatan Ibrahimovic
Overview: Deprived of a place in the World Cup, Ibrahimovic will be looking to prove to the world that he is just as good as he thinks he is. PSG's expensively-assembled squad hammered Bayer Leverkusen 6-1 on aggregate in previous round.

GETTY IMAGES

8/8 REAL MADRID

Best: Winners (1956, 1957, 1958, 1959, 1960, 1966, 1998, 2000, 2002)
Star man: Cristiano Ronaldo
Overview: After a 12-year wait, this could finally be the season when Real Madrid finally achieve la decima (the 10th European Cup). Ronaldo is two goals shy of breaking Lionel Messi's record of 14 in one Champions League campaign following his four-goal haul in the 9-2 aggregate win over Schalke.

GETTY IMAGES
2. Luka Modric vs. Andres Iniesta
The two cogs that have been making Madrid and Barca tick this season, Iniesta is vastly experienced in the cauldron that is El Clasico but in the appearances he's made so far, former Tottenham Hotspur man Modric has taken to them like the proverbial duck to water. Both will be crucial in orchestrating their side's attack and both will undoubtedly play key roles in the outcome of the match.
The Croatian has been the success story of the season for Los Blancos this campaign alongside youngster Jese Rodriguez, who will unfortunately miss out through a season-ending knee injury. In a league obsessed by statistics Modric may not seem to be setting things alight with just one goal and six assists so far this season, but he's the man who assists the assists. He's the one that wins the ball back, starts the move and calls the tune, taking on more of the control of the game from midfield maestro Xabi Alonso.
Iniesta will play a similar role for the Catalans, with his similar stats of two goals and six assists this term not exactly catching the eye but Barca's experienced No.8 is the man that sets the tone for his side. He makes the space and he spots his teammates in space, a midfield genius who is well accustomed to the atmosphere and build-up of such a match.
With an average of almost 65 passes per match for Iniesta and almost 60 for Modric, the pair are going to have a big say on the direction the game goes.
3. Diego Lopez vs. Victor Valdes
While much of the focus will be on the attacking qualities of both sides and the millions spent in the quest for goals and attractive football, Sunday's match could well be won with some brilliance at the other end. Valdes came up through Barca's famed La Masia youth system, with a spell at Tenerife sandwiched between, while Lopez cost nowhere near the mega-bucks splashed out on players such as Gareth Bale, Cristiano Ronaldo, Neymar and Alexis Sanchez when Jose Mourinho brought him back to the club from Sevilla.
Goals win games but brilliant saves do, too. Both are capable of making match-winning saves and both will expect plenty of action given the attacking powers they will face. Valdes has no shortage of experience in the big matches and although Lopez is a relative newcomer to the Clasico, he has become a reliable shot-stopper for Madrid while under the pressure of legend Iker Casillas sitting on the bench ready to take his place when called upon.
Both are susceptible to errors, albeit not so often. Lopez admitted he could have done better to deny Gabi a goal in El Derbi recently while Valdes has the unwanted experience of making a mistake in a Clasico contest. His failure to clear the danger under pressure Angel Di Maria in the Camp Nou in 2012 allowed the Argentine to score a goal that left the goalkeeper embarrassed. Luckily for him Barca hung on to win 3-2.
It will also be an emotional day for Valdes with it possibly being his last involvement in a Clasico at the Bernabeu. The 32-year-old will leave the club at the end of the season and although the sides meet in the Copa del Rey final, Jose Manuel Pinto is expected to start in goal. There's still a chance the sides could meet in the semi-finals of the Champions League but the likelihood is that Valdes will be playing at the Bernabeu for one last time in a Barca shirt.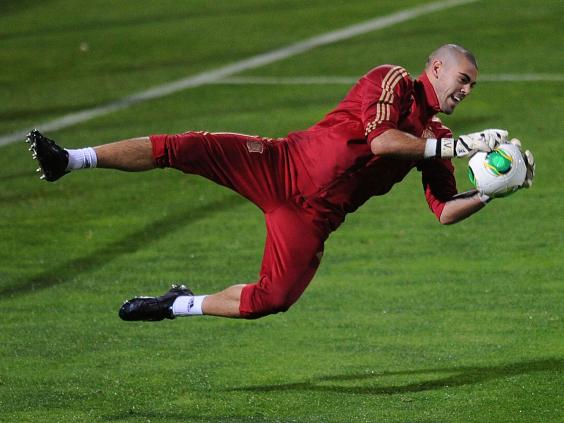 4. Gareth Bale vs. Jordi Alba
Pace, power and determination. Madrid winger Bale and Barca full-back Alba have it all in abundance and they'll be going up against each other in what's expected to be a real ding-dong battle for supremacy out wide.
There were doubts over whether the former Tottenham Hotspur man was fully fit for when the sides met at the Camp Nou in October, with Madrid president Florentino Perez reportedly desperate to get his money man out on the biggest stage of them all for the watching world to see. This time there is little doubt that the Welshman is firing on all cylinders and could produce his most important performance yet in the famous all-white kit.
With eleven assists to his name he is Madrid's biggest threat in that department and he's also chipped in with a handy ten goals along the way, with plenty of them being of the world-class variety. Plenty of them have come from outside the area, too, and Barcelona will be keen to close Bale down as quickly as possible and guide him on to his right-foot, with Alba being central to that. Out of 22 goals conceded this season only one has been from outside the box for the Catalans, highlighting that their pressing game is still in place, even if not as intense as the Pep Guardiola days.
Alba has the qualities to give Bale a hard time but he should receive some help from his fellow defenders, namely Javier Mascherano, who has the ability of harrying and harassing the Welshman and allowing Sergio Busquets to drop back deeper into defender to plug the gap. As well as his defensive qualities Alba will also be a threat for Barca going forward, much like his opposite number Marcelo.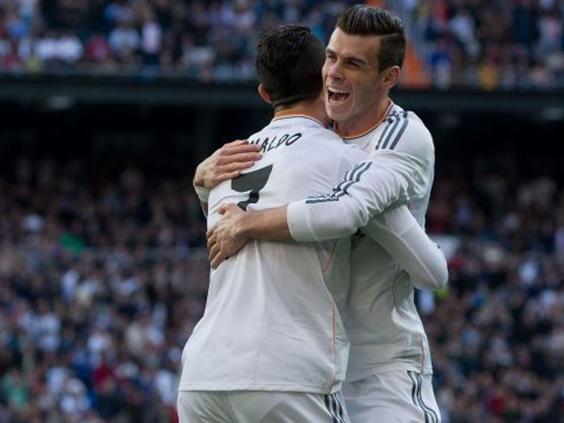 5. Xabi Alonso vs. Sergio Busquets
The men least likely to get the headlines on Monday morning, the Spanish international teammates will do the 'dirty work' in stopping opposition attacks, scooping up the loose balls and setting their teammates on their way at the other end.
They may be holding midfielders by trade but the duo offer plenty of help at the back. Alonso will drop back for Madrid to form a back-three when full-backs Dani Carvajal and Marcelo power forward, while Busquets will do the same when Javier Mascherano comes out of the back-line to help deal with the threat of Bale and Ronaldo. Their tactical know-how and experience will be priceless in seeing that work come off.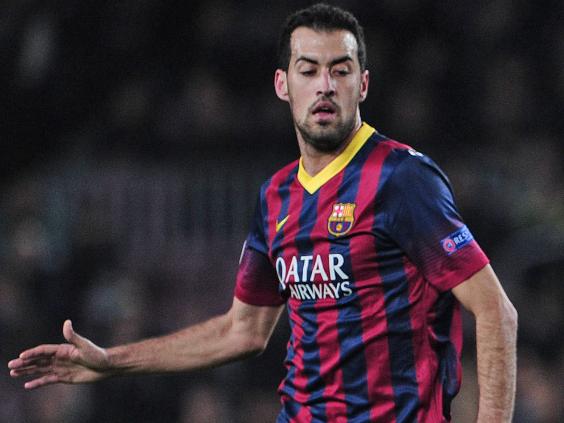 Although giving more creativity to the superb Modric, former Liverpool man Alonso is still arguably the best long passer of the ball in the game, and with Madrid's jet-heeled counter-attack his passes could prove crucial in catching Barca sleeping and setting Bale, Benzema and Ronaldo on their way at the other end. Few have the ability to turn defence into attack as Los Blancos do, something championed by Jose Mourinho and continued by Carlo Ancelotti.
Expect some crunching tackles from both, too, and the pair are the players most likely to cause some handbags being drawn if the match spills over, as it almost always does.
Reuse content