You can doubt whether they are actually the best team in Europe, you can doubt whether he is still the same player, you can doubt some of the hugely controversial decisions in this game - but you can't doubt their creditable resilience. Real Madrid stay on course to become the first team since AC Milan 1990 to retain the European Cup, because Cristiano Ronaldo remains one of the finest goalscorers of all time.
His hat-trick eventually gave the defending champions a 4-2 win on the night and 6-3 aggregate win over a crestfallen Bayern Munich, and meant they reached the semi-finals of the Champions League for the seventh consecutive season.
That record and pretty much any knock-out run will naturally involve a bit of luck, but the Germans can fairly complain Real got an awful lot of it at the Bernabeu. They can also fairly rage at the decisions behind Arturo Vidal's costly second yellow card, Ronaldo's absolutely key second strike in extra-time not being given for offside and maybe even his third.
Real Madrid 4 Bayern 2 player ratings
Real Madrid 4 Bayern 2 player ratings
1/22 Keylor Navas – 6 out of 10

Found wanting when called upon. Should have done better to prevent Ramos' own goal.

2/22 Dani Carvajal – 7 out of 10

His early effort from range may not have gone in but it set the tone for Madrid to have the better of the first half.

3/22 Nacho – 7 out of 10

More solid than his defensive partner, and looks to be benefitting from gaining Zinedine Zidane's confidence.

4/22 Sergio Ramos – 6 out of 10

Unfortunate to divert the ball into his own net, but it could have been avoided with a little more communication.

5/22 Marcelo – 9 out of 10

Excellent. Superbly blocked Thiago's effort early on, then produced a brilliant goal-line clearance after the break to deny Robben. Impressed going forward too, setting up Ronaldo in extra time.

6/22 Luka Modric – 7 out of 10

Key to Madrid's excellent spells of first half build-up. Ronaldo should have rewarded one particularly special pass with the goal it deserved.

7/22 Casemiro – 7 out of 10

Careless in his challenge on Robben for the penalty. Otherwise, a solid presence disrupting Bayern's forays forward.

8/22 Toni Kroos – 5 out of 10

Struggled to match the influence of his fellow midfielder Modric.

9/22 Isco – 6 out of 10

Failed to build on Saturday's excellent showing at Sporting.

10/22 Karim Benzema – 5 out of 10

Offered very little before being hauled off for the more impactful Asensio.

11/22 Cristiano Ronaldo – 8 out of 10

A quiet start but then came another 'clutch' goal, just like his two in Bavaria. Two more followed thanks to poor officiating, but this was still a reminder that you should never write Ronaldo off.

12/22 Manuel Neuer – 6 out of 10

Will be disappointed to have conceded six over the two legs, but was outdone by some poor officiating here.

13/22 Philip Lahm – 6 out of 10

Struggled to cope with Marcelo, who got the better of him too often. We have come to expect more.

14/22 Jerome Boateng – 7 out of 10

Heroic block on the line stopped Ramos from putting the hosts in front in the first half.

15/22 Mats Hummels – 8 out of 10

Another defender who put his body on the line when it counted. Spectacularly blocked Kroos' shot in the first half.

16/22 David Alaba – 5 out of 10

His poor crossing let his teammates down when they were making headway early on.

17/22 Xabi Alonso – 5 out of 10

Surprisingly poor in possession during his last Champions League appearance, with several wayward passes. Replaced by Thomas Muller deep into the second half.

18/22 Arjen Robben – 8 out of 10

Made things tick in Bayern's attack. Questionable role in the penalty, maybe, but his side's stand-out performer still.

19/22 Arturo Vidal – 4 out of 10

His tackle was fair and should not have resulted in a red, but still, too often a liability. Should also have done better when slipped in by Robben soon after Bayern's first goal.

20/22 Thiago – 5 out of 10

Off the pace in the opening stages and failed to grow into the game.

21/22 Franck Ribery – 5 out of 10

A fading force, unfortunately. Simply did not trouble Madrid's backline with the regularity of Robben. Withdrawn for Diego Costa.

22/22 Robert Lewandowski – 6 out of 10

Not his best night, despite cooly converting the penalty.
It was little wonder that an exhausted Bayern then collapsed, in what had previously been an utterly exhilarating encounter.
It also means a record stands, and shows how exacting this competition is. There are still only six sides in 62 years who have gone through a tie having lost the first leg at home. Bayern came closer than most… but still go out before the semi-finals for the first time since 2011.
Up against that weight of history as much as Real Madrid and that need to score twice, Bayern duly came out as if there was little time to spare, and looked to catch out the defending champions from the off. They almost did, too, as Thiago Alcantara had one shot blocked from just yards out before Arjen Robben shot wide.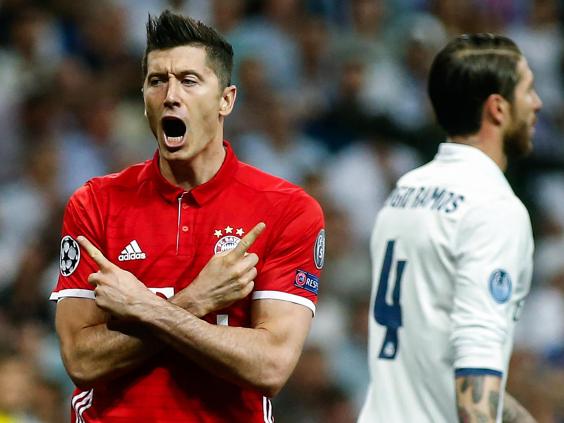 It really should have been 1-0 to Bayern on the night and 2-2 on aggregate on the tie, but they continued to find space and make chances.
It was at this point that Real again looked what they have so oddly but so routinely looked over the past few years, and that was an expensively assembled team that is somehow considerably less than the sum of their parts and without a defined idea of football. And yet, even as that has continued to be the case for so long, the key has been that they have enough amply talented expensive individuals to overcome that and often overwhelm opposition.
They did get over that initial spell of Bayern pressure, and actually created the best opportunities. A supreme long-range Dani Carvajal shot was the rallying call for the game to change, and Real followed it with a flurry of chances. Jerome Boateng defiantly cleared off the line from Sergio Ramos before Cristiano Ronaldo squandered two opportunities that, really, the 2012 Cristiano Ronaldo would have taken without hesitation. First, he was put through for what would at that stage of his career would have been a searing counter-attack, only to take a poor touch. As if without his old acceleration, he dragged the ball harmlessly wide, when previously he would have raced right through and smashed it in. It was similar at the other end minutes later, except this time he smashed it well into the stand.
Bayern were still getting forward in between all of this, but were lacking a cutting edge. They were too often ponderous when they needed to be ruthless, with David Alaba for example choosing to harmlessly float crosses in rather than properly test Real with something tenacious.
It still made for a hugely entertaining encounter, but it immediately became a super-charged encounter, and that was largely thanks to Robben just going into overdrive. Mere minutes into the second half, he looked to have hit the goal that Bayern needed to properly ratchet up the pressure on Real, as he lifted the ball over Keylor Navas. That couldn't beat Marcelo, who excellently cleared off the line, but the relentless winger's next move did beat Casemiro. Charging into the box, Robben enticed the Brazilian central midfielder into a challenge - and the foul that brought a penalty.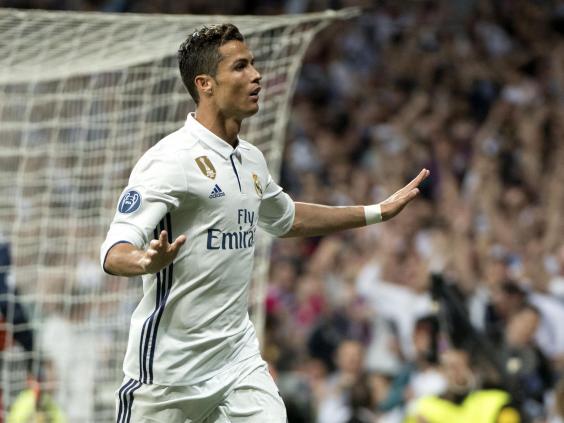 Robert Lewandowski kept his cool and sent Navas the wrong way. An entertaining tie was now a properly on-the-line intense tie, as one more Bayern goal would send them on their way. And they might have got it within moments, as Robben yet again created a chance, but Vidal couldn't finish it.
The Chilean was lucky to be on the pitch at that point, as he could well have got a second booking for a foul on Casemiro.
By extra-time, the match had reached that epic kind of stage where the players were fully and intensely invested, where they knew it was going to come down to the slimmest margins and tiny details - only for the officials to make a big error.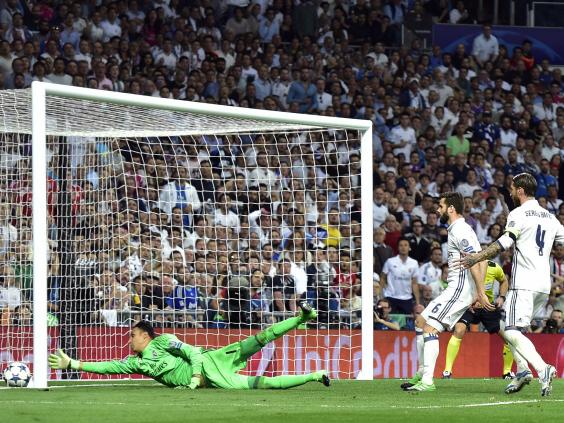 Bayern let Ronaldo free in the box because they knew he was offside, but the linesman did not. The Portuguese was left to score.
Bayern were left lamenting it, and just caved. The magnificent Marcelo - probably the man of the match beyond the goals - set up Ronaldo for a third, before Asensio claimed the fourth.
Real are eyeing a second successive Champions League, although Bayern will look regretfully back at a succession of bad decisions.
Reuse content