The Santiago Bernabeu had this one marked down as the pick of Real Madrid's Champions League group games but in the end it was just like watching La Liga.
How many times this season will Carlo Ancelotti's side face a team who have rested four or five top players for their next fixture – one they believe they can actually win. Liverpool might easily have been Levante. It was attack against a well-manned defence; and it all worked very well for about 30 minutes until the first goal went in – pretty much as it tends to in the domestic competition.
Real Madrid were quite possibly not as surprised by Brendan Rodgers' team selection as most Liverpool supporters. Several media outlets had predicted an understrength side on the eve of the game, almost as if one of Liverpool's Spanish contingent had tipped them off that this would not be the Raheem Sterling, Steven Gerrard, Mario Balotelli full-strength side Spanish football fans had been watching during extensive coverage of the Premier League this season.
Regardless of how much Real knew about it before hand, Rodgers' reserves side could not have helped but make them even more relaxed than they were already coming into the game off the back of 11 straight wins.
In the tunnel there were high fives for the lucky boys and girls picked by Uefa to walk out hand in hand with their idols. On the other side of the tunnel Liverpool players were not talking to the children, and they weren't talking to each other either.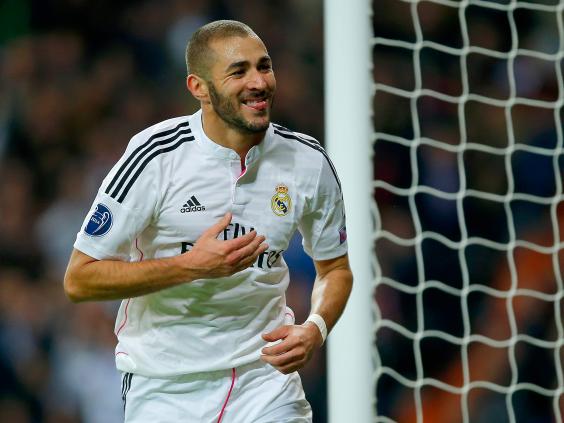 On the pitch Madrid found themselves in La Liga mode, trying to find a way through the massed ranks while making sure they were not picked off on the counter-attack – which, with Lazar Markovic playing instead of Raheem Sterling, never looked likely.
Rodgers' decision to sacrifice attack for bodies behind the ball did succeed in smothering Real Madrid's four-man midfield of Toni Kroos, Luka Modric, James and Isco – the latter two running into each other midway through the first half.
In goal Iker Casillas was struggling to keep warm, and high in the stand behind him, when the Real fans found their voice it was to sing disparagingly about Barcelona and not about the strangely cagey game they were watching.
For large parts the tactics had silenced the Bernabeu, with only Liverpool supporters audible as Kolo Touré dribbled around James. Those first 27 minutes before Real scored will have enhanced Rodgers' reputation among some of the sporting directors of Spain's top sides.
Real Madrid 1 Liverpool 0 player ratings
Real Madrid 1 Liverpool 0 player ratings
1/22 Iker Casillas

Rarely troubled. 6

GETTY IMAGES

2/22 Alvaro Arbeloa

A solid night for the former Liverpool man. 6

GETTY IMAGES

3/22 Raphael Varane

Comfortable in defence and showed his skill with a superb chipped pass for Karim Benzema. 6

GETTY IMAGES

4/22 Sergio Ramos

Unfortunate to be booked for a tackle on Adam Lallana. 6

GETTY IMAGES

5/22 Marcelo

Once again, the full-back was a major attacking threat. Set up the opening goal for Benzema with a lovely cross. 8

GETTY IMAGES

6/22 Toni Kroos

Less influential than a fortnight ago but still a high-class presence in midfield. 7

GETTY IMAGES

7/22 Isco

Involved in the move for the first goal. 6

GETTY IMAGES

8/22 Luka Modric

As at Anfield, stood out with his control in midfield and ability to pick a pass. 8

GETTY IMAGES

9/22 Cristiano Ronaldo

A rare off night for the forward, who must wait to equal Raul's Champions League scoring record. 6

GETTY IMAGES

10/22 James Rodriguez

Drew an early save from Simon Mignolet but was only a sporadic threat and was substituted. 6

GETTY IMAGES

11/22 Karim Benzema

Scored the winner with his third goal in two games against Liverpool. 7

GETTY IMAGES

12/22 Simon Mignolet

A good night for the goalkeeper, who could do nothing about the goal and made a number of important saves. 7

GETTY IMAGES

13/22 Alberto Moreno

The adventurous full-back caused a few problems for Real. Booked for bringing down Bale. 6

GETTY IMAGES

14/22 Kolo Toure

Only a fourth appearance of the season for the defender. Benzema escaped him for the first goal but otherwise Toure was impressive, particularly in the way he handled Ronaldo. 8

GETTY IMAGES

15/22 Martin Skrtel

Saved by Mignolet after carelessly giving the ball away to Benzema early on. Booked for a foul on Ronaldo. 5

GETTY IMAGES

16/22 Javier Manquillo

Some encouraging link-up play with Lazar Markovic down the right and generally coped fairly well with the threat of Marcelo, although caught out for the goal. 6

GETTY IMAGES

17/22 Emre Can

Willing to drive forward in midfield but faded as an influence. 6

GETTY IMAGES

18/22 Lucas Leiva

A rare start for the midfielder, who provided much-needed cover for his defence. 6

GETTY IMAGES

19/22 Adam Lallana

Made a big impact as a substitute in the home game. Had one of Liverpool's best efforts on goal and supported Moreno well. 6

GETTY IMAGES

20/22 Joe Allen

Some promising moments but Real again dominated midfield. 5

GETTY IMAGES

21/22 Lazar Markovic

Caught the eye in flashes down the right. An encouraging showing. 7

GETTY IMAGES

22/22 Fabio Borini

A difficult task for the striker up front on his own. Always tried to offer an outlet. 5

GETTY IMAGES
He has made no secret of his desire one day to test himself in La Liga – telling Spanish reporters, in Spanish, before the first leg: "It would be wrong to speak Spanish here but if I'm coaching in Spain one day I will" when they asked him if he could answer them in Spanish.  
Real Madrid have rolled over everyone who has visited the Bernabeu this season and with a healthy goal average, so this was proof that the league leaders could be contained. But there will be others who will wonder why Rodgers could not have coupled that defensive doggedness with a more attacking threat.
When Rodgers finally brought on Gerrard, Sterling and then Coutinho, Carlo Ancelotti had only made one change, with Gareth Bale released down the right in place of James. The Real manager turned nervously to his English assistant, Paul Clement, when Casillas passed the ball out to a marked Marcelo instead of clearing it as Madrid, still with their narrow one-goal advantage, were pinned further back by Liverpool.
Ancelotti is used to having all three of his substitutes on by the 80-minute mark but this was no night for giving any of his most important players the last 10 minutes off. Cristiano Ronaldo was even brought off for the last 10 minutes but he was in no mood to give up on his battle with Touré – a monumental mismatch on paper that had played out very differently on the pitch. Ronaldo had been unable to add to his 55 Champions League goals in 55 matches for Real and the home side had need Karim Benzema's 121st Real Madrid goal in 250 games to get them the points.
But the points they had. Liverpool went away having avoided the hiding so many had predicted but they had left with nothing all the same. It was a display worthy of a typically spirited La Liga underdog. What the whole of Spain will be asking today is: was it worthy of Liverpool.
Reuse content