It takes a certain kind of nerve to send your Capital One Cup team out to face one of the most glittering collection of footballers ever assembled, but then Brendan Rodgers will have reasoned that if he was going to take a risk then it might as well be a big one.
It was no exaggeration to say that humiliation beckoned. In fact it was one of those team-sheets, without six of Liverpool's starters, that could easily have been mistaken for the proverbial managerial suicide note had Madrid taken a sledgehammer to Liverpool. The likes of Athletic Bilbao, Elche, even the mighty Barcelona have been dispatched in this stadium this season, all, it should be said, by greater margins than Liverpool lost by.
In the event, it was not the drubbing that so many of their supporters lodged in the upper reaches of the Bernabeu would have feared when they saw a team without Steven Gerrard, Dejan Lovren, Raheem Sterling, Jordan Henderson, Glen Johnson, Philippe Coutinho and even poor old Mario Balotelli. In fact, it was a very creditable performance indeed.
A strange night, because it was ultimately a defeat for Liverpool – just not the kind of defeat that could have been so damaging for Rodgers. There is a case for saying that a side of Liverpool's tradition should never play a weakened team against a side of Real Madrid's magnitude yet at Anfield last month, they played their best available XI and lost 3-0. Football can be funny like that. Either way, Rodgers needed to catch a break and this time he did.
His team gave a good account of themselves and his big hitters got the benefit of a rest before the visit of Chelsea on Saturday. It begged the question, could a stronger Liverpool team have taken something from the game? That would be to imply that Madrid were there for the taking which they most certainly were not.
There were some unlikely heroes on the night, not least Kolo Touré who prevented Cristiano Ronaldo from scoring the goal that will take him level with Raul at the top of the all-time Champions league goalscorers' list. No mean task when you consider that Madrid had 28 attempts on goal to Liverpool's four. The likes of Adam Lallana and Joe Allen shone as well.
Real Madrid 1 Liverpool 0 player ratings
Real Madrid 1 Liverpool 0 player ratings
1/22 Iker Casillas

Rarely troubled. 6

GETTY IMAGES

2/22 Alvaro Arbeloa

A solid night for the former Liverpool man. 6

GETTY IMAGES

3/22 Raphael Varane

Comfortable in defence and showed his skill with a superb chipped pass for Karim Benzema. 6

GETTY IMAGES

4/22 Sergio Ramos

Unfortunate to be booked for a tackle on Adam Lallana. 6

GETTY IMAGES

5/22 Marcelo

Once again, the full-back was a major attacking threat. Set up the opening goal for Benzema with a lovely cross. 8

GETTY IMAGES

6/22 Toni Kroos

Less influential than a fortnight ago but still a high-class presence in midfield. 7

GETTY IMAGES

7/22 Isco

Involved in the move for the first goal. 6

GETTY IMAGES

8/22 Luka Modric

As at Anfield, stood out with his control in midfield and ability to pick a pass. 8

GETTY IMAGES

9/22 Cristiano Ronaldo

A rare off night for the forward, who must wait to equal Raul's Champions League scoring record. 6

GETTY IMAGES

10/22 James Rodriguez

Drew an early save from Simon Mignolet but was only a sporadic threat and was substituted. 6

GETTY IMAGES

11/22 Karim Benzema

Scored the winner with his third goal in two games against Liverpool. 7

GETTY IMAGES

12/22 Simon Mignolet

A good night for the goalkeeper, who could do nothing about the goal and made a number of important saves. 7

GETTY IMAGES

13/22 Alberto Moreno

The adventurous full-back caused a few problems for Real. Booked for bringing down Bale. 6

GETTY IMAGES

14/22 Kolo Toure

Only a fourth appearance of the season for the defender. Benzema escaped him for the first goal but otherwise Toure was impressive, particularly in the way he handled Ronaldo. 8

GETTY IMAGES

15/22 Martin Skrtel

Saved by Mignolet after carelessly giving the ball away to Benzema early on. Booked for a foul on Ronaldo. 5

GETTY IMAGES

16/22 Javier Manquillo

Some encouraging link-up play with Lazar Markovic down the right and generally coped fairly well with the threat of Marcelo, although caught out for the goal. 6

GETTY IMAGES

17/22 Emre Can

Willing to drive forward in midfield but faded as an influence. 6

GETTY IMAGES

18/22 Lucas Leiva

A rare start for the midfielder, who provided much-needed cover for his defence. 6

GETTY IMAGES

19/22 Adam Lallana

Made a big impact as a substitute in the home game. Had one of Liverpool's best efforts on goal and supported Moreno well. 6

GETTY IMAGES

20/22 Joe Allen

Some promising moments but Real again dominated midfield. 5

GETTY IMAGES

21/22 Lazar Markovic

Caught the eye in flashes down the right. An encouraging showing. 7

GETTY IMAGES

22/22 Fabio Borini

A difficult task for the striker up front on his own. Always tried to offer an outlet. 5

GETTY IMAGES
They departed the pitch at half-time a goal behind to Karim Benzema's strike in the 27th minute but at Anfield two weeks earlier they had left for the break three behind, beaten and outclassed.
In many respects they were outclassed again before the break. But then lots of good teams are outclassed by Madrid, it is the default setting for so many of the domestic opposition sent into the Bernabeu to try to avoid humiliation. Liverpool defended a lot, but there is nothing wrong with defending when you play at Madrid. What mattered more is that they defended well.
The first-half Madrid goal was one of those moments that was a cause for regret, but it happens against a team this good when the walls start closing in and the chance for any sustained period of possession recedes. Isco and Cristiano Ronaldo worked the ball left and Marcelo crossed deep where Benzema had drifted off Touré and lunged to poke the ball into the roof of Simon Mignolet's net.
That aside, Rodgers' irregulars did rather well in the first half. Touré had a few of those heart-in-mouth moments, like when he stuck out a boot to take the ball away from Benzema and ended up depositing the ball on the roof of his own net. But there was also one marvellous moment when, running towards his own goal, he turned Benzema and dribbled past James Rodriguez. Marvellous to watch, probably less comfortable for Rodgers.
As is often the case when an inexperienced side steps into the lions' den the first few exchanges are crucial, and although Mignolet had to save a Rodriguez shot in the third minute, Liverpool settled quickly. Ronaldo had another shot from a Benzema cutback but Liverpool's goal was not flooded with chances. Their problem was that, as the half progressed, the ball was coming back at them ever quicker.
Fabio Borini worked himself into the ground to chase lost causes and offer his team options. The thought did occur that Balotelli would have been entirely unsuited to the task. The disappointment was Lazar Markovic who although still very young, seems unwilling to take risks or really turn on the kind of pace and directness that made him such an effective player at Benfica.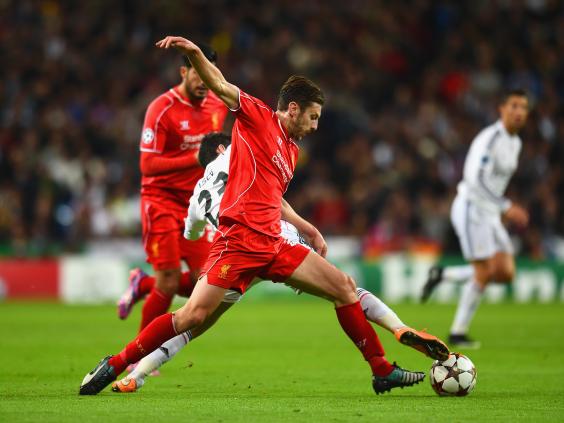 Otherwise there was some serious ground covered in that Liverpool side, with Allen, Emre Can and Lallana working their proverbial socks off to keep the waves of white shirts at bay. They were not always successful but they did not allow themselves to be disheartened. The disappointment for Rodgers will have been that his side did not really create a chance of note in the few incursions into Madrid territory they were permitted.
It was much the same story in the opening stages of the second half, when Liverpool's midfield grew in confidence and Touré looked ever more assured in the centre of defence. The problem was getting within range of Madrid's goal. Just before the hour, Alberto Moreno played a good ball into Lallana who turned well but struck his shot wide.
Lallana was another who grew well into the game. His tackle on Ronaldo at the start of the second half was a beauty, nicking the ball away with the minimum of fuss. There was always the running of Lucas Leiva to mop up danger, but Lallana offered that little extra finesse on the ball when his team were under pressure.
Meanwhile, Touré was having arguably the game of his Liverpool career. Carlo Ancelotti had seen enough and brought on Gareth Bale for Rodriguez. He was to hit the bar later. Rodgers responded by finally rolling out some of the A-team: Sterling and then Gerrard, the latter of whom came on to a warm round of applause from the home fans. It turned out to be a better night than Liverpool could have dared expect.
Reuse content