He is seen as the cure for so many of Real Madrid's ills, so it is little wonder that it is almost taken for granted that Zinedine Zidane will be the coach who brings to an end the club's 29-year failure to win a two-legged European tie against Italian opposition.
Scorer of the club's definitive Champions League goal – that guided-missile volley in the final at Hampden in 2002 – he has united supporters, settled players, and looked just as dazzling in training sessions as he did a decade ago in his pomp as a player. 
But Real Madrid have not knocked an Italian side out of Europe since 1987. If anyone can then Zidane can, believe the 1,200 Spanish supporters who will be in the Olympic Stadium in Rome. 
They still have Zidane on a pedestal a couple of inches higher than Cristiano Ronaldo, for all that it was his incredible 17 goals in one Champions League campaign, including a penalty in the final, that gave them their long pined-after Decima in 2014. 
On Tuesday Zidane sat next to Ronaldo and the Frenchman simmered to boiling point over the perceived love-in for Barcelona's forward line of Lionel Messi, Luis Suarez and Neymar. 
Zidane was asked about the form of his club's prolific rival forwards at the weekend and he said: "I don't know if I can say this but 'de puta madre'. Translating swear words is never easy but "fucking magic" probably best sums up the spirit of the somewhat industrial language chosen.
And of course he can say it. He can say whatever he wants – he is Zidane. He has been given an easier ride than his predecessor Rafa Benitez in his first six games in charge. Four of those matches have been home wins with 20 goals scored. But in away matches with Granada and Betis – games that produced a narrow victory and a draw – the old demons that haunted Benitez do not appear to have been properly exorcised. 
Madrid are not very effective away from home this season. All of Ronaldo's past 16 goals have been scored at the Bernabeu. On their travels Madrid have only won half of their fixtures. And this is not just any away day – this is Italy, land of that 29-year curse. 
Real were beaten in a European Cup semi-final by Milan in 1989 and they lost again to Milan in the quarter-finals of the same competition a year later. In the 1991-92 season they were beaten by Torino in the Uefa Cup and they then embarked on a Juventus nightmare.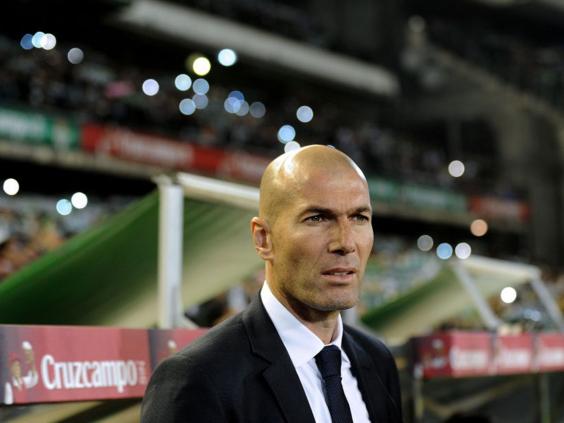 They beat La Vecchia Signora in the 1998 Champions League final but over two legs there were losses against them in 1996, 2003 and 2005. They also lost to Roma in 2008 when the Italian club was coached by Luciano Spalletti, as it will be on Wednesday night.
Last season they were turned over by Juventus again. Former player Alvaro Morata did not celebrate scoring against them but the Italian supporters enjoyed winning a ticket to the final to face Barcelona. 
Roma will not be the most difficult Italian opponents they have faced. They were in Spain for their group stage matches and were beaten 6-1 at the Nou Camp by Barcelona. Spalletti has lifted the side since taking over and they have winger Mohamed Salah, who they bought from Chelsea in the autumn and who is in fine form. 
"He can change a game with one piece of skill," said Spalletti, who promised on the eve of the game that Roma would go for it. They have little to lose and nothing else to win this season. 
Real Madrid are in a similar position with La Liga slipping from their grasp. They tend to be at their most dangerous in the European Cup when the domestic prize is not on offer to distract them. 
If they are to win the tournament for the 11th time then they will have to do what they have not been able to do since they beat Napoli in the European Cup in 1987. They would love to be able to still count on Zidane, he, in turn, will be counting on James Rodriguez. 
The Colombian is the player whose quality perhaps most resembles that of his manager. A mixture of injury, poor form, fatigue from international call-ups, and falling out with Benitez has had a detrimental effect on his season and he has only played 64 minutes in the competition so far this season. 
But with Gareth Bale out of Wednesday's game, Rodriguez will join Toni Kroos, Luka Modric and Isco in a four-man midfield. They will miss Bale's powerful running but there is magic in that quartet of ball-players. Holding the baton on the touchline will be a coach making his Champions League debut; out to end a curse that stretches for almost three decades as he does so.
Reuse content