When he imagined himself managing Manchester United, Jose Mourinho would have wondered how he might lead them in Europe's great arenas. It is a symbol of the club's decline that he found himself on the touchline in a little stadium on a bitingly-cold late winter's night in provincial Russia.
And yet, when Mourinho's time at Manchester United comes to be reviewed, this might be as good a European evening as any. If United are to return to the Champions League, winning the Europa League might be a more viable route than finishing fourth in the Premier League.
Rostov's form in front of their own crowds has been such that it was perfectly possible to imagine Manchester United losing heavily here. At Old Trafford and on their own pitch, United should force their way through to the quarter-finals.
Some of those in the crowd had come to see Henrikh Mkhitaryan and, if they had come to see him score, they did not leave disappointed. Rostov has a big Armenian community with their own churches, graveyards and cultural centres. The city is twinned with the Armenian capital, Yerevan, where Mkhitaryan grew up, the son of a footballer.
It was fitting he should be the one to score and, given the circumstances, it was a well-worked goal. Marouane Fellaini, on the edge of the area, found Zlatan Ibrahimovic, who took the ball to the very edge of the byline before pulling it back for Mkhitaryan, who drove in from the edge of the six-yard box. It was his seventh goal of the season and three have come in away fixtures in the Europa League.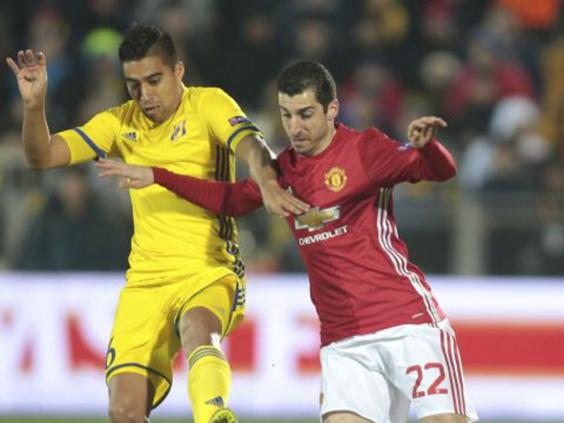 This was crucial. When the goal came, his manager raised both fists above his head. This was a difficult match on a dog of a pitch against opponents who had beaten Ajax and Bayern Munich here this season. Given that Rostov do not travel well, even a narrow defeat might not have been too bad a night for Manchester United. An away goal was very precious.
Mourinho had said he would spend the eve of the match in the team hotel, which was thronged by Russian fans, pondering what team to play on a pitch he likened to a field. If he spent the night pacing his room in the Rostov Mercure, it benefited Fellaini. The pitch was awful, the wind blowing in from the steppes of southern Russia made every cross difficult to judge and led to free kicks being called back because the ball kept moving.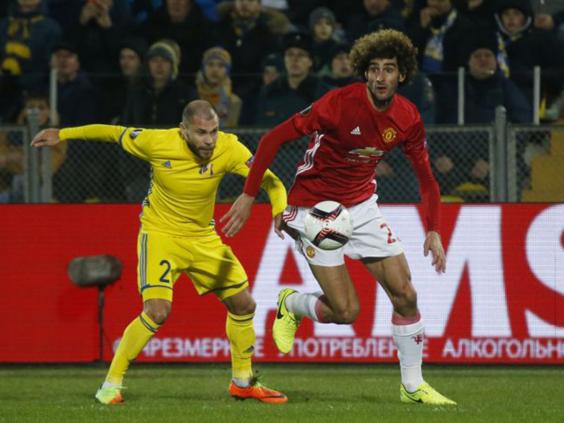 In his pre-match interview, Mourinho kept using the word 'fight' and Fellaini is a footballer who is up for a scrap. The first casualty, however, was Russian. Vladimir Granat, Rostov's centre-half, tried to barge Mkhitaryan off the ball, came off worse and had to be substituted with the game just over a quarter of an hour gone.  
Mkhitaryan was booked for fending off Fedor Kudryashov. Then, Aleksandr Gatskan, Rostov's captain, got himself suspended from the return at Old Trafford for a foul on Ibrahimovic.
Rostov vs Manchester United player ratings
Rostov vs Manchester United player ratings
1/11 Sergio Romero - 5 out of 10

Could have stood much taller against Aleksandr Bukharov and perhaps prevented the goal.

2/11 Chris Smalling - 4 out of 10

Almost as culpable as Jones for the goal. Some simple communication between the pair would have prevented Rostov's goal.

3/11 Phil Jones - 4 out of 10

Cost his side when he failed to track Bukharov's run over his shoulder. Too easily beaten by the long ball out the back.

4/11 Marcos Rojo – 6 out of 10

United's best defender, though that is not saying much. Produced an important, last-ditch tackle to deny Rostov on the break late on.

5/11 Ashley Young - 6 out of 10

Showed purpose from wing-back in the first-half but ultimately lacked a telling end-product.

6/11 Daley Blind - 5 out of 10

Left with too much responsibility as a lone man on the left flank. Struggled to offer United the width they required to penetrate.

7/11 Marouane Fellaini - 7 out of 10

One player who suited the adverse conditions underfoot and repeated balls over the top. Combined his physicality with a rare bit of technique in the build-up to Henrikh Mkhitaryan's goal.

8/11 Ander Herrera – 5 out of 10

Game for the rough tackling that defined the first half hour but offered little more.

9/11 Paul Pogba – 4 out of 10

Failed to impose himself on a game once again. Jose Mourinho is trying to play him into form but he remains some way off.

10/11 Henrikh Mkhitaryan – 7 out of 10

A promising return to the side, curtailed by his second-half substitution. There at the right place at the right time to put away the opener.

11/11 Zlatan Ibrahimovic – 6 out of 10

A sublime assist for the opener, then too quiet after it, but rarely received service in the right areas.
The playing surface dominated everything. On the threadbare surface the ball behaved like a cricket ball used to on the final day of a Test match in India. When it struck the ground, there was often with a puff of dust. Sergio Romero went to take a goal-kick, slipped and saw the ball dribble forward, albeit with enough force to reach a red shirt.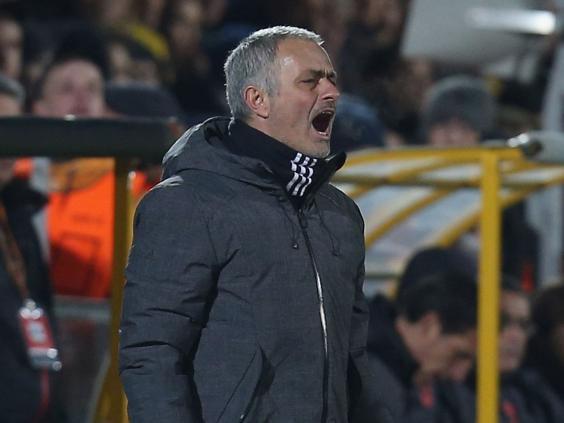 His luck was not to hold. Ten minutes after the interval, with temperatures plummeting, Rostov levelled the match. Timofei Kalachev's long ball went beyond Chris Smalling and Phil Jones, was taken down on his chest by Aleksandr Bukharov and bundled past Romero.
Bukharov was born in a city called Brezhnev in honour of the Soviet leader – which is rather like renaming a city after Jim Callaghan. However, his goal ensured that Manchester United's cold war got a little more heated as Mourinho, who has not kept his opinions about this match to himself, began berating Kalachev from the touchline. He will probably have the last word in this fixture, too.
Rostov (5-3-2): Medvedev; Kudryashov, Granat (Terentyev 18) , Navas, Mevlja, Kalachev; Gatskan, Erokhin, Noboa; Poloz, Bukharov (Azmoun 74).
Subs not used: Goshev, Terentyev, Kireev, Bayramyan, Prepetlita.
Manchester United (4-3-2-1): Romero; Jones, Smalling, Rojo, Blind (Valencia 90); Young, Herrera (Carrick 90), Fellaini; Pogba, Mkhitaryan (Martial 68) Ibrahimovic.
Subs not used: De Gea, Mata, Lingard, Rashford.
Referee: Felix Zwayer (Germany)