As Roy Hodgson surveys, with some bewilderment, the furore that has surrounded his decision to omit a tired player, and be honest about it, he can console himself with the thought that Sterling-gate is filling a vacuum that in other countries is occupied by criticism of the national team's performances and results.
England may not have stirred the soul in putting five past San Marino, then edging victory in Estonia, but at least they did the job. They have maximum points from three games, including a visit to group seeds Switzerland, and a place at Euro' 2016 is all-but assured.
Contrast that to the Dutch, humbled by Iceland on Monday and already six points adrift of automatic qualification. Or World Cup winners Germany who took one point from matches against two teams that did not qualify for Brazil, Poland and Republic of Ireland. Fabio Capello's Russia  were held at home by Moldova on Sunday. Spain followed their disastrous World Cup by losing in Slovakia while the Swiss went down in Slovenia. Claudio Ranieri's Greece lost at home to Northern Ireland. And in the opening round of matches last month Portugal lost to Albania.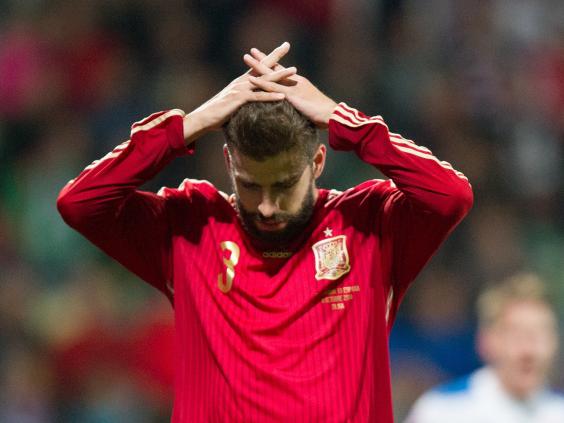 England are not the only big name scraping wins either. On Friday Italy were within six minutes of being held at home by Azerbaijan, then on Monday they beat a Maltese team who played with ten men for more than an hour 1-0.
The expansion of the field for Euro 2016 to 24 qualifiers threatened to kill Uefa's televised 'week of football' concept by creating six days of monotonous one-sided, inconsequential matches.
There have been a few, with England's trip to Tallinn an obvious example. Any match involving San Marino, Gibraltar, the Faroe Islands and Andorra should also come into that category, though Wales' September struggle in the Pyrenees, and Hungary's sqeuak past the Faroe's showed even the makeweights can be troublesome.
But there have already been enough surprises to suggest the old adage, 'there are no easy games in international football', is right more often than not.
The Netherlands are certainly not finding anything easy while they transition from Louis van Gaal to Guus Hiddink. Beaten by the Czechs in September they trailed at home to Kazakhstan for 45 minutes on Friday before taking advantage of the visitors' reduction to ten men to win 3-1.
In Reykjavik, however, there was no coming back after Gylfi Sigurdsson struck twice in the first half. Under the experienced Swede Lars Lagerback Iceland have become a dangerous team. Last year they came close to reaching the World Cup for the first time, losing in a play-off to Croatia. Now the Euros are beckoning with Iceland sharing group leadership with the Czechs. The top two go through, the third-placed team into a play-off.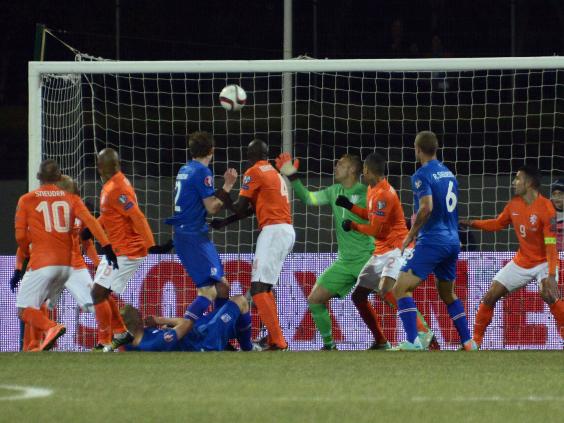 There is a long way to go, and one would expect the Dutch to recover, but Hiddink is already under pressure. His career has stagnated since he left Chelsea having won the FA Cup in 2009 with failures with Russia, Turkey and Anzhi Makhachkala. Having initially reverted to the traditional Dutch 4-3-3 formation he then revived the 3-5-2 system Van Gaal used in steering the Dutch to third at the World Cup. Neither has been successful.
There are allegations of a split between Robin Van Persie and Klass-Jan Huntelaar, fueled by an on-field row against Kazakhstan. Hiddink, meanwhile, intimated the Dutch were overly dependent on Arjen Robben who himself said the Dutch needed "to be very critical of ourselves."
Ronald de Boer, who played under Hiddink when the Netherlands reached the 1998 World Cup semi-finals, focused on his former coach stating: "He is under enormous pressure and has a lot of explaining to do. We are known for our game-plan in Holland. We had one with Van Gaal, who is a much better coach than Hiddink, but I don't see a game-plan at the moment.
"It's like they say: 'Give it to Robin van Persie or Arjen Robben and they will make the difference'. Hiddink has a great record but in my eyes he is done because he is 67-years-old and his ideas are old-fashioned."
De Boer said the job should have gone to Ronald Koeman, who went to Southampton having been passed over.
Hiddink, meanwhile, went so far as to suggest the Dutch need to have a debate about how they develop footballers. Now that does sound familiar to UK ears, only normally we are looking to them.
Reuse content