Leicester City's Jamie Vardy was on Wednesday night accused of being a 'cheat' by Samir Nasri, the Sevilla player dismissed for appearing to cause head contact between the pair - who also declared that any foreigner guilty of the Englishman's gamesmanship would be castigated.
Nasri, who could see the statutory one-game Uefa ban being doubled for failing to leave the King Power Stadium pitch after the incident, accused Vardy of failing to act "like a man" and insisted it had been the  striker who caused the head contact, having barged him moments before the clash.
Insisting he did not "touch" Vardy, who recoiled after the contact, Nasri said: "For me he's a cheat because if he was a foreign player, you the English press would be saying he's a cheat. For me he is a cheat. They were winning 2-0. Play the game like a man. You are not better than us but you are winning 2-0 and will qualify, just play the game. For an international player you don't need to do that.
Leicester vs Sevilla player ratings
Leicester vs Sevilla player ratings
1/22 Kasper Schmeichel 9 out of 10

Made a superb early save from Nasri which set the tone for Leicester's historic performance. Became the hero of the hour when he saved N'Zonzi's late penalty. Undoubtedly the man of the tie given his equally impressive performance in the first-leg.

AFP/Getty Images

2/22 Danny Simpson 7/10

His distribution left a lot to be desired – just under half of his 18 passes ended up being intercepted – but he made two crucial interceptions and linked up nicely with Mahrez.

Getty Images

3/22 Wes Morgan 7/10

Leicester's captain became the first ever Jamaican to score in the Champions League when he bundled in the opener. Made several crucial clearances and appears utterly transformed from the player that was struggling so desperately under Claudio Ranieri.

Getty Images

4/22 Robert Huth 7/10

Put in a tremendous shift alongside Morgan. Although the thought of the pair of them trying to keep the likes of Lionel Messi, Cristiano Ronaldo and Paulo Dybala is nothing short of terrifying.

Getty Images

5/22 Christian Fuchs 8/10

Fantastic. A real danger going forward, combining nicely with Albrighton, and he had two good chances to get on the score-sheet. Equally impressive at the back where he relentlessly pressed Vitolo, preventing the Spaniard from flourishing.

Getty Images

6/22 Wilfried N'Didi 7/10

Another valiant performance from N'Didi in the middle of the park. Got the better of Steven N'Zonzi and almost got the better of Vicente Iborra, too. Stayed in defensive positions and allowed Drinkwater to get forward.

Getty Images

7/22 Riyad Mahrez 7/10

Repeatedly cut inside from the right-wing where his passes in-between the Sevilla defence impressed. Assisted Morgan's goal, and should have assisted a counter-attacking goal for Islam Slimani, but took too long to pick his pass.

Getty Images

8/22 Danny Drinkwater 6/10

Missed a fine chance to score in the first-half but ultimately a good performance. His passing could have been better, though.

Getty Images

9/22 Marc Albrighton 8/10

A superb performance from the left-winger. Overlapped with Fuchs nicely down the left, so much so that Sampaoli was forced into an early double substitution. Scored a lovely second goal, bringing the ball under control and rifling a low shot past Sergio Rico.

AFP/Getty Images

10/22 Shinji Okazaki 7/10

Did what he usually does. Ran hard, pressed high and never allowed Sevilla's defence the opportunity to build their attacks from the back.

Getty Images

11/22 Jamie Vardy 7/10

Back to his industrious, tenacious, relentless best. Didn't get on the scoresheet but kept creating opportunities for himself. Did well not to react to Samir Nasri's provocations in the second-half, too.

Getty Images

12/22 Sergio Rico 6/10

There was little he could have done to keep out Wes Morgan's header from close range. And Rami should be blamed for Leicester's second, not Rico.

AFP/Getty Images

13/22 Nicolás Pareja 5/10

Not a particularly good night for the Argentinian. Made several important clearances but his distribution left an awful lot to be desired. Too often passed the ball straight to a Leicester player.

Getty Images

14/22 Gabriel Mercado 5/10

Sevilla struggled down the right, with Albrighton and Fuchs both causing a number of problems, and Sampaoli responded at half-time by hauling off his largely ineffective right-back.

AFP/Getty Images

15/22 Adil Rami 6/10

Had been one of Sevilla's better players up until the second goal, which he was at fault for. His headed clearance didn't have enough on it and was directed straight at the feet of Albrighton, who promptly lashed a low shot past Rico.

Getty Images

16/22 Sergio Escudero 6/10

Didn't look as threatening as he in the first-leg in Andalusia. Was incredibly unlucky not to level the score in the second-half, though, with an unconventional, dipping strike which rattled the underside of the crossbar.

AFP/Getty Images

17/22 Steven N'Zonzi 4/10

Typically good in the air, playing in the heart of Sevilla's midfield alongside Iborra. But his passing left a lot to be desired and he looked uncomfortable in possession whenever pressed. Missed a late penalty, his low effort struck nervously and far from the corner.

AFP/Getty Images

18/22 Vicente Iborra 6/10

Calmer and more composed in possession than N'Zonzi. Won a number of crunching tackles and stopped a mazy run from Albrighton early in the second-half with a well-timed challenge.

Getty Images

19/22 Pablo Sarabia 5/10

Posed little threat to Fuchs down the right. Struggled alongside Mercado playing behind him, and was also withdrawn by Sampaoli in a bold double substitution at the break.

Getty Images

20/22 Samir Nasri 5/10

The good: His repeated running in behind Leicester's defence and his range of passing. The bad: Stupidly picking up a second yellow late in the second-half for an altercation with Jamie Vardy before attempting to get the English forward sent off. The ugly: An incandescent Martin O'Neill slamming the Nasri on BT Sport for being overweight.

AFP/Getty Images

21/22 Vitolo 5/10

It tells you everything about the winger's all-action performance that he made the highest number of tackles of any Sevilla player (5). Will have been disappointed not to offer more going forward, however.

AFP/Getty Images

22/22 Wissam Ben Yedder 5/10

Looked dangerous in flashes but was ultimately on the ball too few times to truly threaten. On the occasions he did shoot, he failed to test Schmeichel. Missed a sitter of a rebound in the second-half.

AFP/Getty Images
"He played it well. It was face-to-face and he fell on the floor. I thought the English players were tougher than that and wouldn't go on the floor like that. He is the one who came to my face and fell on the floor. He played it well."
Nasri was dismissed in the 74th minute of his side's 2-0 defeat in Leicester, yet was still furious with Vardy at the end of the game and tried in vain to confront him in the tunnel. He said that after a foul on the edge of the Sevilla area, Nasri had pushed him. Nasri asked 'what are you doing?' and the Leicester player then "came to my face", as he put it. 
"I didn't touch him, I didn't do anything with my head," Nasri said. "He came to my face and then went on the floor and the referee gave both us a yellow card."

Asked was he saying that Vardy "faked" a clash to get him sent off and win the game, knowing he was on a yellow card, the Frenchman said: "You don't think so? Look at the image and you will see. Yes he did but he did it well. I should have thought about it before and been smarter. If I tell the [full] truth I don't think you will be able to write it.
"I would love to speak to him. Too many cameras and security [and a big] suspension. You would not be able to write [what I would say to him.]"
Nasri has impressed at Sevilla this season, on loan from Manchester City where Pep Guardiola judged him surplus to requirement, and was comfortably the Spanish side's best player before his dismissal. He did not seem to hold out much hope of becoming a fixture for Guardiola next season. 
Asked if he expected to see Vardy again in the Premier League next season, Nasri said: "I don't know what's going to happen with my future, I'm enjoying my time here. I don't know. We're not playing in the same zone so it would be hard for me to get back at him but it doesn't matter. 
"I'm surprised [by what happened] but I should have thought about it and not reacted but I'm a man and I see the whole thing coming out of the Champions League which is a big blow for us. It was just a reaction."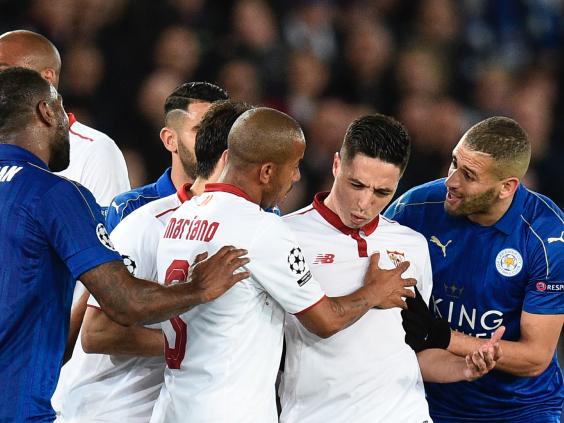 Nasri will receive at least a one-match ban, but it could be more depending on how the incident and his refusal to leave the field is viewed by Uefa's disciplinary body. All red cards are reviewed by the disciplinary  committee but no date has yet been set for when the case will be considered.
In response to Nasri's comments, Vardy said: "I'm not a cheat and I never have been. That's all I've got to say on the matter."
Reuse content