Jose Mourinho has paid tribute to Petr Cech and says he is happy for the displaced goalkeeper to keep knocking on his door asking to play.
Cech was Chelsea's undisputed No 1 for a decade, making more than 450 appearances for the club, until this summer when Mourinho recalled Belgian international Thibaut Courtois from a long-term loan with Atletico Madrid.
Mourinho immediately installed the younger man - by ten years - as first choice and Courtois has been a fixture in the league leaders' unbeaten start to the season. Cech has played just five matches, one in the Premier League and two apiece in the Capital One Cup and the Champions League. He is expected to be displaced in the latter competition at Schalke 04 tonight after playing the previous two European ties.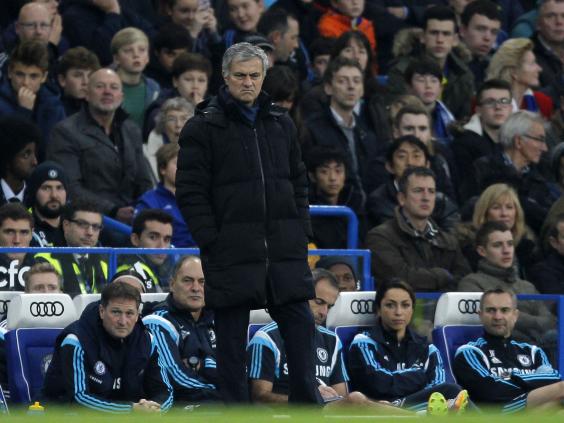 Cech, who has 19 months to run on his contract, has been linked with a move in January with Arsenal, Liverpool, Milan and Real Madrid among potential suitors. His agent, Viktor Kolar, said last month that Cech wanted "to return to being a protagonist in a great squad at a great club."
However, Mourinho has said Cech is not agitating for a move, nor does he want him to leave. Cech has been, he said on Monday, 'easy' to manage this season. Mourinho added: "He is a professional. He wants to play. I am happy he wants to play because when a player doesn't want to play, it means he has not the motivation to be in a top team like we are.
"I think I am privileged coach to have two keepers of this dimension. The problem is when you do not have one good, I have two."
Courtois himself said he had 'no problem' rotating in European matches with Cech. The keeper added: "We have two, or even three, very good goalkeepers in our team. The coach will decide who to play obviously and we respect that."
Courtois was technically a Chelsea player back in May 2012 when, under Roberto Di Matteo, they won the Champions League. But in practice he was far away, literally and mentally, so for him the reunion with Schalke coach Di Matteo in Germany tonight really is just another game, albeit a big one for a player with his own Champions League mission.
Courtois watched the game on holiday in Spain having won the Europa League with Atletico. "I saw it with some friends," he recalled. "It was a very emotional game, my parents were in the stadium and watched the game. As a football player you want to be at the winning end. When you see that final you are dreaming to do the same."
Courtois almost replicated the feat, being on the leading side with Atletico until the closing moments of last season's final against Real Madrid. "Obviously I want to win the Champions League too [having] lost in the final last year in the last minute.
"Hopefully this season with Chelsea we can win it again. We are doing well and had a great start in the Premier League. In the Champions League we are doing well. We have to take it step by step, we are still in November but hopefully we can win both."
Reuse content