CHELSEA HAVE LOST THE BIG GAME MENTALITY - AND THEIR KILLER INSTINCT
Chelsea have always been a big game team. The Blues, under whichever manager, could be relied upon to produce a performance when it really mattered, to hold on against the very best England and Europe had to offer and to kill off teams when they needed to.
This season that has gone out of the window.
The warning signs were there as early as September, when Chelsea conceded an 85th minute Frank Lampard goal to draw 1-1 against Manchester City, who had played 25 minutes with 10 men.
Again at Old Trafford in October, Chelsea were leading until the final minutes before allowing Robin van Persie to sneak an equaliser which cost them two points.  Under pressure at White Hart Lane on New Year's Day, Chelsea fell apart - after taking the lead - losing 5-3.
Chelsea 2 PSG 2 player ratings
Chelsea 2 PSG 2 player ratings
1/24 Thibaut Courtois

Outstanding showing in France kept Chelsea in tie; tested little in first half. Rounded by Cavani before fine stop. Rooted to spot for Luiz and Silva headers. 7/10

GETTY IMAGES

2/24 Branislav Ivanovic

Serb opened the scoring in Paris three weeks previously but was not afforded space to roam, policed well by Maxwell. Blocked Matuidi shot. 6

GETTY IMAGES

3/24 Gary Cahill

Chosen ahead of Zouma and kept occupied by Cavani all night. Assisted first-leg goal and had shot blocked at a free-kick before swiping in opener here. 6

GETTY IMAGES

4/24 John Terry

Relishes big occasions and stood up to challenge well as PSG took time to impose themselves. Vital block on Cavani but beaten at the end. 7

GETTY IMAGES

5/24 Cesar Azpilicueta

Eager to help in attack but careful not to be caught out of position as PSG pressed. Unable to make impact as French side dominated to progress. 6

GETTY IMAGES

6/24 Cesc Fabregas

Knocked over by Motta and unable to exert influence as easily as he did in first half of season. Knocked off ball too easily by stronger visitors. 5

GETTY IMAGES

7/24 Nemanja Matic

First game in over a fortnight after last month's red card and aided defensive efforts. Crucial interceptions and strong tackles before being taken off. 6

GETTY IMAGES

8/24 Ramires

Energetic as ever, ferrying the ball between defence and attack, but did not offer as much imagination or spark as Willian might have. 5

GETTY IMAGES

9/24 Oscar

It was a challenge with him that resulted in Ibrahimovic being dismissed. Overreaction angered PSG players. Hooked at interval when on a booking. 6

GETTY IMAGES

10/24 Eden Hazard

Skipped through at will early on and hauled back by Matuidi to prevent breakaway near half-time. Showed no nerves with extra-time penalty. 7

GETTY IMAGES

11/24 Diego Costa

Caught in ribs but continued after treatment. Involved in running battle with Luiz and denied penalty when shoved by Cavani. Late tackle on Silva. 7

GETTY IMAGES

12/24 Best off the bench: Willian

Replaced Oscar after being left out for his compatriot. Almost caught out Sirigu at near post. Limited success with dead-ball delivery. 6

GETTY IMAGES

13/24 Salvatore Sirigu

Italian had little to do as PSG began brighter. Gathered from Oscar and Willian free-kick and strong arm denied Ramires. Not to blame for either goal. 6/10

GETTY IMAGES

14/24 Marquinhos

Cleared from Terry at end of first period and kept occupied with trickery of Hazard. Also posed problems with delivery from wide areas. 6

GETTY IMAGES

15/24 Thiago Silva

Caught Costa off the ball and allowed Chelsea attackers little room. Spoiled showing with needless handball before magnificent header for winner. 7

GETTY IMAGES

16/24 David Luiz

Warmly greeted and enjoyed battle with new home favourite Costa, fortunate to escape elbow. Booked for play-acting before powering in leveller. 6

GETTY IMAGES

17/24 Maxwell

Poor cross when in good position but stepped up after the break. Won corner with one cross-shot and played part in composed French back line. 6

GETTY IMAGES

18/24 Thiago Motta

Entered referee's notebook for dissent. Provided valuable extra line of cover for PSG, keeping threat of Chelsea attacks to minimum. 7

GETTY IMAGES

19/24 Marco Verratti

Classy touches and grew into the game as nerves among home side became evident. Half-hearted claims for penalty when caught by Ramires. 6

GETTY IMAGES

20/24 Blaise Matuidi

Booked for pulling back Eden Hazard before interval. Powerhouse who linked PSG attacks and more effective than Ramires' efforts in blue shirt. 7

GETTY IMAGES

21/24 Javier Pastore

Forced Courtois into fine low stop as visitors pressed before wasting second attempt. Rarely ceded possession and always forward-thinking. 6

GETTY IMAGES

22/24 Zlatan Ibrahimovic

Swede has habitually struggled against English opposition and that continued here. Harshly shown straight red card for strong challenge on Oscar. 5

GETTY IMAGES

23/24 Edinson Cavani

Scored equaliser in first leg and close in opening exchanges. Lucky not to cede penalty as he pushed Costa. Shot against post after rounding Courtois. 7

GETTY IMAGES

24/24 Best off the bench: Ezequiel Lavezzi

Took place of Matuidi in closing minutes as French side sought leveller. Almost made immediate impact with header at Courtois before Luiz's bullet header. 6
There was the Bradford City humiliation and another draw with Manchester City at Stamford Bridge where they had been in the lead. Chelsea took the lead against the run of play and were always second best to their title rivals.
Then there were the two Paris Saint-Germain games, where at no point were Chelsea ever really in full control, despite playing at home against 10-men for 90 minutes.
There have been a couple of decent victories - at Anfield, at home to Arsenal and in the League Cup final - but by and large Chelsea have been tentative on the biggest occasions and it has cost them.
With huge games still to come in the title race, Manchester United, Arsenal and Liverpool, Jose Mourinho needs to infuse a bolder mentality in his side.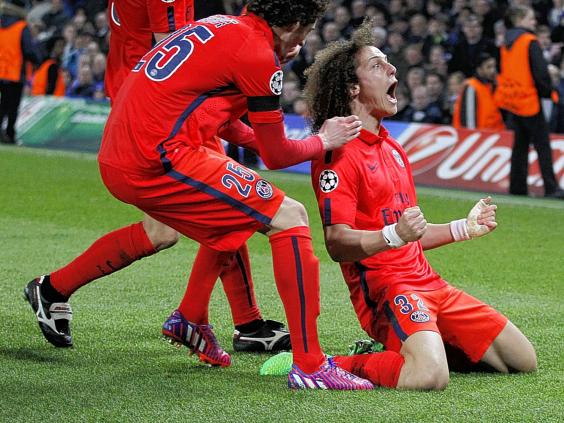 JOSE MOURINHO MAKES A ROD FOR HIS OWN BACK
"I think our training session on Saturday was harder than their game on Saturday."
Much like his "Special One" quote in his very first press conference, this sound bite could become synonymous with the management of Jose Mourinho. The Chelsea boss was clearly trying to instill confidence in his side, but it went a step too far and bred complacency.
The performance of his players has obviously come back to bite him. Roman Abramovich has always put European success as his top priority and Mourinho's failure in the Champions League cost him the first time round.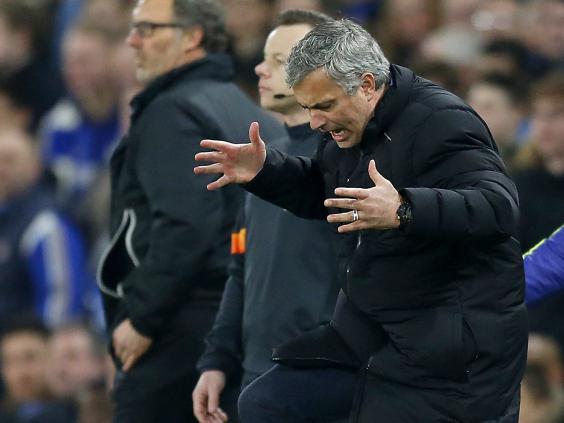 Chelsea absolutely have to win the Premier League now. Mourinho's long term future could rest on it.
'MOURINHO'S RIGHT, THE FANS ARE S***E'
It's an oft-heard jibe by away fans and Stamford Bridge and last night it was completely fair - Chelsea supporters did not help their team one bit. The Chelsea fans failed to create a hostile atmosphere, despite the presence of plastic flags, and failed to urge their team on when nerves set in.
The fans aren't completely to be blame, the club must take some responsibility for the systematic watering-down of the atmosphere at Stamford Bridge. Once upon a time it was one of the worst places to visit as an away fan and now its among the nicest in the Premier League.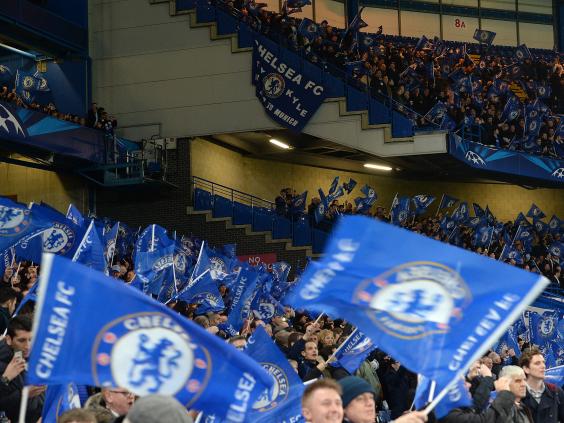 A return to those dark days isn't what's needed, but strict stewarding, the banning of popular songs and expensive ticket prices haven't helped at all.
EDEN HAZARD HAS A LONG WAY TO GO
The Belgian star showed some good touches and scored a penalty, but failed to truly deliver in a decisive manner for Chelsea.
If he wants to be considered alongside the likes of Cristiano Ronaldo and Lionel Messi then he has to produce a landmark performances. Jose Mourinho's cautious tactics don't help, but he must produce more.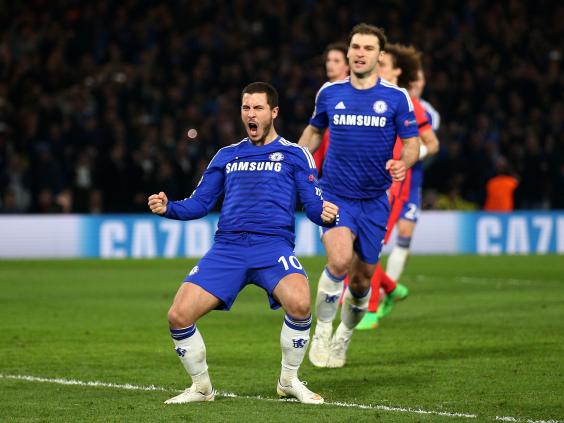 TIME RUNNING OUT FOR WILLIAN
Bought for £30million in the summer of 2013, the Brazilian winger arrived from Anzhi Makhachkala with a big reputation as a creative force and a brilliant dribbler.
Coming on at half-time last night against 10 men, one would expect the winger to find space and to exploit the ageing legs of PSG left-back Maxwell., He did neither of those things and, as it has been for most of his career in west London, failed to make an impact in the attacking third.
He is a hugely important member of the squad and performs a good job as an extra defender with his extremely high work rate and energy.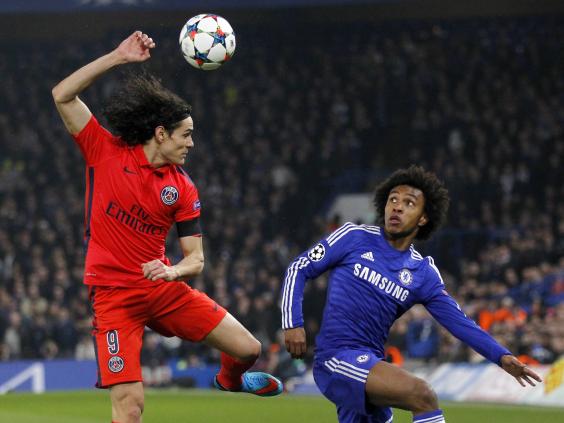 But since joining the club he has just eight goals and eight assists in 76 games - Eden Hazard has 32 goals and 18 assists in the same period.
With £23m man Juan Cuadrado biding his time on the bench, time in the first team could be running out for Willian.
CHELSEA LACKING DEPTH
It showed in the Bradford City defeat that while Chelsea's strongest XI is better than any other in England, beyond those core players the level of the second-string declines sharply.
The Blues have played 44 matches in all competitions this season and seven of those players have started at least 30 of those, with John Terry and Eden Hazard both starting in 37.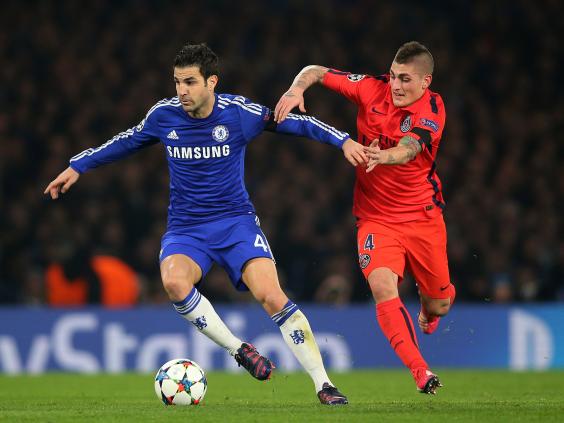 Fighting on four fronts for most of the season, playing in high intensity matches week in and week out will take it's toll on players and the likes of Cesc Fabregas and Diego Costa are starting to look weary.
Where the team was full of zippy attacking intent at the start of the season, the forward play now looks laboured and predictable.
Chelsea started the season on a 21-match unbeaten run - 16 wins - that saw them score 52 goals, but in the 23 matches since they have scored 10 fewer goals and recorded just 12 wins.
OVER-RELIANCE ON STARS
Tying in with the above couple of points is that Jose Mourinho has had his hand forced a bit because of under-performing players. Willian has been discussed, but Oscar has had a hugely disappointing season and while he is impressive in parts, he has often flits in and out of games.
John Terry has been superb for most of the season but because Gary Cahill was faltered, Mourinho can't trust Cahill to partner Kurt Zouma and has to play the 34-year-old captain.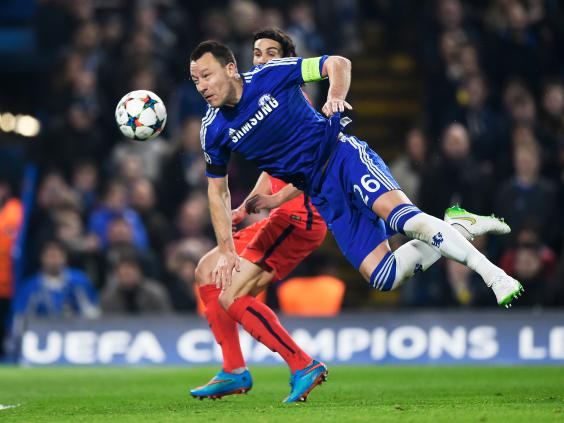 Ramires scored as many as 12 goals a couple of seasons ago and while he has had a lesser role, he has missed crucial chances in games. Cesar Azpilicueta's form has fallen off a cliff but Filipe Luis has not been hugely impressive when he has played.
Chelsea play Southampton next but then face Hull, Stoke and QPR, Mourinho should rotate a couple of his players in those matches.
Reuse content