ARSENAL ARE IN SENSATIONAL FORM
Since that defeat on 25 February, Arsenal have won all four of their matches, beating Everton, Queens Park Rangers, Manchester United and West Ham.
In the last two matches especially Arsenal have been excellent. Although they needed a poor Antonio Valencia back pass to win at Old Trafford, they were the better team throughout and United had to thank the brilliant David De Gea to keep the score down.
Against West Ham they were rampant, scoring three brilliant goals that epitomised the free-flowing football Arsenal are renowned for.
The Gunners will enter the match full to the brim with confidence.
Arsenal 1 Monaco 3 player ratings
Arsenal 1 Monaco 3 player ratings
1/20 David Ospina - 6/10

Diffiicult to overly criticise him for Monaco's opener. Kondogbia's shot took a wicked deflection that left him with no chance. Pulled off a good save to prevent Berbatov scoring a third.

GETTY IMAGES

2/20 Hector Bellerin - 5

Not his best game in an Arsenal shirt. When he did go forward he lost possession and Martial, who he was meant to be marking, too often beat the right-back to the byline. Good run and cross

GETTY IMAGES

3/20 Laurent Koscielny - 6

Didn't have to do much to register a better performance than Mertesacker. He was effectively Arsenal's rock when the German defender wandered into positions he wasn't quick enough to return from.

GETTY IMAGES

4/20 Kieran Gibbs - 6

Arsenal's most dangerous player in the opening minutes of the match. Toure, at right-back for Monaco, found it very difficult to keep up with the rapid left-back.

GETTY IMAGES

5/20 Francis Coquelin - 6

Alongside Cazorla in the two deep midfield roles again. He was a little exposed when the Spaniard decided to charge forward but the French midfielder never looked troubled. Substituted for Oxlade-Chamberlain in second as Arsenal chased the game.

GETTY IMAGES

6/20 Santi Cazorla - 6

Took advantage of space in the middle to surge forward from his role of deep-lying playmaker. Stifled in the second half as the opposition read what he was going to do effectively.

GETTY IMAGES

7/20 Mesut Ozil - 5

Too slow to progress play. The German midfielder was booed by the Arsenal on a night where he really should have done much more to unlock the Monaco defence.

GETTY IMAGES

8/20 Danny Welbeck - 6

Very sharp in the first half but failed to carry out his defensive duties well enough. Indeed it was Welbeck who gave the ball away that led to Monaco's opener. Caught out a few times in the second half.

GETTY IMAGES

9/20 Olivier Giroud - 4

Missed a very, very easy chance from close range in the second half. Posed relatively little threat to the Monaco defence. He was subbed for Walcott on 59 minutes.

GETTY IMAGES

10/20 Best off the bencj: Alex Oxlade Chamberlain - 7

Immediate impact when he came on for Coquelin with 20 minutes to go. It was his late strike that gave his given his side a glimmer of hope going into the second leg.

Getty Images

11/20 Danijel Subasic - 7

Outstanding performance from the goalkeeper. His quick thinking helped his side stay in the lead on a number of occasions. Very quick to close down Walcott in second half. Distribution very good too.

12/20 Almamy Toure - 6

In the first half he found himself overrun by Gibbs but was given some respite in the second half as Arsenal attacked Monaco's left side.

13/20 Wallace - 6

A very assured performance. He frustrated Giroud while also organising his defence with precision.

14/20 Aymen Abdennour - 6

Allowed the Arsenal attack to bypass him too often. He seemed to panic when the French striker got anywhere near the Monaco penalty area.

15/20 Elderson - 6

Playing at left-back, the Brazilian found himself out of position on so many occasions. For most of the night he was either dallying with the ball too far into the Arsenal half or chasing the heels of Welbeck.

16/20 Nabil Dirar - 6

Not as effective as Martial on the left but seemed confident when in control of the ball and always looked forward for the out ball.

17/20 Joao Moutinho - 7

One of Monaco's brighter players. He regularly dropped deep in midfield to start attacking moves. Assisted Kondogbia for Monaco's opener.

18/20 Anthony Martial - 7

Utilised his pace effectively on the left side of the Monaco attack. He took advantage of Mertesacker's bad positioning to assist Berbatov for his side's second goal.

19/20 Dimitar Berbatov - 7

Booed by the Arsenal fans because of his former connection with Spurs, but he was to have the last laugh when he smashed past Ospina in the Arsenal goal to send Monaco 2-0 up

20/20 Yannick Ferreira-Carrasco - 7

What an impact he made when he replaced Berbatov with 15 minutes remaining. His pace, coupled with quick thinking, gave Gibbs hell at left-back. Ferreira-Carrasco added Monaco's third in stoppage time.
OLIVIER GIROUD WON'T BE THAT BAD AGAIN
The French striker has quietly had a brilliant season for Arsenal, scoring 14 goals and adding four assists in just 17 appearances in all competitions.
In the first leg he suffered arguably the worst 90 minutes of his Arsenal career, missing three excellent chances against the Ligue 1 side. There is no way Giroud will even be half as bad as that in the Stade Louis II on Tuesday night, after a barnstorming performance against the Hammers.
Theo Walcott should've scored in the opening minutes from a beautiful Giroud flick, he scored an absolute belter to open the scoring, set Ramsey up for an excellent second goal and provided a sublime touch round the corner in the build up to the third.
Not only is he entering the match off the back of a great performance, he'll be desperate to right the wrongs of the first leg.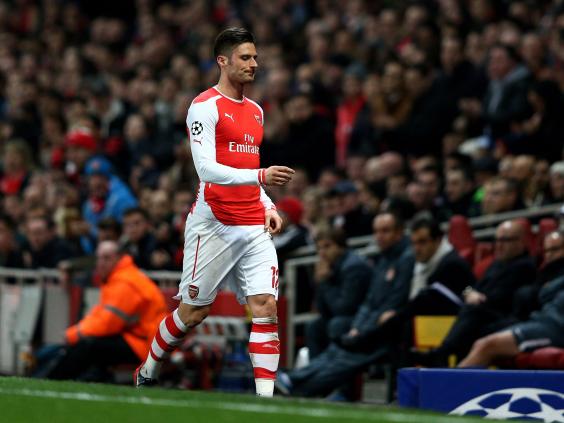 AARON RAMSEY BACK AND AMONG THE GOALS
Arsenal always have injury problems but one of their most influential players is back and almost at full fitness. Aaron Ramsey missed the first leg through injury but was another who put in a top performance against West Ham, scoring his first goal since 9 December and providing a killer pass for Mathieu Flamini's third.
It's not yet clear whether Wenger will trust the Welshman to start in the principality but if he does, expect him to have a similar effect - his telepathic understanding with Mesut Ozil also makes the German a much bigger threat.
PER MERTESACKER HAS LEARNT HIS LESSON
The BFG was terrible in the first leg, at fault for a couple of goals, and was promptly dropped for the wins against Everton and QPR.
But he has been reinstalled by Arsene Wenger in the last couple of matches, partially because Gabriel Paulista picked up an injury, and is yet to put a foot wrong.
Like Giroud, Mertesacker will also be keen to make up for his errors in the first game.
MONACO'S GAME PLAN
Monaco are in a strong position but Leonardo Jardim may be caught in two minds about which way to approach the game. Do they attempt to shut up shop completely and stop the visitors from playing, inviting immense pressure in the process, or do they try and play slightly more on the front foot, leaving themselves open the counter-attack.
It was something that Chelsea couldn't work out against Paris Saint-Germain last week - in a similar position (though not as strong) the Blues went for the conservative approach rather than kill of Laurent Blanc's team.
Ultimately it cost them.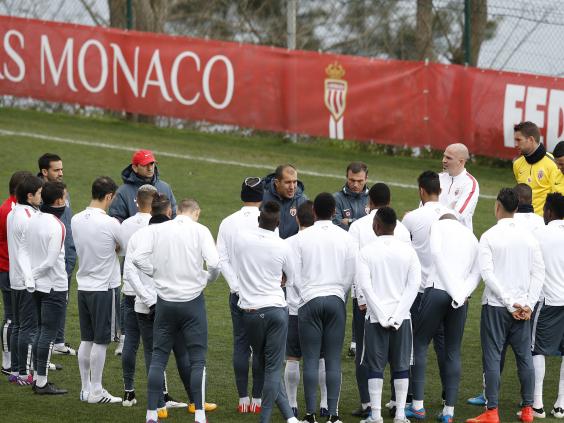 BAYERN MUNICH GIVES ARSENAL HOPE
In each of the last two seasons Arsenal went out at the hands of Bayern Munich, needing to turn over poor first leg defeats at the hands of the dominant Germans.
In both matches they gave very good accounts of themselves - winning 2-0 in 2013 and drawing 1-1 last year - and although neither result was enough to see them through, they showed that Arsenal can perform when they need to.
Monaco are nowhere close to the team that Bayern Munich were, so Arsenal have every reason to believe they can score the three goals required.
Reuse content