Karl-Heinz Rummenigge, Bayern Munich's chief executive, promised "hell" for Real Madrid ahead of their Champions League semi-final second leg at the Allianz Arena on Tuesday night. He certainly got it, but not in the way he wanted.
Rummenigge, whose quotes have been lapped up by the Madrid press before and after the match, had to watch on as his side crashed out with a 5-0 aggregate scoreline as a brace apiece for Sergio Ramos and Cristiano Ronaldo edged Los Blancos as close to 'La Decima' as they have been since last winning the competition in 2002.
'Rummenigge was right,' blasted the front page of AS on a sunny Wednesday morning in the Spanish capital. 'Munich was on fire.' On Tuesday morning Marca published a picture on its website depicting Real Madrid as a plane flying over Munich's home and dousing the flames with water, putting out the fire. It wasn't too far from the truth. After 35 minutes the damage had been done, Ramos with two carbon-copy headers from set-pieces and Ronaldo with his first of two goals that would take his tally to a record-breaking 16 in the competition so far. The holders had been extinguished.
Bayern Munich 0 Real Madrid 4 - player ratings
Bayern Munich 0 Real Madrid 4 - player ratings
1/1 Cristiano Ronaldo 9

The great man made history with his record 15th (and later 16th) goal in a Champions League campaign. Finished off superb counter attacking goal for the third and added a fantastic free-kick late on to crown the performance for Real. Awesome from the best player in the world

GETTY IMAGES
The Bayern legend and former German international hit the front pages in Spain last week when he took the microphone at Bayern's traditional Champions League away game banquet. "I think that in Munich even the trees will be burning with passion when it comes to the return match next Tuesday," he said, before adding that Madrid "know what they can expect in Munich on Tuesday. Their trip to Dortmund was still a comfortable prospect by comparison. We'll show them that Bayern Munich have real quality at home, and it'll remind them a little of hell."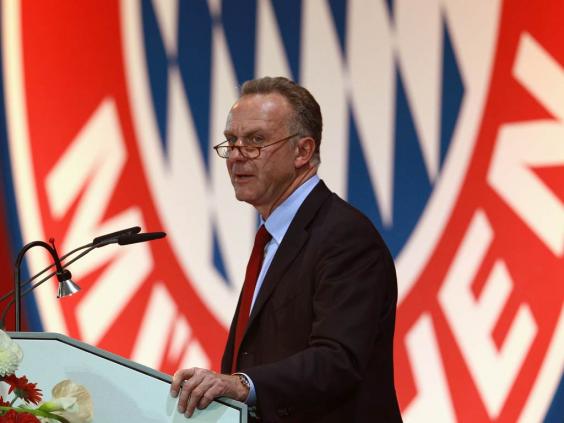 The Spanish press were quick to rub salt into the Bayern wounds with Rummenigge's quotes backfiring on him but they were also quick to praise Madrid manager Carlo Ancelotti, who has done what Jose Mourinho could not do in three seasons at the Bernabeu and push Los Blancos into a final of the Champions League. The quest for 'La Decima' has been somewhat of an unwanted burden for all who succeeded Vicente Del Bosque, the last man to win the competition for the club with a 2-1 victory over Bayer Leverkusen at Hampden Park. Ten managers had succeeded Del Bosque and preceded Ancelotti, including Mourinho, Fabio Capello and Manuel Pellegrini, but none have managed a European final.
'El triunfo de un hombre tranquilo' wrote Marca. The triumph of a quiet man. While Mourinho created a war zone around such huge matches, the Italian has been quite the opposite and it has not gone unnoticed. The former Chelsea manager has already won the Copa del Rey in his first year in charge, is 90 minutes away from winning the Champions League and still has his side within touching distance of Atletico Madrid in La Liga. It helped that his success came against former Barcelona player and manager Guardiola and his tika-taka football associated with the Catalans.
It wasn't only Ancelotti that took the plaudits, with AS claiming it was a historic night for Madrid in Munich and Marca insisting it was a performance of legends, "in Germany, and at Bayern, where they had never won, against the reigning champions, in the Champions League semis, and against Guardiola". Goalscorers Ramos and Ronaldo took the lion's share of the headlines, with Marca going with 'Memorable Ramos' and 'CR7 also makes history' as the Portuguese grabbed two goals to exceed Lionel Messi's record of 14 in one season in the competition.
Before the match many predicted Madrid's biggest threat to be on the counter-attack, with Guardiola describing Los Blancos as the best counter-attacking side in the world, but three of the four goals came from set-pieces. It left Marca playing on the Bayern boss' quotes after the first leg that Madrid are "real athletes", a quote that in some quarters was seen as disrespectful to Madrid, albeit not to Ancelotti. 'The athletes played wonderful football' said Spanish journalist Enrique Ortego in his post-match analysis.
The joy was showcased with a gathering of Madridistas at the Plaza de Cibeles usually only reserved for cup triumphs. Just a fortnight ago Madrid's successful Copa del Rey squad boarded an open-top bus at 3am after arriving back in the Spanish capital from their 2-1 cup final win over Barcelona in Valencia and supporters were left hoping for more with La Liga and Champions League triumphs still on the cards. Such was the success in Bavaria that fans spilled down to the famous fountain immediately after the match to celebrate. "Si, si, si, la Decima seta aqui!" was the rather premature chant. "Yes, yes, yes, the Decima is here."
The only sour point of an otherwise perfect night for Madrid came with Xabi Alonso's first-half yellow card that has ruled him out of next month's final in Lisbon. The Spain international, who won the competition in 2005 with Liverpool against Ancelotti's Milan, was one booking away from a suspension alongside Ramos, who was substituted in the second half for Raphael Varane. Alonso's challenge on Bastian Schweinsteiger in the first-half, with his side 3-0 up, saw referee Pedro Proença pull out the yellow card and Marca called it 'The most painful yellow for Alonso'.
Los Blancos' success was the first of what the Madrid press hope will be an historic week for the city with Atletico Madrid also battling for a place in the final at Benfica's Estádio da Luz. Diego Simeone's side are in London on Wednesday to take on Mourinho's Chelsea with the tie poised at 0-0. 'Tu puedes, Atleti!' screamed Marca's front page underneath Real's success. 'You can do it, Atleti!'. 'The game of your lives' said AS as the Spanish capital braces itself for arguably its biggest night of football ever if Los Colchoneros book a date with neighbours Los Blancos in Lisbon