Xavi Hernandez had the match ball stuffed up his shirt as he lifted the European Cup on Saturday night – the playmaker and his favourite possession inseparable to the end.
But while the Barcelona club captain was making his last appearance on Europe's main stage, his successor to the armband, Andres Iniesta, was declaring that the Champions League would go on belonging to the club as they move into their post-Xavi era.
Barça have now won the tournament four times in nine years and "repeating the unrepeatable" was how Iniesta described the club's second treble.
The 31-year-old Spain international, who wore the armband from kick-off in Berlin, called on the side to go on dominating European football for the foreseeable future, saying: "Six years ago we thought to win the treble again was unrepeatable but we have done it."
Juventus 1 Barcelona 3 player ratings
Juventus 1 Barcelona 3 player ratings
1/22 Juventus: Buffon 7/10

Produced a superb one-handed stop among a series of first half save, but could not stop Barcelona's triumph.

2/22 Lichtsteiner 6

At his best when attacking, he was too often pinned back in defence

3/22 Barzagli 5

In for the injured Chiellini, the defender struggled to contain Barcelona's counter-attacking.

4/22 Bonucci 5

Too often caught out by the incisive passing from Barcelona's front three.

5/22 Evra 6

A steady performance from the veteran left-back before injury forced him off in the latter stages.

6/22 Marchisio 7

Stepped up when his team were most in need, and created his side's equaliser with a wonderful backheel.

7/22 Pirlo 6

Typically cool on the ball, he didn't get the opportunity to influence the game as he would have wished.

8/22 Vidal 4

A first-half liability, his early yellow card hindered his ability to make an impact in midfield.

9/22 Pogba 5

The Frenchman failed to live up to his big reputation on the biggest of stages.

10/22 Tevez 6

Constantly determined, the Argentine just didn't have his eye in this evening.

11/22 Morata 7

Worked hard to reproduce his semi-final heroics with an equaliser, but the celebrations were ultimately short-lived.

12/22 Barcelona: Ter Stegen 5/10

Fine shot-stopping, but failed to convince with aerial balls into the box.

13/22 Alves 7

His non-stop willingness to attack meant he spent much of the evening on the right wing.

14/22 Pique 8

Defensively superb in the second half when Juventus smelt Barcelona blood.

15/22 Mascherano 7

Put a nervous start behind him to produce a determined display.

16/22 Alba 7

Patrolled the left flank admirably, and remained responsible in defence

17/22 Rakitic 8

Scored to start the night off, and proved again what a valuable addition he has been to the Barca midfield.

18/22 Busquets 8

Simultaneously protected his defence while keeping the ball ticking over in midfield.

19/22 Iniesta 9

Always at the heart of Barcelona's best play, he remains a joy to watch.

20/22 Messi 7

Failed to get on the scoresheet, but frightened opponents with every touch.

21/22 Suarez 7

His luck looked out, but he kept his nerve at the vital moment to net the final's decisive goal.

22/22 Neymar 8

The liveliest of Barcelona's front three, he bagged the goal he deserved with the last kick of the game.
The architect of the first goal in the Olympiastadion referred to Barcelona's chance to emulate the achievement of the 2008-09 season when the team made it six out of six by winning the Spanish and European Super Cups and the World Club Cup.
He added: "We still have targets. We want to win the six titles now and win the same titles next year to try to make our club even greater. Now is the time to enjoy our fifth European Cup."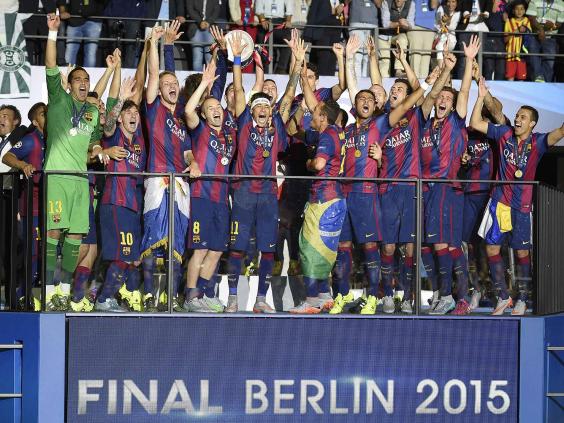 Barcelona get to keep the trophy they lifted in Berlin by virtue of having won it five times and it was sat proudly on a chair next to Lionel Messi at the team's hotel breakfast yesterday before they brought it back to Catalonia and to the Nou Camp last night.
Attention has already turned to next season, with Seville's attacking right-back Aleix Vidal poised to join as Dani Alves's long-term replacement. Barcelona's transfer ban does not prevent them from signing him but they will not be able to register him before January.
Iniesta has already set out the aims for next season. When Barcelona swept the board clean in their first season under Pep Guardiola it did feel like a feat they would never repeat but Luis Enrique has matched his predecessor's achievement.
Iniesta created the fourth-minute opener for Ivan Rakitic after Neymar, Jordi Alba and Messi had combined. Alvaro Morata equalised for Juventus 10 minutes after half-time but Luis Suarez scored a decisive second – his 25th goal of the season – on 68 minutes. When Neymar made it 3-1 deep in injury time, that was 122 goals for Barcelona's front three this season.
Suarez admitted: "I never dreamed it would go this well. I'm always looking to achieve more. I never feel satisfied with what I have done and although I had scored in Paris, and against [Manchester] City and Real Madrid, and some people had said, 'OK, it's done', I wanted more. Now, with the quality this team has, I think we can win more next season."
Suarez has brought goals, assists and unity to Barcelona. It remains to be seen whether that unity extends to Luis Enrique, who must decide if he wants to lead the team into the next campaign.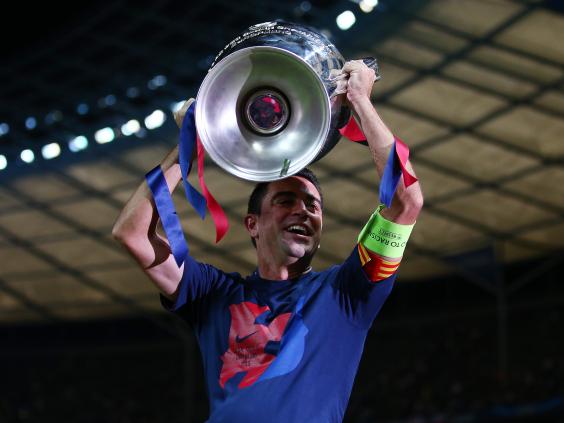 President Josep Maria Bartomeu will stand down this week so that the election process can begin. He will then stand for re-election and another former president, Joan Laporta, is also expected to become a candidate.
Luis Enrique must decide if he wants to make himself available as coach and which presidential candidate he intends to align himself with. "I never thought we would win all three trophies," he said after Saturday's game.
Defender Gerard Pique was even more succinct about the first few weeks of 2015, when nobody would have bet on such success. He said: "You can't get better than winning like that, after January, when it looked like everything was falling apart. After five brutal months and beating some of the best teams in the world, the champions of England, the champions of Italy and Germany, the team showed it could suffer and still come out on top. We saw that more than ever when it went to 1-1 and we had a 10 to 15-minute spell when we looked exhausted.  They attacked us but we coped defensively and up front, with the talent these players have, they know how to take the chances."
Suarez's finish came after goalkeeper Gianluigi Buffon had denied him either side of half-time. He alluded to his months spent on the sidelines at the start of the season after his ban for biting Giorgio Chiellini at the World Cup.
"I'm grateful to Barcelona for trusting in me after everything that happened to me, and to my team-mates, who have been spectacular," he said. "They treated me like one of the team from the day I arrived and I will remember that for the rest of my life."
There was emotion everywhere on Saturday night with Andrea Pirlo of Juventus in tears, Paul Pogba inconsolable and Messi and Luis Enrique again embracing each other on the final whistle.
But nothing topped Xavi with the trophy. He had replaced Iniesta on 77 minutes in his 767th game for the club and his 25th trophy.
Iniesta said: "I told him to be strong when he came on to replace me because there was so little time left and the game was so nearly won. He brought us exactly what we needed – calm. The image of Xavi leaving with the Champions League is the most beautiful one for a player of his class."
Reuse content