He received the pass five yards from the right-hand corner of the penalty area, and pushed his left foot through the ball to drive away from two opponents. His next touch opened up his body and enabled him to fake a shot, which committed the covering centre-back.
He chopped the ball on to his right side, kept his hips facing the far post to maintain his shooting options, and moved away from two more opponents by transferring the ball back to his left foot. He saw the goalkeeper braced, with knees bent, arms extended and palms facing him, but offered no clue about his intentions.
Perfectly balanced despite the pressure of limited space and time, he pushed the ball forward with his right foot and anticipated the full-back's intended tackle. He cut across the ball, shooting with the outside of his left boot. It arrowed inside the near post before the goalkeeper could move.
It took Gareth Bale eight touches and five seconds to score the most significant goal of his career, the first of the two he contributed to Real Madrid's 6-1 Champions' League win in Schalke's Veltins Arena on Wednesday night. Marca, the Spanish sports daily that can make or break galacticos, hailed it as a "work of art, magical skill". After six months in Spain, he had arrived.
The Welshman will be centre stage in today's Madrid derby against Atletico, potentially the pivotal fixture of La Liga's season. The BBC – Real's attacking triumvirate of Bale, Karim Benzema and Cristiano Ronaldo – demands the attention of a global audience. The crowning achievement of La Decima, Real's 10th European Cup win, is tantalisingly close.
Bale's initial goal in Gelsen- kirchen, one of 14 since his world-record £86 million transfer from Tottenham, is worth describing in detail; not just for its beauty and impact, nor for its fusion of skill and instinct, but because it is a fantasy made flesh. Every park plodder and schoolboy schemer has dreamed of doing something similar.
It is a reminder that, in an era of relentless negativity, football retains the ability to inspire and captivate. Bale's development in exile has barely created a ripple here, where attention has been dominated by the tragi-comedy of Manchester United's decline, the absurd posturing of assorted foreign owners and the disturbing ambiguities of the Nicolas Anelka case.
Such relative indifference to his successful adaptation to the world's most demanding club is strange, but revealing. There is none of David Beckham's celebrity baggage. Bale may match Wayne Rooney's basic weekly salary of £300,000, but there is no sense of ostentation or resentment at his good fortune. He remains extraordinarily ordinary.
There is no shortage of raw material for a football parable. Bale, remember, is the boy spotted by chance, playing in a five-a-side match for Cardiff Civil Service FC. He survived a one-match trial to become an apprentice at Southampton and persevered through a 24-match, 1,533-minute wait for his first win for Tottenham.
He kicked a ball around with his father, Frank, a school caretaker who became a painter and decorator  because it offered greater scope to ferry his son from Cardiff to Southampton's satellite centre in Bath. His mother, Debbie, balances his father's disciplinarian approach; they are as far removed as possible from the parental ogres who tend to be created by football's star system.
Their son does not drink, has never smoked and is the antithesis of the modern tattoo-encrusted dilettante. When he wore a pair of magnetic earrings as a prank, the withering response of his father – "I swear I thought he was going to kill me" – stayed with him.
Bale has done everything right. Real are unbeaten in 27 matches, his Spanish is improving and he defers to Ronaldo's cult of personality. His only affectation, the copyrighted love-heart goal celebration, is irritating, but he has earned our indulgence.
Concern as Trott gets back in swim
Breathless reports suggest Jonathan Trott is "raring to go" in advance of his comeback with Warwickshire next month. He has retained his international ambitions, despite England's uncanny ability to invent new ways to lose.
Any right-minded observer would wish Trott well in his recovery from the stress-related illness which necessitated his early departure from this winter's Ashes tour. But the nature of his affliction ensures it must not be underestimated.
Sport at the highest level is an artificial existence. Emotions are exaggerated and attention is unrelenting. The rituals of perfecting and sustaining natural talent are rigorous, and militate against the development of a balanced character.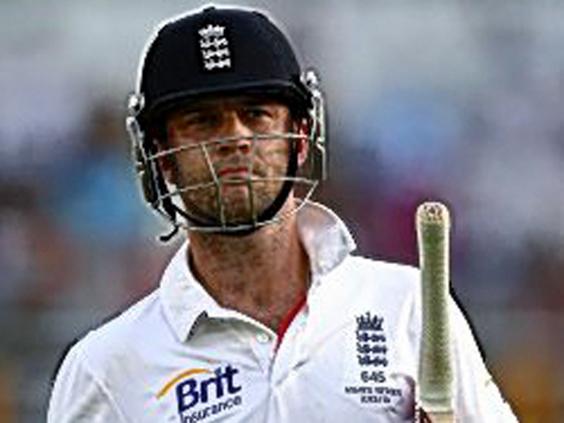 Should those closest to Trott require a sobering perspective, they need only examine the plight of the three greatest Australian swimmers of the modern era, multiple Olympic champions who have gone into meltdown.
Ian Thorpe is undergoing treatment for depression after being discovered disorientated and distressed. Grant Hackett, found wandering shirtless and confused in a Melbourne hotel, has entered rehab in the US. Kieren Perkins, at his lowest, was so depressed he refused to get out of bed.
The black dog has sharp teeth.
Not Clever
Thousands of so-called football fans have signed an e-petition calling for Manchester United's Tom Cleverley to be banned from England's World Cup squad for "not possessing any genuine qualities". Thousands of so-called football fans should get a life.