Bayern Munich fans today unveiled a banner making their feelings on the Premier League clear.
In the week that saw Sky Sports and BT pay a record £5.136bn to show three seasons worth of Premier League football, the top-tier of the game in England has been patting itself on the back.
But despite the huge interest the Premier League generates - so much so that the new deal values each televised match at £10.8m - some fans in Germany are opposed to adopting a similar model.
The group of Bayern Munich fans' banner read: "This ain't no Premier League. Nein zum Englischen modell" (No to the English model).
In Germany part-ownership of the clubs is common place whilst ticket prices remain low and away-day ticket schemes are the norm. That Bayern Munich and also among the best teams in the world and German sides tend to be among the best performing in Europe proves that there is an alternative way to how the Premier League is run.
On the pitch Bayern Munich inflicted another humiliating defeat on Hamburg at the Allianz Arena to remain firmly on course to retain their Bundesliga title.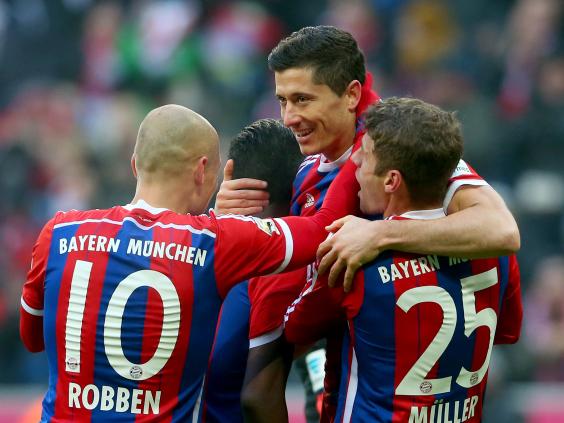 Two years after thrashing Hamburg 9-2 at home, Bayern went goal crazy again as braces from Thomas Muller, Arjen Robben and Mario Gotze plus further strikes from Robert Lewandowski and Franck Ribery saw the reigning champions run out 8-0 winners.
The victory keeps Bayern eight points clear at the top of the Bundesliga, while also setting them up in style for the return to Champions League action against Shakhtar Donetsk in midweek.
Additional reporting by PA.
Reuse content