Tim Sherwood hopes that Tottenham's dramatic come-back against Dnipro Dnipropetrovsk will inspire his team over the final months of the season.
Spurs scored three second-half goals to reach the last-16 of the Europa League and Sherwood said that the fight-back would be a "big platform" for his team, who are trying to make up a six-point deficit to fourth-placed Liverpool.
"You can only learn from experiences and this will be a good example of that," Sherwood said. "Many of you thought we were probably dead and buried but the lads really showed belief. It's about getting back on the horse straight away and we scored within five minutes. It was frantic out there. It is a good learning curve if we do go behind in the future."
"We have to give everything. This club won't accept anything less and that's what I try and instil into them and it's fantastic we were able to turn this around tonight."
Having questioned some of his players' character in mid-week, Sherwood said they had proved their mettle. "I was delighted with the character," he said. "I've got a liberty to question their character when they play like that. Not question it so much, but ask for it. It was all based on character and desire.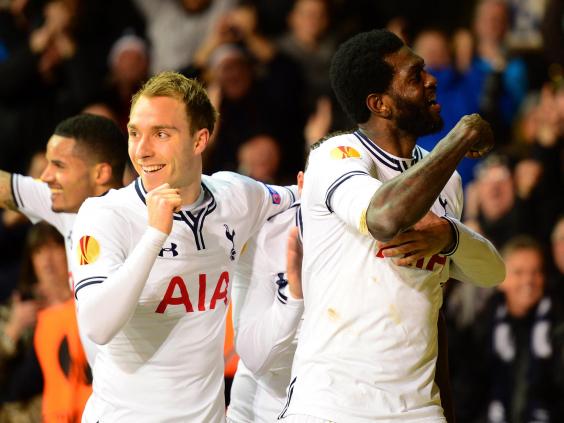 "On the back of a poor result against Norwich we should be bouncing into that game against Cardiff," Sherwood looked ahead of Sunday. "We've come out and done it, won the tie, and we're looking forward to the next game on Sunday. You're only as good as your last game. Today we were very good. Last Sunday we weren't very good."
Tottenham face Benfica in the last-16, at home on 13 March then in Lisbon one week after. "It's a great club with a great history," Sherwood said. "I've never been to the new stadium. It's a trip we'll enjoy but we'll only enjoy it we win. We want to progress further in the competition so we're looking forward to it now."
Reuse content