In any other season, this humiliation would have been a disaster. Spurs were outplayed last night by Borussia Dortmund for the second time in a week, a result that barely conveys the German team's superiority over two legs.
And yet there is no time for tears, recriminations or an inquest this morning. Spurs' season is far from over. They are in their first real title race for 30 years and are chasing hard. They have eight games left, and a five-point gap to Leicester City. On Sunday they host Bournemouth, a far less prestigious opponent but a far more important game. Spurs' season is still very much alive.
Tottenham, of course, did not want a repeat of their lesson at the Westfalenstadion so Mauricio Pochettino strengthened his midfield. Eric Dier and Dele Alli came back in, having both missed the first leg. Mousa Dembélé and Christian Eriksen took their turn to rest and prioritise Sunday, with Harry Kane on the bench.
This meant they were a solid but rather blunt side that took the field needing an implausible 3-0 win just to take the tie to extra-time. That was never going to happen, not against a Dortmund side this spritely and this good. 
Roared on by their travelling support, who made their opposition to any mooted European Super League clear in very blunt English, Dortmund were only ever comfortable and in control.
Spurs worked as hard as they always do, but Dortmund are the experts in marrying elite quality to ferocious physical exertion. Their front three of Henrikh Mkhitaryan, Marco Reus and Pierre-Emerick Aubameyang were brilliant but they had a good platform in midfield, with the youthful Matthias Ginter and Julian Weigl proving that they were just as young, sharp and driven as Alli and Dier. Dortmund were comfortable and were just waiting for their moment. When Mkhitaryan backheeled to Reus, Spurs were nowhere, but Reus could only drive his shot into the side-netting.
The next time that Dortmund flicked the switch, 24 minutes into the first half, it was enough to end the whole contest beyond doubt. Erik Lamela misplaced a backpass which fell to Aubameyang 30 yards from goal. He spun forward, assessed his options and hit a perfect long-range shot, swerving away from Hugo Lloris and into the opposite far corner of the net.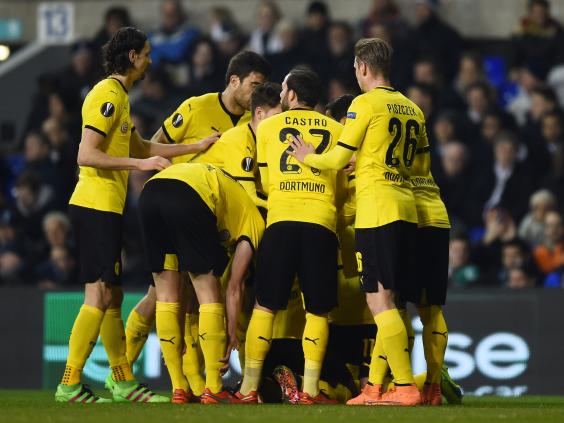 From that point Spurs needed five goals to make the quarter-finals, and even their most ambitious supporter could not have expected that. With a title race still to play for, and Dortmund still trying to reel in Bayern Munich, what followed was remarkably high-stakes low-intensity football. Spurs knocked the ball around whenever Dortmund allowed them, and did create half-chances, as Dier headed wide from a corner. But the greatest cheers were for Spurs keeping it at 1-0 on the night, as Toby Alderweireld made crucial tackles on Aubameyand and Mkhitaryan.
There was little appetite on either side for a very different second half. Dortmund continued to be the better side, playing better football, and had they wanted to go further ahead they surely could have done. Aubameyang raced in behind, down the left hand side, but hit his shot over the bar. Thomas Tuchel knew Dortmund were comfortable so withdrew the brilliant Reus, to applause from the Tottenham fans, for American teenager Christian Pulisic. Pochettino followed suit, taking off Alli for Tom Carroll.
That was the point when preservation became more important than pride and, sure enough, Dortmund scored their second immediately after. Mkhitaryan had far too much space in central midfield and played the ball through to Aubameyang, running behind Kevin Wimmer. He took his time in the box before beating Lloris with a high finish.
Five goals up, Dortmund finally took their foot off the gas. Neven Subotic lost control of a simple ball and Heung-Min Son raced away and beat Roman Weidenfeller. He ran the ball back to the centre-spot, with Spurs just five more goals away from the quarters. They could have played until April and not pulled the tie back.
Reuse content