Two-thirds of Tottenham's silverware hunt remain after the home defeat by Crystal Palace in the FA Cup was followed by victory over Fiorentina in the Europa League last night. Goals by Ryan Mason and Erik Lamela plus a late own goal compensated for Harry Kane's absence and enabled them to reach the round of 16 for the third time in four seasons, the Italian side having prevented them doing so a year ago. If not quite one of the fabled glory, glory nights, it was an atmospheric one, the large crowd growing into the occasion as Fiorentina played their part.
In February last year Spurs went out of the Europa League, were beaten in the Capital One Cup final and fell behind in the chase for a Champions League place. Now they turn back to the Premier League in good heart, lying second, with Swansea City's visit on Sunday, followed by demanding derbies against West Ham and Arsenal next week. 
With Spurs' leading scorer Kane not available for the first time this season even to sit on the bench, the question was whether Spurs would have sufficient attacking firepower. Having failed to sign another striker while the January window was open, the concern for a busy time of season was always how they would cope if he suffered a more serious injury than last weekend's broken nose, which should not keep him out for longer than last night's game.
The proposed solution here was to use Nacer Chadli, scorer of the goal in Florence, as the furthest man forward, with Erik Lamela, who has been restoring his tattered reputation this season, and Christian Eriksen on the flanks.
Chadli being well held, the answer proved to be pushing midfield men beyond the narrow visiting defence; and it was of course no surprise that Dele Alli should be the provider for a goal in the 25th minute. Although Chadli failed to make contact as the ball was played forward, Alli touched it on for Ryan Mason to open up his body and curve a precise shot inside the far post before receiving the crowd's acclaim normally reserved for Kane as "one of our own". 
It was only a second goal of the season, following a winner at Sunderland in September, and fourth for the club for a player who was out for three months before returning for the first leg in Florence.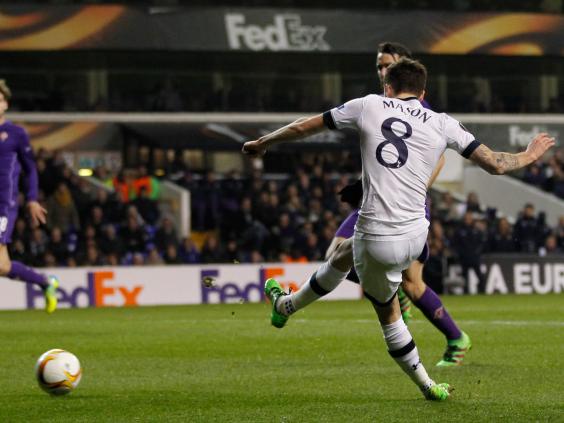 In all there were three changes from that evening with the captain, Hugo Lloris, a reassuringly solid presence in goal, Eric Dier back as one of the defensive midfielders and Lamela in for the injured Tom Carroll.  
Fiorentina, third in Serie A and semi-finalists in this competition last season, deployed their multi-national troops in a fluid 3-3-3-1 formation with Marco Alonso, the former Real Madrid man, an enthusiastc raider down the left. 
Knowing even before Mason scored that they needed a goal, the Italian side had not been slow in coming forward when alllowed to and Ilicic had produced their best effort of the half when he received from Nikola Kalinic down the right, cut in on his left foot past Ben Davies and whipped a low shot past Lloris's far post.
Fiorentina finished the half strongly and resumed in the same manner once Chadli had rightly been flagged offside before knocking the ball past Tatarusanu. Their Portugese manager, Paulo Sousa, who spent (very) brief spells in charge of Queens Park Rangers and Leicester and a longer one at Swansea, was understandably furious when Federico Bernardeschi, who had equalised in the first leg, wasted a four-against-three break with a misplaced pass.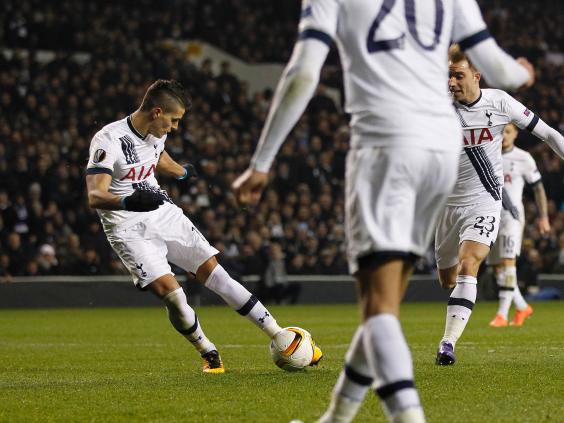 It was now an extremely open game, played at fierce pace, with both defences coming under pressure. Sousa made his first change, replacing Ilicic with Mauro Zarate who had played here in West Ham's 4-1 defeat earlier this season.
 The little Argentine had barely joined the fray when his team conceded a second goal. A deflection from Chadli's shot meant the goalkeeper could only parry it and as the ball ran loose Lamela beat Eriksen to it to claim his sixth Europa League goal of the campaign. 
Ten minutes from the end captain Gonzalo Rodriguez knocked Tripper's cross into his own net off the crossbar and in the remaining period Mason and Eriksen both brought smart saves from Tatarusanu.
The one negative for Spurs was another yellow card for Alli, who had been involved in controversy in the first leg after kicking out at Nenad Tomovic. He was now deemed to have thrown himself down too theatrically outside the penalty area, and will now miss the first leg of the next round.