Jupp Heynckes turned 70 last week and Pep Guardiola made sure he paid due respect. "Herzlichen Glückwunsch zum Geburtstag, Jupp", he said in his best German during one of his press conferences.
"Congratulations on your birthday, Jupp" was the message; he would have been hard-pressed not to remember it because Heynckes is Bayern royalty after winning the Bundesliga, German Cup and European Cup the season before Guardiola arrived in 2013.
Speak to enough journalists, commentators and supporters and the inevitable phrase will be uttered soon enough: "You see the problem with Pep is, Jupp won the treble".
That isn't the only problem. Everyone liked Jupp. Uli Hoeness sacked him in 1991 and in 2012 he was also the man who delivered the news that Guardiola would replace him at the end of the season. Yet still Heynckes stood by his friend when he was sent to prison for tax evasion.
Bayern Munich vs Barcelona player ratings
Bayern Munich vs Barcelona player ratings
1/22 Neuer 5

Far from his impregnable best, the big German was left stranded for Barca's first goal and beaten at his near post for the second.

2/22 Rafinha 5

Was ineffective at both ends of the pitch tonight. The full-back was typically tidy in possession but couldn't get anywhere near the dangerous Neymar.

3/22 Boateng 5

Finished the first leg on his back side and didn't cover himself in glory tonight either. An absolute shadow of his stunning World Cup winning form.

4/22 Benatia 5

His header gave Bayern hope early on but equally killed off their chances with some shocking defending. Failed to assert any control on the Barca front three.

5/22 Bernat 7

Tried to get forward at every opportunity but his attacking exploits left Bayern light at the back when Barca broke away. One of Bayern's better performers.

6/22 Lahm 6

A night to forget for the Germany captain. Largely ineffective in his new central midfield role, Lahm only came into the game when he retreated to wide positions.

7/22 Thiago 7

Looked very busy against his old club and was probably the pick of Bayern's midfield ranks. Tenacious pressing interrupted the probing of Busquets and Iniesta.

8/22 Alonso 6

As always impeccable in possession but failed to create many chances from his deep midfield role. The Spaniard gave next to no support to his defence who were repeatedly overrun

9/22 Schweinsteiger 6

The World Cup winner was tireless in his work ethic but couldn't stamp his authority on the game. The midfielder was a merely a gateway to Barca's counter attacking moves.

10/22 Muller 7

The prolific forward was always a threat and his industrious pressing didn't go unnoticed. Linked up well with Lewandowski on countless occasions.

11/22 Lewandowski 7

The Polish striker looked a class apart once again and restore some pride to the Bayern ranks going forward. Excellent footwork and finish for the second goal.

12/22 Ter Stegen 9

The Barca keeper pulled off countless world class saves to deny the Bayern revival. Outshone his fellow countryman Neuer with ease.

13/22 Dani Alves 7

Gave Barca added width when Messi came inside and was always faultless in possession. Sensational chipped pass to Suarez for the first goal.

14/22 Pique 6

Typically assured at the back even if he struggled to deal with the impressive Lewandowski at times. Kept order at the back Bayern pressed heavily.

15/22 Mascherano 6

Once again showed his quality as a centre back even if he lost out on the physical battles with Lewandowski and Muller. Efficient sweeper.

16/22 Alba 6

Not the best night for the lightning fast left back. Got forward well as always but couldn't deal with the movement and physical presence of Muller.

17/22 Rakitic 6

Showed his ability on the ball finding Messi and Suarez on countless occasions in the first half. His influence dipped after the break though.

18/22 Busquets 7

Classic performance from the Spaniard. Strong, clever and precise, Busquets took the sting out of the game well in the second half. Won his decisive battle with Thiago in the midfield.

19/22 Iniesta 7

Controlled Barca's tempo in the first half unleashing Neymar and co to a devastating effect. Still has an incredible impact at this level.

20/22 Messi 7

Although he played something of an understudy role this time around, Magical Messi was still a class act behind Suarez and Neymar.

21/22 Suarez 8

Despite his early departure, Suarez played his part in ultimately killing the tie off before the break. Put both goals on a plate for Neymar.

22/22 Neymar 8

The Brazilian clinical brace ensured that he took the starring role tonight. He has now scored 8 goals in his last seven games. Deadly.
Heynckes winning the treble was the worst thing that could have happened to Guardiola but, after Bayern's Champions League exit to Barcelona, memories of how it was achieved might actually calm the situation on Säbener Strasse and persuade the club not to push their 44-year-old coach too hard when they sit down with him at the end of the season and discuss the future.
Guardiola has just one year left on his current deal and there are many who say he cannot possibly take Bayern into next season without signing a contract extension. It would be too unstable a situation and the team would suffer, goes the argument.
Yet everyone knew Heynckes was on his way in 2012 and Bayern still won three major trophies. Sure, it was on a wave of popularity but who is to say Guardiola would not stir the same emotions if the players knew he was leaving?
Stability is overrated. Manchester United were stable at the start of last season with the ink still drying on David Moyes' five-year contract – that lasted 10 months.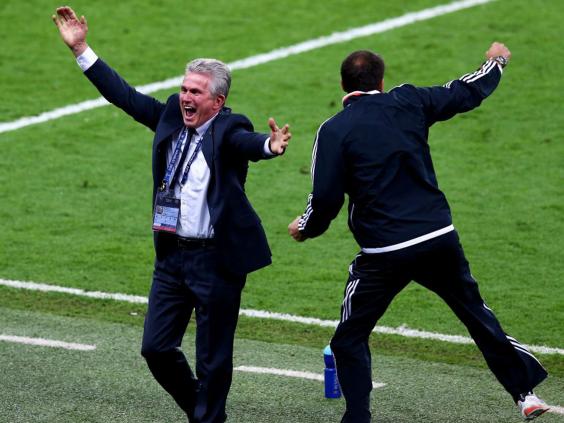 Players still want to win, whoever the manager, and Bayern showed under Heynckes that the approaching end of an era can even galvanise a squad. Pretty much the same has happened at Barcelona this season with the players and Luis Enrique getting on with each other because they know it will only be for a few more months.
If Guardiola does refuse to sign an extension and only stays for his remaining year, the real dilemma at Bayern will come at the start of the 2016-17 season when they will have to replace him. After the European Championships, Germany coach Joachim Löw will probably be available and Jürgen Klopp may be coming to the end of his sabbatical, if he takes one. But could either man work with Bayern sporting director Matthias Sammer? Neither is a fan.
The best young coach in Germany, Thomas Tuchel, is heading for Dortmund to replace Klopp. One German journalist told me in jest: "Maybe Louis van Gaal could come back [to Bayern], at least until Hoeness is released". Those two have the same relationship as Löw and Klopp with Sammer.
Whatever happens the one certainty is that anyone given a five-year contract will not be finishing it. And no one is about to embark on a 27-year Sir Alex Ferguson style reign. If Guardiola stays for one more year, the world will not end. After all, Heynckes – for old times sake, and while clearing his desk – won the treble.
Reuse content