Xavi has revealed the only regret of his brilliant career is that he never got to play with Paul Scholes.
The midfielder announced his retirement from international football on Tuesday after 133 caps and three major trophies.
The 34-year-old will remain with Barcelona, the only club he has played for in his 16-year career, but admitted not playing with the Manchester United legend is the "one small regret" he has in his career.
"When I think about all I have won with Spain and Barcelona and all they great players I have played with - it is impossible for me to have any regrets," said Xavi.
"Maybe one small regret is that I never got to play with Paul Scholes - but I was never going to leave Barcelona and he was never going to leave Manchester United."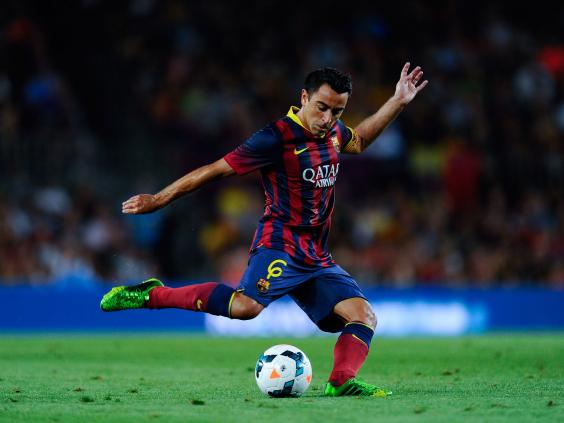 Xavi is a long-time admirer of Scholes; in a 2011 interview with the Daily Mail he called Scholes "the best midfielder I have seen" in the last 15 to 20 years.
"In the last 15 to 20 years the best central midfielder that I have seen — the most complete — is Scholes. I have spoken with Xabi Alonso about this many times. Scholes is a spectacular player who has everything," he said.

"He can play the final pass, he can score, he is strong, he never gets knocked off the ball and he doesn't give possession away. If he had been Spanish then maybe he would have been valued more."
Xavi will continue for Barcelona, the club for whom he is all-time appearance maker.
When announcing his retirement, Xavi said: "I was going to retire after Euro 2012 but head coach Vicente del Bosque persuaded me to stay on and go to Brazil which was of course a huge disappointment for everyone and myself individually.
"After Euro 2012, it was generally understood I was going to be leaving after Brazil 2014. I hope Del Bosque stays as manager as Spain because I don't think there is a better man for the job.
"I want to thank everyone involved in that team for the way they treated me and the respect and I could not wish for a better time as an international."
Reuse content