Xavi Hernandez has officially ended his stellar international career after announcing he will retire from Spain duty.
The 34-year-old Barcelona midfielder may collected 133 caps, scoring 13 goals, during 14 years with La Roja and was a key part of the teams that won the 2008 and 2012 European Championships and the 2010 World Cup.
Xavi announced his decision during a press conference for his club.
"I have decided to retire from the Spain national team," he said. "I'm grateful for all those years. It has been a fantastic time."
Xavi made his debut as a 20-year-old against the Netherlands in 2000.
He added: "I'm not 20 anymore, but I still have the motivation of a kid."
He was named player of the tournament at Euro 2008 after leading Spain to their first piece of international silverware since the 1964 European Championships, providing the assist for Fernando Torres to score in a 1-0 win against Germany.
Xavi was also a key member of the 2010 World Cup winning squad, acting as vice-captain to Iker Casillas as Vicente Del Bosque's team won Spain's first ever World Cup.
Spanish international dominance continued in Poland/Ukraine two years later, with Xavi again playing a starring role. He provided two assists in the final as Spain dominated Italy 4-0.
Xavi was named to the team of the tournament in all 2008, 2010 and 2012.
The 2014 World Cup may have been one to forget for Xavi and Spain, as the defending champions crashed out at the group stage, but he will be remembered as one of the best ever in his position.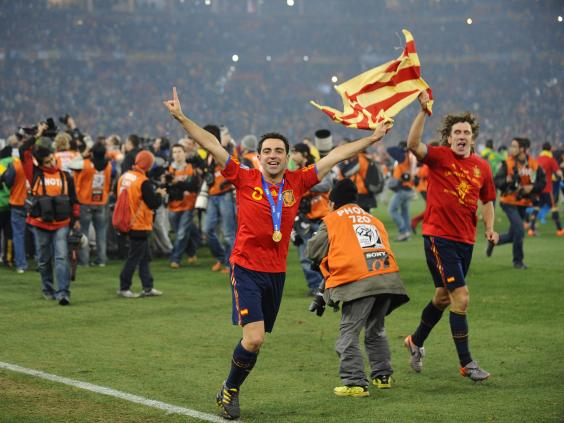 Xavi also won an Olympic silver medal at the Sydney 2000 Games.
He said: "I was going to retire after Euro 2012 but head coach Vicente del Bosque persuaded me to stay on and go to Brazil which was of course a huge disappointment for everyone and myself individually.
"After Euro 2012, it was generally understood I was going to be leaving after Brazil 2014. I hope Del Bosque stays as manager as Spain because I don't think there is a better man for the job.
"I want to thank everyone involved in that team for the way they treated me and the respect and I could not wish for a better time as an international."
Spanish team-mate David Villa also retired after the tournament in Brazil, while other veterans Iker Casillas and Xabi Alonso are still available despite speculation that they too may retire from international football.