Now departed Barcelona legend Xavi Hernandez has revealed the reason behind his spat with Neymar during the club's victory parade.
The 35-year-old, who played the last of his club record 828 matches for the club in the Champions League final against Juventus, shoved Neymar and appeared to reprimand as the team went on an open-top bus parade around Barcelona.
With the treble in the bag Xavi, who was unveiled at his new club Al-Sadd on Thursday, said the Brazilian had to pay more attention to the hundreds of thousands of fans who came out to see the players.
"He (Neymar) was trying to take my shoes off and pushing me when I was on the edge of the bus," Xavi told Qatari newspaper Sport. "I said that they should stop messing about and concentrate on the people that had come out to wave as the bus passed. 

"These parades are for the people after all. It's okay to have three or four beers but the parade is for the people and it's the chance for us to thank them for our support. You can't just do what you want to do."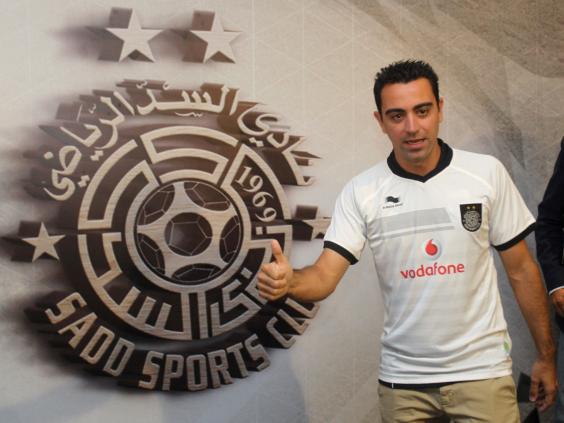 Xavi ends his career having won eight Spanish league titles, the Champions League four times, the Club World Cup twice and the Copa Del Rey three times.
He also enjoyed a stellar international career and was a crucial part of Spain's two European Championship wins and the World Cup win in 2010.
Xavi said that Neymar also needs to show his opponents more respect, after he flicked the ball over the head of an opponent during the Copa Del Rey final with the game already won.
The 18-man Uefa Champions League squad of the season
The 18-man Uefa Champions League squad of the season
1/18 Marc-Andre ter Stegen (Barcelona)

2/18 Gianluigi Buffon (Juventus)

Getty Images

3/18 Branislav Ivanovic (Chelsea)

Branislav Ivanovic heads in the opening goal

GETTY IMAGES

4/18 Gerard Pique (Barcelona)

Gerard Pique celebrates Barcelona's treble success

GETTY IMAGES

5/18 Javier Mascherano (Barcelona)

GETTY IMAGES

6/18 Giorgio Chiellini (Juventus)

7/18 Jordi Alba (Barcelona)

Getty Images

8/18 Ivan Rakitic (Barcelona)

9/18 Sergio Busquets (Barcelona)

10/18 Andres Iniesta (Barcelona)

11/18 Claudio Marchisio (Juventus)

12/18 Toni Kroos (Real Madrid)

Getty Images

13/18 Andrea Pirlo (Juventus)

Andrea Pirlo in tears at the final whistle

GETTY IMAGES

14/18 Luis Suarez (Barcelona)

15/18 Alvaro Morata (Juventus)

Juventus striker Alvaro Morata

Getty Images

16/18 Neymar (Barcelona)

Getty Images

17/18 Cristiano Ronaldo (Real Madrid)

Cristiano Ronaldo is one of the world's most famous football players

Getty Images

18/18 Lionel Messi (Barcelona)

Barcelona's Lionel Messi kisses the trophy after his team won 3-1 the Champions League final soccer match between Juventus Turin and FC Barcelona at the Olympic stadium in Berlin
"This sort of thing is accepted in Brazil but here he will need to learn how to win and to lose. He is an extraordinary player who also works hard and is very humble but he maybe just needs to reflect a little. 
"If you do that [trick] in the first minute when it's 0-0 it is one thing but if you do it when he did it… he needs to think about that."