Zinedine Zidane has given his clearest indication yet that he considers Cristiano Ronaldo to be the main man at Real Madrid ahead of Gareth Bale.
Since the Frenchman replaced Rafa Bentez as manager at the Bernabeu there has been debate and speculation over which of Real Madrid's two most expensive players Zidane considers most important to his plans. 
Ronaldo, the club's leading all-time goalscorer, has long been considered the star of the side but during Benitez's reign Bale began to emerge as the fulcrum of the team. That was a view solidified when Benitez described Ronaldo as "one of the best", a comment which drew much criticism in Spanish media at the time. 
Zidane, though, appears to favour Ronaldo, describing him as the best player in the world.
"Cristiano Ronaldo is the best," the three-time Fifa World Player of the Year told Mexican newspaper Record.
"People can say what they like about Cristiano Ronaldo, but in his heart he's a good person. Messi is the rival and that rivalry is great for the footballing spectacle, it's what the fans want to see."
Ronaldo has so far scored 19 goals in La Liga for Real Madrid this season compared to 13 for Bale.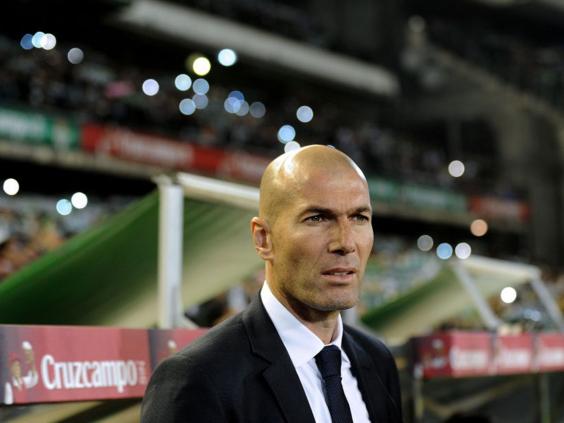 Zidane, who replaced Benitez at the Bernabeu last month, admits he now has a greater understanding of the stress and pressure which comes with being Real coach.
"It's always the manager's fault if the team lose," he added in Record.
The 23 best players under the age of 23
The 23 best players under the age of 23
1/23 1: Paul Pogba, Juventus

How is it that Paul Pogba is still only 22 years of age? The Frenchman seems to have been one of the most exciting talents in European football for the best part of a decade now, and as the years have gone on, the field of contenders has only shrunk to leave the Juventus midfielder at the top of the pile, ready to battle with the likes of Neymar for Lionel Messi's crown as world's next best player.

Squawka

2/23 2: Raphael Varane, Real Madrid

As spectators we are more fascinated with creativity than its antithesis, and thus our gaze fixates on attackers far more readily than those designated to stunt productivity, and so the biggest compliment one can pay to Raphael Varane – a potential genius in his field, a man whose speed, intelligence and composure are terrifyingly well-refined for a 22-year-old – is that you always notice his influence.

Squawka

3/23 3: Raheem Sterling, Manchester City

In July 2015, the most inevitable transfer saga in English football finally reached its conclusion as Raheem Sterling moved to Manchester City from Liverpool for a British record fee of £44 million. Depending on his future achievements in Blue, that figure could still rise by another £5m in the years to come.

Squawka

4/23 4: Paul Dybala, Juventus

Paulo Dybala arrived at Juventus with and immense weight on his shoulders. The £22.4 million fee paid to seal his signature made him the fourth most expensive player in the Bianconeri's illustrious history, behind legends such as Gianluigi Buffon, Lilian Thuram and Pavel Nedved. Add-ons could push him further up that list. Additionally, as if that pressure wasn't enough, he was tasked with succeeding Carlos Tevez.

Squawka

5/23 5: Harry Kane, Tottenham Hotspur

Ridgeway Rovers are an amateur football club able to boast some of the grandest associations in the game. David Beckham once honed his skills and practised his free kicks in their colours as a youngster and more recently players including Andros Townsend and Jordan Rhodes have featured for them on the muddy turf pitches of Chingford, east London. It was also the club at which Harry Kane's love affair with the beautiful game began to take hold and where his early promise was first recognised by the scouts of a Premier League side. They weren't talent spotters working on behalf of Tottenham Hotspur, however, but agents from the other side of the north London divide: Arsenal.

Squawka

6/23 6: Romelu Lukaku, Everton

Robbie Fowler, Michael Owen, Wayne Rooney, Cristiano Ronaldo and Romelu Lukaku have all managed to score 50 Premier League goal before turning 23. The Belgian international is still some way off from matching the exploits of the other members of this exclusive club but the mere fact that he belongs in such company is vindication for the scouts from Belgian Pro League side Lierse SK who, in 2004, snapped him up from his local team Rupel Boom; a club he joined at the tender age of five.

Squawka

7/23 7: Jose Gimenez, Atletico Madrid

September 10 2013 was a special day for Jose Gimenez, so much so that he had the date tattooed onto his arm. Aged just 18, he made his Uruguay debut in front of 55,000 people. His country needed a win against Colombia to keep up any hope of qualifying for the 2014 World Cup and the youngster would have to deal with none other than a then in-his-prime Radamel Falcao, which he did so brilliantly.

Squawka

8/23 8: Anthony Martial, Manchester United

Although it may have been the shock signing of the 2015 summer transfer window, Anthony Martial's big money move to Manchester United was a deal with far deeper roots than his sudden fan base could know. A product of the famously productive youth teams of CO Les Ulis, in the south western banlieue, alongside other famous alumni such as Thierry Henry and Patrice Evra. The latter took a keen interest in the forward's career ever since one of his former youth coaches passed on a pair of the left-back's boots to a young Martial. It was a connection that would only grow as the striker's career developed.

Squawka

9/23 9: Julian Weigl, Borussia Dortmund

Thomas Tuchel had long been expected to follow Jurgen Klopp as manager of Borussia Dortmund. What was far less expected was the identity of the player who would provide him with the impulse for the club's next great evolutionary leap forward. Julian Weigl arrived from second division strugglers 1860 Munich in the summer of 2015 for the modest sum of €2.5 million. He was heralded as an exciting talent but one signed for the future rather than the first-team.

Squawka

10/23 10: Hector Bellerin, Arsenal

Hector Bellerin is all about speed. His progression from a seemingly awkward young winger at Watford to arguably the best right-back in the Premier League has been rapid. He's eased himself into to a new culture, new language and a new position at Arsenal suspiciously quick, and he can also run unbelievably fast. So fast in fact that the Spaniard beat Theo Walcott's 40m sprint record at Arsenal by 1/100th of a second – 4.42s.

Squawka

11/23 11: Leroy Sane, Schalke

Germany's conveyor belt of talent has been in overdrive over the past three to four years so it takes a special kind of player to receive an international call-up to Die Mannschaft despite having just over 20 professional appearances to their name. Leroy Sane is just that. The Essen-born 20-year-old comes from good footballing stock. Soulemayne Sane was a regular for SC Freiburg and FC Nurgberg in the late 1980's and earned over 50 caps for Senegal. Sane Sr obviously had grand plans for his next of kin.

Squawka

12/23 12: Mauro Icardi, Inter Milan

There may not be too many similarities between five-time Ballon d'Or winner Lionel Messi and Inter Milan's up-and-coming striker Mauro Icardi, but there are two things in particular that stick out. Born in Rosario, like Messi, Icardi was brought up in tough neighbourhoods and turned to football at a young age to further his hopes.

Squawka

13/23 13: Kinsgley Coman, Bayern Munich

A regular starter in his first season at the Allianz Arena, it's easy to forget that Kingsley Coman is still just 19. Even more impressively, he has already played more than 55 top-flight games across three of Europe's big five leagues during his time at Paris Saint-Germain, Juventus and Bayern Munich.

Squawka

14/23 14: John Stones, Everton

Step-overs, shoulder feints and one-on-ones in the penalty area are usually moments that bring young attackers to the world's attention. For John Stones, however, his own repertoire of skills have not only marked him out as a special player for England and Everton but a prospect with a truly radical range of abilities compared to the average British centre-back.

Squawka

15/23 15: Domenico Berardi, Sassuolo

The phrase 'wand of a left foot' may as well have been invented for Domenico Berardi. The 21-year-old Sassuolo forward has one of the sweetest left pegs in Italian football, and it's an attribute that he will be hoping to take him to the very top of the game. Born in the town of Cariati in the south of Italy in the mid-1990s (we feel old too), Berardi spent a couple of years in Cosenza's academy before moving to Sassuolo at the age of 16 in 2010. His breakthrough with the Neroverdi came in the 2012/13 season, when 11 goals helped propel the traditionally lower-league club into Serie A for the first time in its history.

Squawka

16/23 16: Kurt Zouma, Chelsea

Such is the nature of modern football, the minute that a club lacking in financial muscle find they have a good thing on their hands they will often do their best to prevent the whole world from finding out. Christophe Galtier found an his ingenious way of keeping at Saint-Etienne's Kurt Zouma a secret for as long as possible by holding off giving the young defender a shirt number or even printing his name on his back, perhaps in the hope that clubs would think he was just a player making up the numbers.

Squawka

17/23 17: Ruben Neves, Porto

The first thing anyone needs to know about Ruben Neves is that he has played the same holding midfield role for Porto ever since he joined the club's youth team at the age of eight. When most kids dream of scoring goals, beating a man or making a match-winning save, little ol' Ruben was already treating football for what it is: a tactical to-ing and fro-ing where calmness is rewarded and risk is punished.

Squawka

18/23 18: Saul Niguez, Atletico Madrid

When you're a footballer known by a mononym, people expect a certain level of brilliance from you. It's not easy to blend in and just be part of the crowd if your lack of a surname marks you out as unique. Saul Niguez could have taken his time to develop, hanging around in the background, not really coming good until he was 23 or 24, and no one would have really complained. But Saul? Just Saul?! That boy better deliver right off the bat. Luckily for the player in question, that's pretty much exactly what happened.

Squawka

19/23 19: Hakan Calhanoglu, Bayer Leverkusen

Not since the days of Hakan Suker and Emre Belozoglu have Turkey had a player to celebrate like Hakan Calhanoglu and, if everything goes according to plan, he could soon be held in even higher regard than both his predecessors. You may have seen the endless stream of YouTube highlights encompassing his many great freekicks — an array of stunning shots, whipped deliveries and curled efforts designed to arc around a defensive wall — but don't let that cloud your judgement of the youngster and assume him only worthy of the status of a highlights player.

Squawka

20/23 20: Ross Barkley, Everton

Ross Barkley has never been short on self-belief, which is just as well. He's needed it, not just as the inspiration to train hard, improve and express himself as one of the most exciting midfielders of his generation, but also to help him through the dark times. In 2010, he suffered a triple leg fracture playing for England's Under 19s: an injury that not only threatened to set back the 16-year-old's progress toward Everton's first team but that could have potentially ended his chances of ever playing football professionally.

Squawka

21/23 21: Jack Butland, Stoke

Tall, athletic, commanding and, most importantly of all, a match-winner, Jack Butland is a goalkeeper with all the classic qualities expected of a star between the sticks. Destined for the top from an early age, the Bristol-born shot-stopper has shone at every level possible throughout his young career.

Squawka

22/23 22: Gabriel Barbosa, Santos

It was Zito, twice a World Cup winner with Brazil and a confirmed Santos great, who first recognised Gabriel Barbosa as a player of real promise. The youngster caught the eye of the former midfielder in a youth futsal game between Santos — the club of Pele, Robinho and Neymar — and São Paulo. He eventually signed for Santos and thrived within their youth teams, earning himself the nickname that is already becoming known around the world as news of his talent spreads: Gabigol.

Squawka

23/23 23: Dele Alli, Tottenham Hotspur

The signs were there from the start that Dele Alli would make it all the way to the very top. Few players have the audacity to mark their first touch in professional football with a back-heeled pass. Even the most daring talents of the Brazilian game would think twice, let alone a 16-year-old adolescent hailing from little old Milton Keynes.

Squawka
"But you have to accept that responsibility, with all the good and bad that comes with it.
"The main thing is getting my message across to the players. I only give them two or three instructions because they're extremely professional. I have a sensational group of players, I'm delighted with the work they're doing."
Reuse content