They say like father, like son, but Luca Zidane still has some way to go before he emulates his great father, Zinedine Zidane.
Especially when it comes to the head-butting department.
Zidane Snr was infamously sent-off during the 2006 World Cup final after he head-butted Italy defender Marco Materazzi in the chest, with 10-man France going on to lose the final.
However, despite his son, Luca, being a goalkeeper instead of an outfield player, that hasn't stopped the youngster from getting stuck into his opponents.
Luca is currently playing for Real Madrid's academy, and the incident in question came during a heated confrontation with players of Atletico Madrid's academy, Real's fierce rivals. As the two sets of players clashed, Luca – wearing a distinctive green goalkeeper kit – is seen to clash heads with an opponent.
But while the 17-year-old Frenchman was shown a red card for what was later confirmed as violent conduct, he can hardly be accused of trying to mirror his father with an all-out headbutt. Luca is also seen to push out at his opponent as they finally unlock their foreheads, but the red card has to be described as harsh.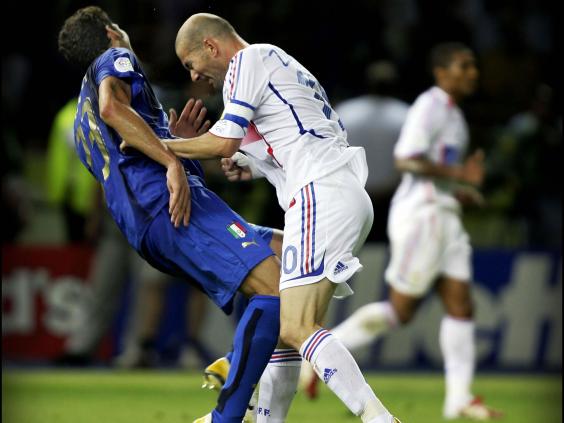 Luca is then seen trudging off the pitch dejectedly and back to the changing room, but at least he is not yet playing for Zinedine, who is currently the head coach of Real's reserve side Castilla – which Luca could graduate to in the coming seasons.
Real Madrid vs Barcelona player ratings
Real Madrid vs Barcelona player ratings
1/22 Keylor Navas – 5 out of 10

Hardly at fault for Luis Suarez and Andres Iniesta's goals, but will have been disappointed to have let Neymar's shot slip under his legs.

2015 Getty Images

2/22 Danilo – 5 out of 10

Up against Neymar and came second-best every time.

3/22 Raphael Varane – 4 out of 10

Unusually uneasy. The member of Madrid's defence who was most often exposed.

Getty

4/22 Sergio Ramos – 5 out of 10

Unable to marshal his defence effectively early on, which put Madrid firmly on the back foot.

5/22 Marcelo – 6 out of 10

Offered a decent outlet on the left hand side but was as culpable for defensive frailties.

6/22 Toni Kroos – 5 out of 10

Failed to stem the tide of Catalan shirts cascading towards him.

2015 Getty Images

7/22 James Rodriguez – 6 out of 10

Tested Bravo twice and was lively at times but looked uncomfortable on the right-hand side of a 4-4-2.

8/22 Luka Modric – 6 out of 10

Did not exert the kind of influence he usually has.

Getty

9/22 Gareth Bale – 4 out of 10

Ineffective, bordering on invisible. Looked a shadow of the devastating player he was at White Hart Lane.

10/22 Karim Benzema – 4 out of 10

With all his off-the-field problems and lack of match fitness, unsurprisingly looked off the boil. The French striker did nothing to justify his contentious selection.

11/22 Cristiano Ronaldo – 6 out of 10

Typically, one of his side's better performers, but lucky not to be sent off for a snide elbow on Dani Alves.

12/22 Claudio Bravo – 9 out of 10

The scoreline should not suggest that the Chilean had a quiet evening. Madrid, as bad as they were, created opportunities but found Bravo pulling off top class saves every time.

13/22 Dani Alves – 7 out of 10

No major errors except, perhaps, hauling Cristiano Ronaldo down in the box needlessly during the first half. He avoided conceding a penalty but earned an elbow from Ronaldo.

14/22 Gerard Piqué – 8 out of 10

Received dog's abuse from the Bernabeu, as expected, but dealt with them effortlessly and handled Madrid's attacking play in the same way.

Getty Images

15/22 Javier Mascherano – 6 out of 10

Substituted early on after going down injured. Replace by Jeremy Mathieu.

16/22 Jordi Alba – 8 out of 10

His performance will be overlooked but barely put a foot wrong.

17/22 Ivan Rakitic – 7 out of 10

Did well considering his inclusion was in doubt.

18/22 Sergio Busquets – 8 out of 10

Composed, controlled, denied Madrid time and again. As good as we've come to expect.

Getty Images

19/22 Andres Iniesta – 9 out of 10

In the autumn of his career, no doubt, but still capable of stunning moments. Received an ovation from the Bernabeu.

20/22 Sergi Roberto – 9 out of 10

Lionel who? The man seen as Messi's stand-in may not be quite at the Argentinian's level yet, but tonight he filled his shoes and then some. Electric in the first half.

21/22 Luis Suárez – 9 out of 10

The man most likely to dismantle any defence in European football and, by virtue of his two goals, tonight's man of the match.

22/22 Neymar – 9 out of 10

Sublime, again. His late claim for the Ballon D'Or is gathering pace.
Of course, we couldn't overlook Zidane Snr's moment of madness all those years again, so here's the perfect excuse to watch his devastating headbutt once more.
Reuse content