Paris Saint-Germain midfielder Marco Verratti has claimed that supremely confident team-mate Zlatan Ibrahimovic compared himself to Jesus to former manager Carlo Ancelotti.
The Italian manager was in charge at the Ligue 1 club in 2012-13, eventually leading them to the title before moving to Real Madrid at the beginning of last season.
Verratti has revealed that the Swedish striker - who was recently infuriated when he learnt he was only the nation's second-greatest sportsman - told Ancelotti by comparing himself to the Christian Messiah.
"Before winning the 2012/13 league title, we were getting ready to play against Lyon," Verratti told FourFourTwo magazine.
Champions League 2014/15: The Last 16
Champions League 2014/15: The Last 16
1/12 Atletico Madrid

Best CL finish: Runners-up (1973/74, 2013/14) Dangerman: Mario Mandzukic Manager: Diego Simeone

Reuters

2/12 Monaco

Best CL finish: Runners-up 2004 Dangerman: Joao Moutinho Manager: Leonardo Jardim

3/12 Borussia Dortmund

Best CL finish: Winner 1997 Dangerman: Ciro Immobile Manager: Jurgen Klopp

Getty Images

4/12 Chelsea

Best CL finish: Winner 2012 Dangerman: Diego Costa Manager: Jose Mourinho

Glyn Kirk/AFP

5/12 Porto

Best CL finish: Two-time winner Dangerman: Jackson Martinez Manager: Julen Lopetegui

Getty Images

6/12 Juventus

Best CL finish: Two-time winner Dangerman: Paul Pogba Manager: Massimiliano Allegri

Getty Images

7/12 Basel

Best CL finish: Quarter-final in 1974 Dangerman: Marco Streller Manager: Paulo Sousa

GETTY IMAGES

8/12 Bayer Leverkusen

Best CL finish: Runners-up 2002 Dangerman: Lars Bender Manager: Roger Schmidt

Getty Images

9/12 Arsenal

Best CL finish: Runners-up 2006 Dangerman: Alexis Sanchez Manager: Arsene Wenger

Getty Images

10/12 Manchester City

Best CL finish: Last 16 (2013/14 2014/15) Dangerman: Sergio Aguero Manager: Manuel Pellegrini

Getty Images

11/12 PSG

Best CL finish: Semi-finalists (1995) Dangerman: Zlatan Ibrahimovic Manager: Laurent Blanc

12/12 Shakhtar Donetsk

Best CL finish: Quarter-final in 2011 Dangerman: Douglas Costa Manager: Micea Lucescu

Getty Images
"Carlo Ancelotti was a bit tense, so Ibra approached him and asked him if he believed in Jesus. Ancelotti said yes, so Ibra told him: 'Good, so you believe in me. You can relax!'
"Zlatan is like this – he has a lot of self-confidence. This helps him to be a great player."
He added: "We are starting to get used to the amazing goals he scores. Some of the plays you see him do during a match – they don't just happen. He works on everything in training.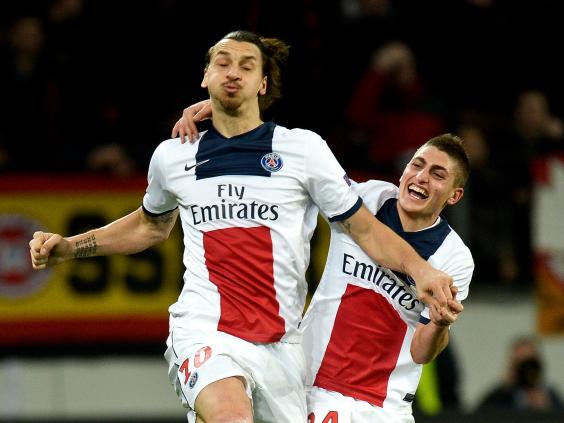 "He has a co-ordination and creativity that very few players have. Even Ibra has got us used to his amazing goals!"
Verratti and Ibrahimovic will face Chelsea in the last-16 of the Champions League on 17 February and 11 March.
Reuse content