Antonio Conte is a brilliant manager in league football. Even in the midst of their current wobble, Chelsea are big favourites to win the Premier League. That would be Conte's fourth title in his last four seasons of club management, after three straight Serie A wins with Juventus from 2012 to 2014.
Cup football is different. Tomorrow Chelsea play Tottenham Hotspur at Wembley in the FA Cup semi-final, in what will be one of the games of the last few years. But to look at Conte's record in the cups during his time at Juventus reveals a strange imbalance.
While Juventus stormed to their three straight titles, totting up a remarkable 102 points in the 2013-14 season, Conte never won a cup to go with it. He never appeared quite as interested in the cups, European and domestic, as he did with accumulating as many league wins and points as possible. But it meant that Juventus' trophy haul was rather imbalanced under Conte. The Italian media even spoke of la maledizione della Coppa Italia ('The curse of the Coppa Italia'), as the Juventus side that was clearly the best in the country kept failing to win it.
Manchester United 2 Chelsea 0 player ratings
Manchester United 2 Chelsea 0 player ratings
1/22 David de Gea - 6 out of 10

Rarely tested. Impressive under the high balls and in his distribution.

2/22 Antonio Valencia - 7

Solid all round performance from him. Strong going forward and assured on the back foot. Physically impressive too.

3/22 Eric Bailly - 7

COmposed under pressure, read the game brilliantly and made all the right decisions. Excellent defensive display.

4/22 Marcos Rojo - 6

A gritty and fiesty display. Battled hard against Costa and largely kept his cool while the Spaniard repeatedly lost his.

5/22 Matteo Darmian - 6

Kept Pedro under wraps and limited the wingers' influence for much of the game.

6/22 Ander Herrera - 8

Demonstrated fantastic vision to play in Rashford for United's goal. Hard-working as ever. Shame about the yellow card but completely ran the game today.

7/22 Marouane Fellaini - 7

United's battering ram. Strong in the air, firm in his challenges and excellent at breaking up play. Dominated against Kante too.

8/22 Paul Pogba - 7

A rounded, mature performance from the Frenchman. May not have threatened as others did but kept the United midfield ticking over with his constant passing and movement. Still missing that 'wow' factor though.

9/22 Ashley Young - 7

Another hard worker who dug deep to give 100 per cent today. Made some encouraging runs going forward and was vital in the build-up to United's second.

10/22 Marcus Rashford - 8

FUll of confidence and energy. Used his pace to devasting effect and proved to be too much for the visiting defence at times. Showed today what he's truly capable of.

11/22 Jesse Lingard - 7

Complimented Rashford to a tee. Excelled at getting in behind United's backline and provided a reliable outlet throughout.

12/22 Asmir Begović - 6

Could have maybe done more for the first goal but unlucky about the second. Made some important saves to keep the score down.

13/22 Kurt Zouma - 5

Stepped in to replace Marcos Alonso which subsequently disrupted the balance to Antonio Conte's team. Looked out of place.

14/22 David Luiz - 5

Guilty of costly mistakes and, rather surprisingly, was overpowered at times by Rashford. A shadow of the player he has been this season.

15/22 Gary Cahill - 4

Completely dropped his guard for United's second. Struggled to match Rashford for his pace and made multiple sloppy mistakes. An afternoon to forget for him.

16/22 Victor Moses - 4

Anonymous and largely ineffective. Hauled off around the hour mark for Cesc Fabregas.

17/22 N'Golo Kanté - 6

Showcased his ability to drive into space on a number of occasions but was overwhelmed physically throughout the match by Fellaini.

18/22 Nemanja Matic - 5

Struggled defensively and seemed out of his depth. Couldn't deal with the United set-up.

19/22 Cesar Azpilicueta - 6

Pushed forward down the flank and provided his team-mates with a reliable source of deliveries. Defensively, he enjoyed a better display than the rest of the Chelsea back line.

20/22 Pedro - 5

Enjoyed a few half-chances but was subdued and lacked any real dynamism.

21/22 Eden Hazard - 6

Missed that magic touch today. Was played out of the game by Herrera. Occasionally threatened with his quick feet but it wasn't to be.

22/22 Diego Costa - 5

Bullish but another disappointing performance. His quality on the ball and in front of goal deteriorated as his composure faded throughout the game.
The first time Juventus lost was the most explicable. They reached the final in Conte's first season, in 2012. Juventus had already surprisingly won Serie A and when they got to the Stadio Olimpico in Rome they faced a Napoli side who were more motivated than they were, and who beat them 2-0. "Even if we didn't put the cherry on top," said Alessandro Del Piero after his last game for the club, "we did still take home the cake."
The next season Conte and Juventus wanted confirmation for their title triumph in their first year. Specifically, Conte wanted to beat his points total from 2011-12 and to target Inter's record of 97, set in 2006-07. So when Juventus faced Lazio in the semi-finals in January, off the back of an infuriating 1-1 league draw with Genoa, Conte did not want to take any risks. He rested Andrea Pirlo, Paul Pogba and Claudio Marchisio for the second leg away in Rome. Lazio won 2-1, 3-2 on aggregate, and Juventus were out.
In Conte's third and final season, the pursuit of the points total became a reality. They finished with 102, five clear of the Inter record. Everything had to be subsumed to that. Even if it meant they were knocked out, for the third year in a row, at the Stadio Olimpico. In January 2014 Juventus went there to play Roma in the quarter-finals. They had just won 13 games straight but this was not a match for their first team. Conte rested Gianluigi Buffon, Pogba, Carlos Tevez, Fernando Llorente and Stephan Lichtsteiner. Roma won 1-0.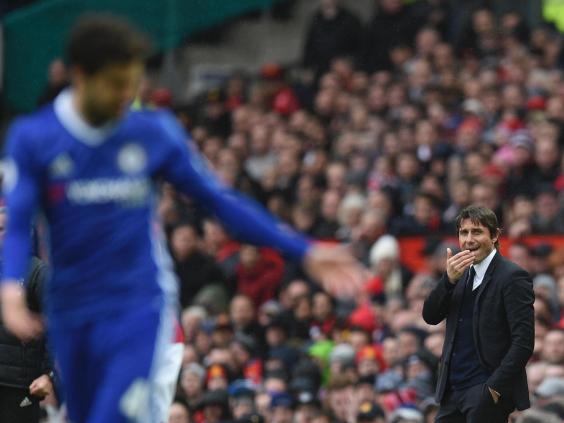 So Conte left Juventus with a remarkable body of work behind him, and three leagues, but no cups. The same was true in Europe. His side were knocked out of the quarter-finals of the 2013 Champions League by Jupp Heynckes' Bayern Munich, the eventual champions. The next year they dropped out of the Champions League and went into the Europa League. They were desperate to get to the final, to be held at their home stadium in Turin. But they lost the semi-finals to Benfica, unable to beat them at home.
It would be unfair to blame Conte for failing to win in Europe with Juventus. Especially as his team did not have as much experience and quality as Max Allegri's side now aiming to go one better than they did in 2015 and win it.
But it is interesting how his career suggests he is better at one aspect than another. In this sense he is the opposite of Carlo Ancelotti. He has a remarkable three Champions Leagues to his name, two Club World Cups and three domestic cups. And yet he has only won three domestic league titles, despite almost 20 years coaching at teams who should be challenging for leagues. The theory goes that his relaxed style is perfect for the big games, but not for the intensity required to challenge week after week.
Conte could well be the reverse. His workaholic energy is the only way to three three straight titles, the third with 102 points, but when it comes to a big cup game at the end of an exhausting season, sometimes a different approach is required.
Reuse content