Arsène Wenger has confirmed that he will be staying on as manager of an Arsenal team that he believes have turned a corner in finally winning a trophy.
On a second successive visit to Wembley against supposedly inferior opposition in little more than a month, his side made hard work of their task once again before coming from 2-0 down in a surreal first eight minutes to win the FA Cup.
As against Wigan in the semi-final, they fell behind, but this time won through without resorting to penalty kicks to earn a first trophy in nine long years for the club and Wenger. The length and enthusiasm of the celebrations afterwards made it clear how much that meant.
Even the normally urbane manager looked thrilled as he embraced his players. "I think it was a turning point in the lifetime of this team," he said. "To know they can win in that way was really important. I always said my future doesn't depend on this but I always wanted to stay."
Coquettish to the last, Wenger explained of signing his new deal: "Normally that should happen, and we are in normal circumstances."
He added: "It was never a question of leaving, it was a question of doing the right job for this club."
Whether a shattering defeat might have tempted him to walk away after 18 years remains unknown but he will now sign a new contract and begin strengthening the squad.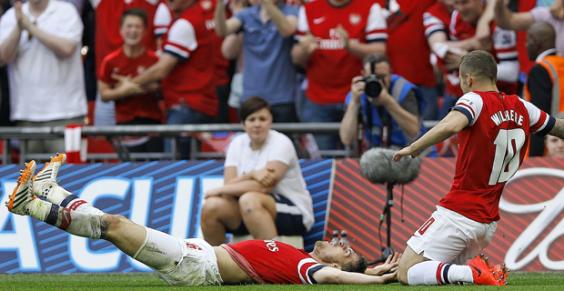 After four home Cup games and a semi-final against Championship opposition, this was Arsenal's great chance, and they seemed to have blown it in an astonishing opening, falling behind to goals by defenders James Chester and Curtis Davies after failing to clear set-pieces. There could even have been a third Hull goal, Kieran Gibbs having to clear off the line.
Santi Cazorla, who with Aaron Ramsey was one of few players living up to his reputation, retrieved a goal direct from a free-kick early enough to force Hull back on the defensive and Laurent Koscielny equalised with 20 minutes to play.
In extra-time, with Steve Bruce's side on their knees, Arsenal threw on substitutes Jack Wilshere and Tomas Rosicky, and Ramsey struck the winning goal.
Humberside had been hoping for a magic weekend all round, with Hull's two rugby league clubs playing each other in the Manchester extravaganza of that name, and unfortunately kicking off at the same time. In their first major domestic cup final and having won nothing since the Third Division title of 1966, City could not have believed their start.
"We showed an incredible amount of courage to go and take the game to them and on another day we might just have won the Cup but it wasn't to be," said their manager, Steve Bruce. "When you're 2-0 up it's quite remarkable, it was a great start for us and you just want to get to half-time if you can."
Amid all the attention on Wenger, it was easy to miss the fact that Bruce has not won a trophy in his 16-year management career. He complained about refereeing decisions in the build-up to the first two Arsenal goals, but Hull could equally have conceded at least two penalties.
Once over the disappointment, they will reflect on a memorable season, for all the controversy over the chairman Assem Allam's desire to change the club's name. Today, the existing name was beamed around the world and will have been widely admired.
Meanwhile Arsenal can claim a small piece of history in joining Manchester United with an 11th FA Cup. Hence this most dignified of clubs ending the day with their manager drenched in champagne and given the bumps.
Reuse content