What was important was not whether it was done well, but that it was done at all. Arsenal are in the FA Cup semi-finals and, while recent history suggests that Cup wins make little difference as to whether a manager stays in the job, even in the strangely stagnant world of Arsenal defeat to a non-league team would surely have brought the end for Arsene Wenger.
There was some anxiety before Theo Walcott struck in the first-half injury-time but thereafter, this was comfortable enough for Arsenal.
Lincoln performed creditably enough and their 9000 travelling fans could salute their achievement in being the first non-league side to reach this stage of the competition in 103 years without any sense of being embarrassed or outclassed but, realistically, there was never a moment when Arsenal looked like stumbling.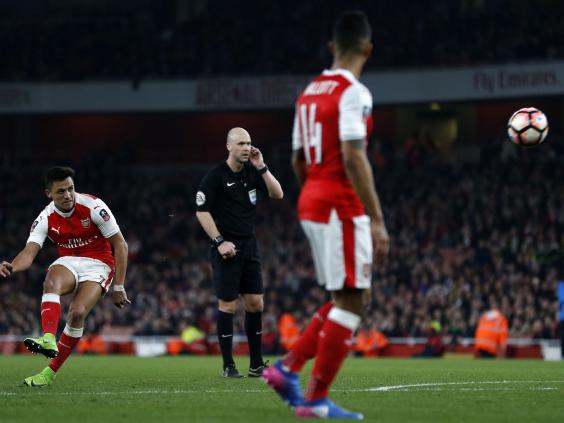 The Lincoln manager Danny Cowley had told his players to think of this match as nine games of ten minutes rather than one game of 90. They got through four of them but were deep in the fifth when Walcott's sidefoot shot in a crowded box was deflected past Paul Farman.
Arsenal had been on top before then, but not in such a way as to suggest a goal was imminent or to reflect the four-division gulf between the sides. Farman had pushed a Walcott volley against the post, but it hadn't been a barrage.
Arsenal 5 Lincoln 0 player ratings
Arsenal 5 Lincoln 0 player ratings
1/22 Petr Cech – 5 out of 10

Had very little to do throughout, aside from one strike from Arnold.

AFP/Getty

2/22 Kieran Gibbs – 6 out of 10

Impressed going forward and his deliveries opened up the Lincoln back four.

Getty Images

3/22 Laurent Koscielny – 7 out of 10

Held the shape well at the back, did his job and made light work of the Lincoln attacks.

Getty Images

4/22 Shkodran Mustafi – 5 out of 10

Struggled with the strength of Rhead – was simply not physical enough for him.

Getty Images

5/22 Hector Bellerin – 6 out of 10

Impressed going forward and played with with confidence, both on and off the ball.

AFP/Getty Images

6/22 Granit Xhaka – 6 out of 10

Battled relentlessly throughout and managed to keep the Lincoln midfield quiet.

Getty Images

7/22 Aaron Ramsey – 6 out of 10

Scored the fourth following a clever Sanchez cross. Worked well going forwards.

Getty Images

8/22 Alex Oxlade-Chamberlain – 5 out of 10

Was subbed in the early stages of the game due to injury.

AFP/Getty Images

9/22 Theo Walcott – 7 out of 10

He looked clinical today and managed to open the scoring with a strike inside the box.

Getty Images

10/22 Olivier Giroud – 5 out of 10

Got himself on the scoresheet, but it was a quiet display overall.

Getty Images

11/22 Alexis Sanchez – 7 out of 10

His late goal was an example of how he can make a goal out of nothing.

Getty Images

12/22 Paul Farman – 5 out of 10

Made a handful of important saves, but it's never good to concede five.

Getty Images

13/22 Bradley Wood – 5 out of 10

Defended aggressively, but fairly. Was not afraid to put his body on the line.

Getty Images

14/22 Sean Raggett – 6 out of 10

Was well positioned and managed to defend a number of Arsenal crosses.

AFP/Getty Images

15/22 Luke Waterfall - 6 out of 10

He led by example at the back, but it just was not enough. Unlucky with the own goal.

Getty Images

16/22 Sam Habergham – 5 out of 10

He was outclassed – struggled to keep up with The Gunners pace going forward.

AFP/Getty Images

17/22 Nathan Arnold – 6 out of 10

Came close to scoring the opener, only to be denied by the finger tips of Cech.

Getty Images

18/22 Alex Woodyard – 6 out of 10

The energetic midfielder showed a good understanding of the game, but could have assisted his strikers more.

Getty Images

19/22 Alan Power – 5 out of 10

Drifted in and out of the action. Quite simply he looked outclassed.

Getty Images

20/22 Terry Hawkridge – 5 out of 10

Defensively he tracked back well, but he failed to provide an outlet going forward.

Getty Images

21/22 Matt Rhead – 6 out of 10

Bullied the Arsenal defenders at times. Made it hard work at the back.

Getty Images

22/22 Jack Muldoon – 6 out of 10

Chased every over the top ball, but it just was not enough to make a real impact.

Getty Images
It wasn't just a case of survival for Lincoln, either. They offered a threat, largely through the thundering presence of Matt Rhead, the 16-stone-plus centre-forward whose shirt was magnificently sweat-darkened even before the first of Cowley's mini-games was done.
Alex Woodyard, admirably calm at the back of midfield, looked rather better than a fifth-tier footballer. It was the right-winger, Nathan Arnold, who came closest to a goal, drifting in off the flank and beating Laurent Koscielny after 28 minutes before squirting a left-footed shot goalwards and drawing a stretching save from Petr Cech.
The second half, though, was more one-sided. Olivier Giroud knocked in Hector Bellerin's cross, Luke Waterfull turned a Kieran Gibbs cross into his own net, Alexis Sanchez curled a fourth from the edge of the box and Ramsey banged in a fifth from close range.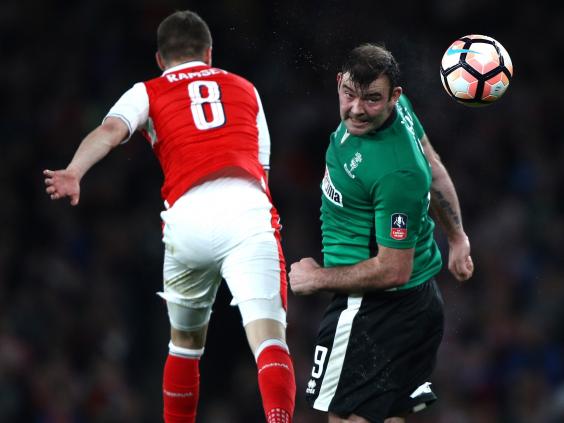 Quality told to the extent that by the end it felt slightly cruel: after such a run Lincoln deserved better than to end as a plaything for Sanchez.
Before kick-off there had been another of the bijou protests in which Islington specialises, perhaps a little more than a hundred fans with neatly printed banners insisting that "Every Story has an Ending" and that "Fourth Place is not a Trophy" while calling for "Wexit".
There's a strange sense in which such demonstrations do their cause harm, and not just because the ugliness of the neologism: such a small-scale manifestation of discontent hardly speaks of a great frothing ocean of fury waiting to overwhelm the club if their demands are not met.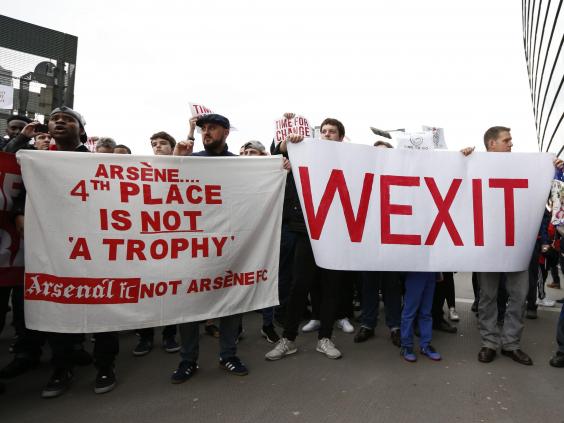 Yet it may be that the reason the rabble are not greatly roused is that there's a feeling the war is over. Last Tuesday after the 5-1 defeat to Bayern the sense was almost of pity, as though there was a desire to ensure Wenger's departure was sound-tracked not by boos and discord but by a recognition of what he has achieved.
If he does end up staying – and there is little sign that the board has lost patience – the masses may be less placid. Talk of pro-Wenger applause after 20 minutes came to nothing, although whether that was the result of indifference or poor advertising is hard to say.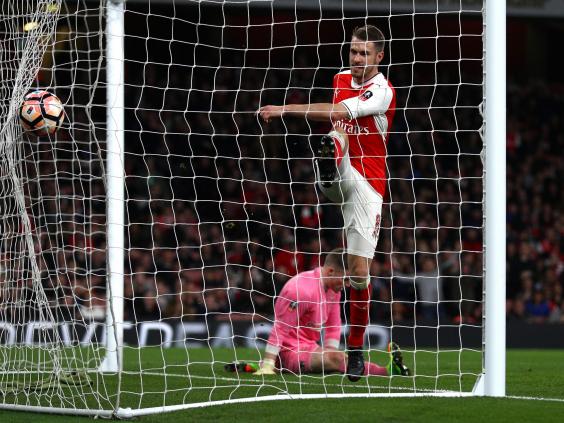 In terms of Wenger's future this, anyway, was a game that would only have mattered had it been lost. His real battles are yet to come. So too are Cowley's and Lincoln's. The FA Cup was always a glorious bonus.
Their next test comes in the FA Trophy semi-final against York next weekend but the real task is to ensure that they make good on the promise of a five-point lead and return to league football after a six-year absence. The fairy story is over; it's time to get on with real life again.