Arsenal have retained the FA Cup after beating Aston Villa 4-0 in a one-sided final to secure a record-breaking twelfth victory in the competition.
Goals from Theo Walcott, Alexis Sanchez, Per Mertesacker and Olivier Giroud completed the rout.
Following their 3-2 victory against Hull in last year's final Arsenal fans lined the streets of Islington in north London for the club's victory parade, and plans have been put in place for a similar celebration this year.
Here is all you need to know about when and where the parade is taking place, and the best way to join in the celebrations.
When is the parade?
The parade is set to begin at 11am on Sunday 31 May, when two open-topped buses will leave from Drayton Park, near the Emirates Stadium.
The squad will arrive at Islington Town Hall at approximately midday, before returning to appear on a podium outside the Emirates Stadium for 1pm.
The official celebration will end around 2pm.
What route will it follow?
After setting off from where Drayton Park meets Matineau Road the procession will head north before turning right twice, first onto onto Aubert Street and then Highbury Grove.
From there, the two buses will take another right onto St Paul's Road and then along Upper Street to Islington Town Hall.
After a private reception at Islington Assembly Hall the squad will return to the Emirates Stadium.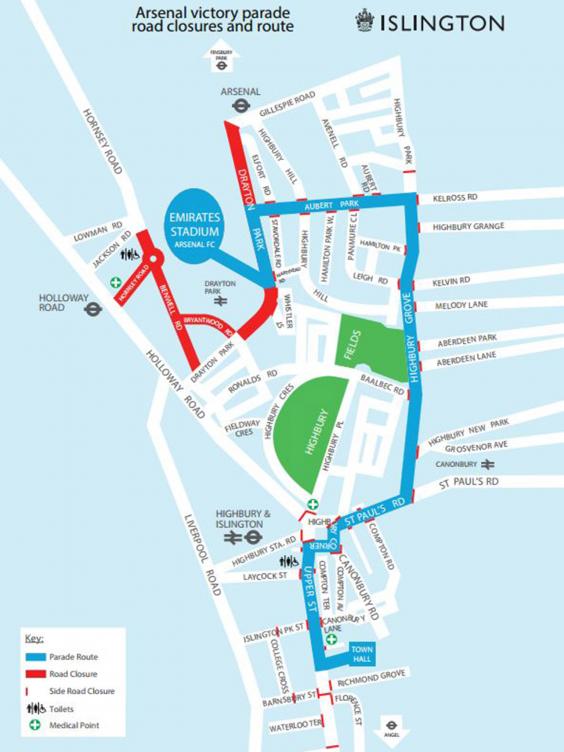 Where should you watch it?
Islington Council has advised that the most crowded sections of the route will be found outside Town Hall and in front of the Emirates Stadium, where numbers will be restricted.
The sections of the route around St Paul's Road and Highbury Park should be less crowded, but road closures mean it will be very difficult to move along the route once the procession has started.
How can you get there?
The parade will cause road closures, shown on the map above, from 9am on Sunday, as well as disrupting bus routes in the area.
There are major engineering works taking place at Highbury and Islington station, so it is advisable to go to either Angel tube station or Arsenal tube station.
From Angel, you can either walk to St Paul's Road via Essex Road or get to the Upper Street section of the route via Liverpool Road.
From Arsenal it will be possible to access the Aubert Park section of the route by walking up Drayton Park, Avenell Road, Highbury Hill or Highbury Park.
Up-to-date travel information can be found on the day at www.tfl.gov.uk, while the hashtag #arsenalparade will be being used by Islington Council throughout the parade
Reuse content