Arsenal will have to face their hardest spell of the season without one of their most important players, but Arsène Wenger was in surprisingly relaxed mood about Jack Wilshere's injury lay-off.
The midfielder, of course, broke his foot playing for England on Wednesday night and will miss, at the least, the next six weeks.
That will put him out of the FA Cup quarter-final with Everton and the semi-final, should Arsenal reach it. He will miss Tuesday's Champions League tie in Munich and, should they overturn the 2-0 deficit, the quarter-finals as well. He will also be absent for next Sunday's north London derby and league games against Chelsea, Manchester City and Everton.
Wenger predicted that after returning to full training, Wilshere would need another two weeks to sharpen up, making his likely return Arsenal's penultimate league game of the season, at home to West Bromwich Albion. The FA Cup and Champions League finals fall on the following two Saturdays, should Arsenal be involved.
The damage to Arsenal's run-in is obvious and yet Wenger turned down the chance to blame either of the obvious targets for Wilshere's injury. It was Daniel Agger's hard tackle, stretching after a poor first touch, that caused the injury, but Wenger would not blame him. "I think the tackle was strong," the Arsenal manager said, "but I think he wanted to go for the ball."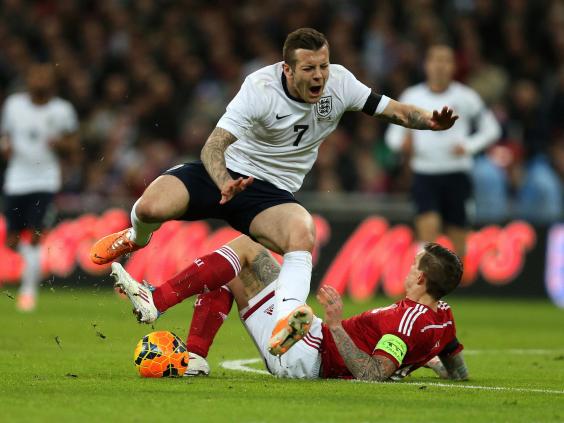 Wilshere missed the 2011-12 season with an ankle injury initially sustained playing for England in June 2011 – as Wenger has never been slow to remind people – but this time he bears no grudge against the Football Association. "At some stage it's the player who gives you the indication [whether he wants to carry on]," Wenger shrugged. "It's the pain of the player that gives you the indication and you trust always the player."
Wenger, insofar as he was willing to ascribe any responsibility, said that the injury was a result of Wilshere's nature, that such reckless commitment was simply "his game". Injury risk is the price of that style. "What people admire in Jack is that he is a technical player but he is, as well, a committed player," Wenger said. "You don't want to take that away from him.
"Maybe that is his superiority. When he was younger, I told him not to go into stupid challenges. I think he has improved a lot on that front. Did he need to go in there the other night? You always point to your instinct at that moment in that situation."
Wenger never looks thrilled about releasing players for  international friendlies but when they are there he wants them to play like they mean it, as Wilshere always does. "We are always saying and writing that we want full commitment from the players. When you get it, you don't want to say he shouldn't commit. I say always to players that they have to respect the guy who pays £10 to sit on the seats up there. Even if it is a friendly, the fans have to have your commitment. You don't want to say that you should not commit."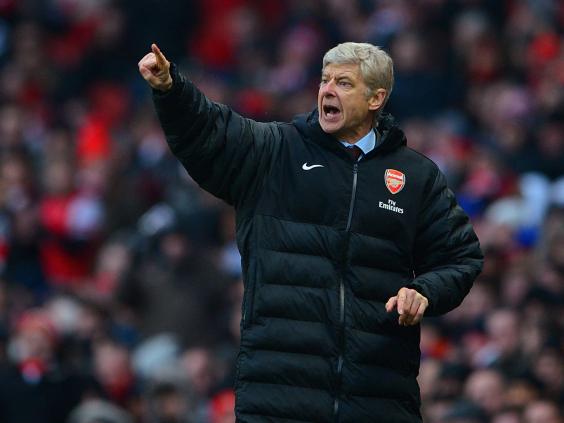 As well as Wilshere's tendency to get hurt, there is another problem – his inability to recognise when he is injured. "The problem of Jack is he has a high pain threshold," explained Wenger. "And that is why he is in danger sometimes, because he doesn't feel pain. He just goes on, and after you see a disaster has happened.
"So many times, I sit there and say to the physio 'come on, how bad is it?' He said he wants two or three minutes, and after that he continues to play. That moment you think you have to take him off straightaway with a stretcher, and after that, suddenly, he can go on. He is very, very, very resistant to pain."
Despite the setback, Wenger remains confident that Wilshere will be able to play a full part at the World Cup. "When you go to a tournament like that, you have to be 100 per cent fit," Wenger said. "I am confident he will be because the timescale is all right. He can have a great World Cup if all works well."
If Wilshere does recover within six weeks he should be match fit by the start of May, allowing him to play a part in England's friendlies against Peru, Honduras and Ecuador before their opening World Cup group game against Italy on 12 July.
That, though, is not Wenger's immediate concern. Arsenal host Everton, with a place in an FA Cup semi-final at stake. With Arsenal falling behind in the Premier League title race, and in serious danger of going out of the Champions League this week, the cup is probably their likeliest way of ending their nine-year trophy drought this season.
Without Aaron Ramsey, also out injured, and Wilshere, they will likely pair Mathieu Flamini and Mikel Arteta in midfield today for a game where, Wenger admitted, the team must produce. "For us, it's vital because we had such a disappointing result at Stoke and a non-convincing performance offensively," he said. "Of course we need a great response. What we produced last week was not good enough. We want to win and we are in a position where we can do it."
Reuse content