Arsène Wenger does not know where his FA Cup winners' medals are. He has five – by Saturday night it could be six – and yet the medals themselves mean almost nothing to him. He is, as he loves to point out, a forward-looking manager, interested only in the next game and the next season, rather than what has happened before.
"I don't know where they are," Wenger admitted with a shrug. "If you ask me to show a medal of anything, I don't know where they are." He has given some away to charity and joked that "the guys who come and clean the house, they take them".
There is a touch of pride there when Wenger says he is not a "collection man" and is "always focused on what is next". He may well know that Jose Mourinho is a "collection man", and has a special watch for each of the 22 trophies he has won stored away at home.
And so Wenger only admits to being very vaguely aware of what it will mean if Arsenal beat Aston Villa in Saturday's FA Cup final. His sixth cup would make him the joint most successful manager in the competition's history, alongside Aston Villa's George Ramsey. Wenger's first FA Cup final win was 17 years ago, but there were 33 years between Ramsey's first (1887) and last (1920).
Wenger knew Ramsey's name – "it shows you that it is not as easy as it looks" – but does not see Saturday as his chance to draw level. "I look at it as an end of a season," he said. "Honestly, I don't look at it in a personal way. Maybe I will if we win, but at the moment I just look."
Arsenal vs Aston Villa combined XI
Arsenal vs Aston Villa combined XI
1/11 Wojciech Szczesny (Arsenal)

While David Ospina has usurped Szczesny's spot in the Premier League, the towering Pole has been an ever-present in the Gunners' FA Cup campaign and is likely to regain his place. Shay Given, who should line up for Villa, has acquitted himself well in the cup, but shipped five first-half goals to Southampton in the Premier League in his most recent outing.

Getty Images

2/11 Hector Bellerin (Arsenal)

Bellerin has been one of the finds of the season for Arsene Wenger, the 20-year-old displacing Calum Chambers as first-choice right-back following Mathieu Debuchy's injury troubles. Leandro Bacuna, who should start for Villa, has offered plenty going forward but his defending has personified a leaky back four.

Getty Images

3/11 Per Mertesacker (Arsenal)

The German centre-back has had his critics this season, and admitted that his form suffered after he came back victorious from the World Cup. However, he has been integral to the Gunners' run of just 11 goals conceded in the final 18 Premier League games. Villa's own World Cup star, Ron Vlaar, suffers in comparison.

Getty Images

4/11 Laurent Koscielny (Arsenal)

It was no coincidence that Arsenal's defence looked vulnerable in the early season, when the Frenchman was missing with an achilles injury. Koscielny is much more mobile than his defensive partner, and has been in fine form since Christmas. Jores Okore, who missed last season for injury, has at aleast had a run of games for Villa, but remains too error-prone to challenge his opposite number.

Getty Images

5/11 Nacho Monreal (Arsenal)

The Spanish left-back has made the position his own after Kieran Gibbs struggled for form and fitness. Struggled in the middle, but has been a solid, calming influence and deceptively good going forward. His opposite number Kieran Richardson has been in and out of the side in a frustrating first season at Villa Park.

Getty Images

6/11 Francis Coquelin (Arsenal)

It is unfortunate for Ashley Westwood, who has been one of Villa's more underrated and consistent performers this season, to come up against Coquelin. The Frenchman has been one of the Premier League's breakout stars, and has been compared to a £40m by Wenger.

Getty Images

7/11 Aaron Ramsey (Arsenal)

Ramsey hasn't had quite the impact he made during a sensational 2013/14 season, but has scored 10 goals in all competitions and when fit remains one of English football's most effective midfielders. Tom Cleverley finished the season in fine goalscoring form, but spent much of the campaign struggling for consistency.

Getty Images

8/11 Santi Cazorla (Arsenal)

Fabian Delph broke into the England side at the start of the season, but struggled to maintain form and fitness despite some energetic displays. Cazorla, on the other hand, has been superb for the Gunners, playing 52 games in all competitions and pulling the strings in the side's best displays of the season.

Getty Images

9/11 Mesut Ozil (Arsenal)

He has been overshadowed in large parts by the club's more recent big-money signing, Alexis Sanchez, but Ozil has put in a string of influential, classy displays in the second half of the season. Charles N'Zogbia, who is likely to start for Villa, remains an inconsistent, mercurial figure.

Getty Images

10/11 Alexis Sanchez (Arsenal)

Jack Grealish may have earned plaudits in the final weeks of the season for his promising displays, but Alexis Sanchez has enjoyed one of the best debut seasons in Premier League history, contributing 16 goals and eight assists. Despite a post-Christmas dip in form, the Chilean is the real deal.

Getty Images

11/11 Olivier Giroud (Arsenal)

Yes, Christian Benteke has finished the season in absurdly good form, with 12 goals in 12 games. And yes, Giroud's shooting boots deserted him in spectacular style against Monaco. However, the Frenchman, who has had more than his fair share of critics, has scored more goals in less games this season than Benteke, who struggled woefully for goals until Tim Sherwood took the reigns at Villa. Giroud is harder working, brings teammates into the game better and just gets the nod over his opposite number.

Getty Images
For all Wenger's successes in this competition – and it is a remarkable record – there is no avoiding the fact that the highest points of his tenure have been the three title wins of 1998, 2002 and 2004.
Last year's FA Cup win was very welcome, as would another one be. But they are not quite achievements on a par with the days when Wenger's Arsenal sides were genuinely the best in the country.
That has to be where Arsenal want to return, and they are in a position to get there. This is no longer a club weighed down by paying off their stadium, as proved by the expensive signings of Mesut Özil and Alexis Sanchez.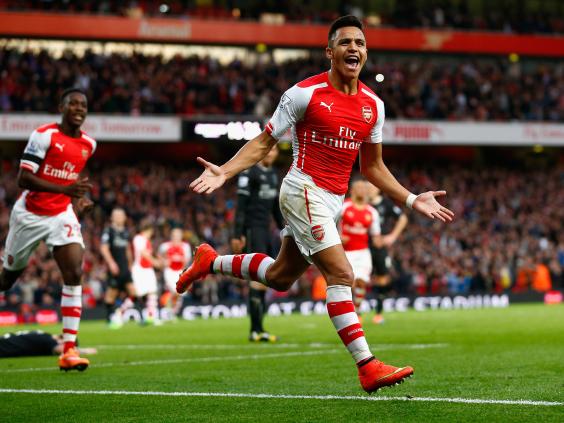 They can now keep their best players and they have a core, in defence and midfield, which they can build around. Arsenal, as ever, need a good summer, with good additions, and that has to start with a win on Saturday. But more should come from this well-balanced team.
In the history of the second half of Wenger's Arsenal tenure, the 2014 final must be sen as a turning point. Arsenal were 2-0 down to Hull City after just eight minutes yet they scrapped their way back into the match, and won in extra-time. Had they lost, with Wenger's new contract still unconfirmed, it is hard to imagine the cloud that would have descended over the club.
Even after Curtis Davies' second goal, Wenger admitted that it could have got even worse. "It could have been 3-0 as [Kieran] Gibbs saved on the line," he remembered. "I was thinking that it was a nightmare day. All the fans came full of hope and after 10 minutes we are 2-0 down. With the pressure on it was really a nightmare."
It felt like a decisive moment in the modern history of the club but Santi Cazorla curled in a free-kick and Arsenal found a way.
"I was ready for a fight, ready to fight until the end," Wenger said. "You know that you need a goal and certainly the free-kick of Santi Cazorla was very important. After that it was important to keep the players calm and not rush the game – just be patient, come back to 2-2."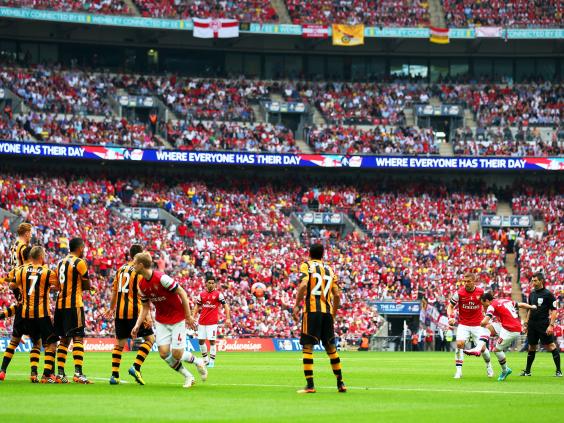 Wenger said Arsenal "learnt a lot from last season" and they certainly seem more stable – especially psychologically – than they were last spring, when the drought was still ongong and Wenger's new contract lay unsigned.
There may be a slight question mark over their Wembley performances – Arsenal were not much more fluent against Reading in their semi-final than they were against Wigan or Hull last season. That is cancelled out, though, by the fact that they have shown a better approach to big games, having beaten Manchester City and Manchester United this season, and avoided the dramatic collapses in other matches.
If Arsenal can defend better than Liverpool did in their semi-final then they should win, and with Per Mertesacker and Laurent Koscielny looking solid again they have a good chance. The big question is in their attacking positions, and the roles of Theo Walcott and Jack Wilshere.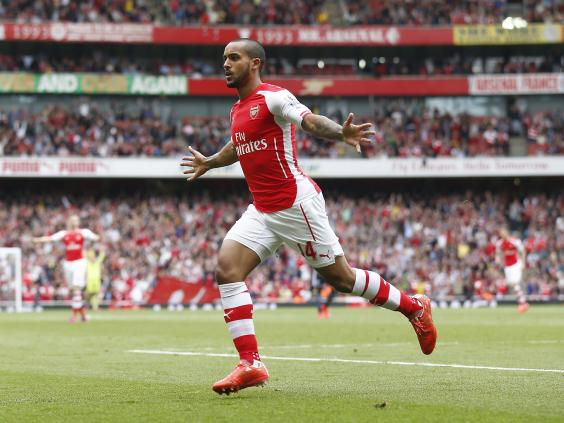 Both players had seasons ruined by injury but both were excellent in Arsenal's final game of the Premier League season, Walcott scoring a hat-trick against West Bromwich Albion. Neither is expected to start at Wembley but Wenger was quick to insist this week that they both remain an important part of his plans.
He pointed to last year's final, when Wilshere did not start but provided the spark from the bench to win the game in extra-time.
"Most of the time the heroes are the guys who come on," he said. "Last year I brought on [Tomas] Rosicky and Wilshere. After the guys told me [that] when they came on they knew Hull didn't have a chance any more. It is a squad achievement."
So when asked about suggestions Wilshere does not feel wanted, Wenger defended himself. "We have always extended his contract and we have been very patient with all his injuries," he said. "We always stood by him through every difficult moments."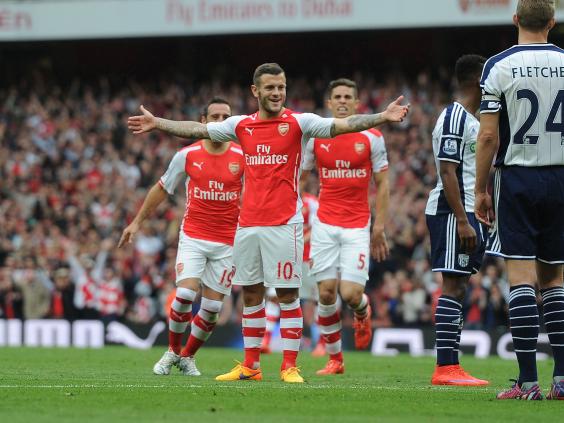 There is a question over Walcott's future now – he has one year left on his contract – but Wenger said again that he "wants to play him through the middle" if he can stay fit.
That is unlikely to be on Saturday and is more of a long-term plan. Retaining the FA Cup is important, but Wenger  is always focused on what comes next.
Reuse content